Rebec­ca New­berg­er Gold­stein, author of 36 Argu­ments for the Exis­tence of God: A Work of Fic­tion
, is guest-blog­ging all week for MyJew­ish­Learn­ing and the Jew­ish Book Council.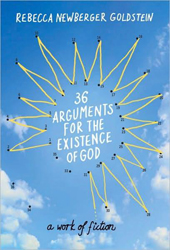 At the heart of my new nov­el, there's a child. His name is Azarya Shein­er, and he's the son of the rebbe of a small Hasidic sect liv­ing in an enclave a few miles up the Hud­son from Man­hat­tan. Azarya is six years old, and he is a math­e­mat­i­cal prodi­gy of a rare and won­der­ful sort. I knew that once the sto­ry about him began to unfold, he'd be in dan­ger of a trag­ic fate, and so I resist­ed bring­ing him into existence.
Azarya was born for me a long time ago, spawned out of a sto­ry by Aldous Hux­ley called ​"The Young Archimedes." I'd read the sto­ry when I was an ado­les­cent, and I nev­er for­got it. An Eng­lish­man, who has rent­ed a vil­la in the Ital­ian coun­try­side, dis­cov­ers that a sweet peas­ant boy, Gui­do, is an untu­tored math­e­mat­i­cal genius. The Eng­lish­man gives the boy some instruc­tion from Euclid but then leaves, and the woman who owns the land that the boy's fam­i­ly works takes Gui­do away. She's seen the Englishman's inter­est in the boy, and she thinks there's mon­ey to be made. The boy has some musi­cal tal­ent, not unusu­al for the math­e­mat­i­cal­ly gift­ed, and her plan is to make a per­form­ing musi­cian out of him, believ­ing that this must have been the Englishman's design The boy, dread­ful­ly alone, miss­ing his Euclid and his fam­i­ly, ends up leap­ing from a hotel win­dow to his death.
An unbear­ably sad sto­ry, and for me it proved haunt­ing. The thought of chil­dren in dan­ger is an obses­sion, and math­e­mat­i­cal genius is an abid­ing fas­ci­na­tion. My imag­i­na­tion couldn't let go of Huxley's sto­ry, and at some point it began to trans­pose it into a Jew­ish sto­ry. I began to imag­ine anoth­er child of prodi­gious genius, born into cir­cum­stances inhos­pitable to its flow­er­ing. Azarya Shein­er, heir to the Valden­er Hasidic dynasty, with his cheru­bic face and his uncer­tain fate, became painful­ly real to me.
Azarya sees num­bers, which he thinks of as angels, an infin­i­ty of angels who whis­per their secrets to him. One night at his father's Shab­bat table, where all the Hasidim are gath­ered, he deliv­ers a d'var Torah about the angels which is actu­al­ly a spec­tac­u­lar proof about prime num­bers. Entranced, he points so that all the Has­sidim can see the won­drous thing he's show­ing them, unaware that none of them has under­stood a word he has spoken.
The book that con­tains Azarya, 36 Argu­ments for the Exis­tence of God: A Work of Fic­tion
, is big and sprawl­ing, and — though you'd nev­er guess it from what I've writ­ten here — often fun­ny. Its over­ar­ch­ing theme is the many ways in which the reli­gious sen­si­bil­i­ty finds expres­sion, often in con­texts that are entire­ly sec­u­lar, such as roman­tic love.
But at the heart of the book is a small math­e­mat­i­cal genius, stand­ing on a giant table and point­ing to some­thing that only he can see. For me the sight of that sweet boy, exu­ber­ant­ly hap­py, is so lone­ly that I won­der how I wrote it.
Rebec­ca New­berg­er Gold­stein is the author of 36 Argu­ments for the Exis­tence of God: A Work of Fic­tion
. Her most recent work on MyJew­ish­Learn­ing is Is Sec­u­lar­ism Pos­si­ble?. Vis­it the offi­cial web­site for the book at http://​www​.ran​dom​house​.com/​p​a​n​t​h​e​o​n​/​a​u​t​h​o​r​s​/​g​o​l​d​s​tein/. She'll be blog­ging here all week.
Rebec­ca New­berg­er Gold­stein received her doc­tor­ate in phi­los­o­phy from Prince­ton Uni­ver­si­ty. Her award-win­ning books include the nov­els The Mind-Body Prob­lem, Prop­er­ties of Light, and Mazel, and non­fic­tion stud­ies of Kurt Gödel and Baruch Spin­oza. She has received a MacArthur Foun­da­tion Fel­low­ship and Guggen­heim and Rad­cliffe fel­low­ships, and she was elect­ed to the Amer­i­can Acad­e­my of Arts and Sci­ences in
2005
. She lives in Massachusetts.