Today, JBC review­er M. Elias Keller writes about how a core Jew­ish con­cept helped him write his nov­el, Strange Case of Mr. Bod­kin & Father Whitechapel.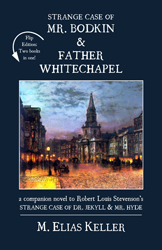 Although I'm a Jew­ish writer, my nov­el, Strange Case of Mr. Bod­kin & Father Whitechapel, an adap­ta­tion of Dr. Jekyll & Mr. Hyde, is not a Jew­ish nov­el — but it was a deeply-root­ed con­cept of Judaism that illu­mi­nat­ed and clar­i­fied my story's themes and direc­tion.

In 2009, I re-read one of my favorite nov­els, Dr. Jekyll & Mr. Hyde, and was espe­cial­ly intrigued by a pas­sage that explains Jekyll's potion as hav­ing ​"no dis­crim­i­nat­ing action; it was nei­ther dia­bol­i­cal nor divine; it but shook the doors of the prison-house of my dis­po­si­tion; and that which stood with­in ran forth." Pon­der­ing this, I pur­sued the idea of writ­ing about a moral­ly-con­flict­ed man tak­ing the potion and cre­at­ing a man­i­fes­ta­tion of his pure­ly good side. And since finan­cial scan­dals such as the mort­gage cri­sis and Bernie Mad­off were hot news top­ics, I set­tled on a banker for my pro­tag­o­nist: piti­less busi­ness­man by day, and, by aid of the drug, a saint­ly alms­giv­er at night.

Want­i­ng to present the­mat­ic com­plex­i­ty that would give Mr. Bod­kin and Father Whitechapel the best chance of stand­ing as a gen­uine com­pan­ion vol­ume to Stevenson's clas­sic, the philo­soph­i­cal aspects of char­i­ty became a focal point. This also fit nice­ly with the his­tor­i­cal fic­tion aspect of the nov­el, revolv­ing around the Char­i­ty Organ­i­sa­tion Soci­ety (C.O.S.), a 19th-cen­tu­ry British insti­tu­tion that sought to sys­tem­atize char­i­ty and aid those deemed most deserv­ing, rather than most needy. Reviled in its time for ideas that are now rather com­mon­place (think: grant appli­ca­tions), the C.O.S. was strong­ly against street-char­i­ty, and thus, in my fic­tion­al world, the open-hand­ed Father Whitechapel.

Under­ly­ing this exam­i­na­tion of char­i­ty was an even more per­plex­ing ques­tion: what is char­i­ty? What is the respon­si­bil­i­ty of the wealthy to the poor­er class­es? Although I was writ­ing a sto­ry and not an essay, these ques­tions were impor­tant to under­stand­ing my character's deci­sions and per­son­al­i­ties. For exam­ple, a scene in the book depicts an exchange between the Sec­re­tary of the C.O.S. (the real-life Charles Stew­art Loch), and his friend Mr. Meade, a sweat­shop-own­ing cloth­ing manufacturer:
"Not come solic­it­ing, have you?" Mr. Meade asked, with one of his char­ac­ter­is­tic guf­faws.
​"No, sir," Mr. Loch replied, forc­ing a thin smile. ​"I have well giv­en up that chase."
​"Well, it's noth­ing against you, Charles," said the oth­er, as the two men set­tled into their seats. ​"But then I nev­er went in for char­i­ty and the like. What is it, any­way, except more spent at the pub­lic-hous­es and rat-pits?" Mr. Meade har­rumphed, rap­ping the arm of his chair. ​"The best form of char­i­ty, I say, is a sound econ­o­my. Every­thing else," he added, flush­ing crim­son, ​"is wast­ed mon­ey or self-serv­ing balder­dash!"
This lit­tle spir­it of tem­per was some­what of an affront to Mr. Loch, but being a man inured to crit­i­cism, he mere­ly nod­ded sto­ical­ly. ​"Per­haps so, Wal­lace, but a sound econ­o­my is built on live­able wages."
Meade snort­ed, swirled his glass, and con­tin­ued pon­tif­i­cat­ing along a famil­iar line. ​"There will always be hunger, Charles. That is a fact of life. Nat­ur­al selec­tion and so forth. Some men thrive, and some go to the wall. I pay the wages that the mar­ket will bear."
​"Star­va­tion wages, you mean," Mr. Loch rejoined mild­ly.
​"Star­va­tion, sir, is a dis­ci­pline," Meade came back with; ​"and London's poor would do well to have more of it."
Some­where along the way, I recalled an idea from Juda­ic stud­ies: the def­i­n­i­tion of tzedakah as ​"jus­tice" — not ​"char­i­ty." (This def­i­n­i­tion does trans­late to the wider Chris­t­ian world, as we see in St. Augustine's coun­sel: ​"Char­i­ty is no sub­sti­tute for jus­tice with­held.") And align­ing char­i­ty with jus­tice helped me to align the sto­ry with my own inter­nal con­flicts. It's easy to drop some change into a card­board box with the Star of David on it, or make a dona­tion to the Jew­ish Fed­er­a­tion, and accept that as tzedakah—​"char­i­ty." But it's dif­fi­cult, uncom­fort­able and time-con­sum­ing to tru­ly con­front the world's inequal­i­ties and injus­tices.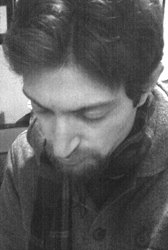 In my nov­el, Mr. Bod­kin dis­cov­ers the fatal con­se­quences of using a mag­ic potion to ​"solve" his inter­nal con­flicts. In the real world, the stakes are small­er — yet the con­flict is there, espe­cial­ly for those who must thought­ful­ly stew­ard the mon­ey and time of donors. Con­sid­er the com­plex­i­ties of insti­tu­tion­al char­i­ty, such as foun­da­tions con­tribut­ing to can­cer research/​prevention orga­ni­za­tions — while earn­ing div­i­dend income from stock­hold­ings in com­pa­nies like Altria (the par­ent com­pa­ny of Marl­boro cig­a­rettes).

Char­i­ty is some­thing we can com­part­men­tal­ize: we have our liv­ing expens­es and lux­u­ries, and our dona­tions; we have our work and leisure times, and our vol­un­teer ses­sions. But the ques­tion of jus­tice per­me­ates every moment of our lives and forces us to accept that true tzedakah can­not be donat­ed or pur­chased. True tzedakah, true jus­tice, must be demand­ed by every one of us, every day, with every dol­lar we spend and give.
M. Elias Keller grew up in Bucks Coun­ty, PA and earned degrees in Anthro­pol­o­gy and Urban Stud­ies from the Uni­ver­si­ty of Penn­syl­va­nia. He has been a free­lance and jour­nal­is­tic writer in Philadel­phia and San Diego, as well as pub­lish­ing short fic­tion in var­i­ous lit­er­ary mag­a­zines. Keller is the author of Strange Case of Mr. Bod­kin & Father Whitechapel (GZI Pro­duc­tions, 2012), a com­pan­ion nov­el to Robert Louis Stevenson's Dr. Jekyll & Mr. Hyde. He lives in Philadel­phia. www​.meliaskeller​.com.
Marc E. Keller grew up in Bucks Coun­ty,
PA
, and attend­ed the Uni­ver­si­ty of Penn­syl­va­nia (Philadel­phia), earn­ing degrees in Anthro­pol­o­gy and Urban Stud­ies. He has pub­lished short fic­tion in Pin­deldy­boz, Forge, The Leg­endary, and the Bucks Coun­ty Writer, among oth­ers. Cur­rent­ly he works in the devel­op­ment office at Penn, man­ag­ing prospect research.