Ear­li­er this week, Julia Dahl explained why she writes about crime. Her debut nov­el, Invis­i­ble City (Mino­taur Books), is now avail­able. She will be blog­ging here for Jew­ish Book Coun­cil and MyJew­ish­Learn­ing all week.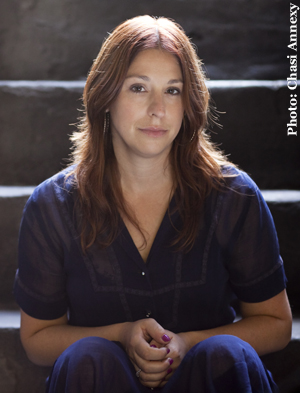 In Octo­ber 2007, my hus­band and I were look­ing for an apart­ment in Brook­lyn. We'd seen too many to count and none worth the price, so when a one-bed­room just off Prospect Park popped up for $1200 we jumped. On the way to the appoint­ment, the bro­ker gave us the news: The man who lived in the apart­ment until last month had com­mit­ted sui­cide there.
We took it any­way and when I went to sign the lease at the landlord's office in Bor­ough Park, I could tell he was pleased to have unloaded the apartment.
"He was a very sick man," said the land­lord. ​"He stopped tak­ing his med­ica­tion. His fam­i­ly was devastated."
After about a week, the woman in the apart­ment next door came to intro­duce her­self. I asked if she knew the man who'd lived here and she said yes.
"His name was David," she said. ​"He was a teacher. And he was real­ly nice."
I told her what the land­lord said about him, and she had a dif­fer­ent story.
"He was Hasidic," she said. ​"And he was gay. His fam­i­ly aban­doned him."
Then she peered into the apart­ment and said: ​"They did a good job of clean­ing it up."
The first piece of mail addressed to him arrived about a month lat­er. It was a post card from Spain. Judg­ing by the hand­writ­ing, the note was from a woman. More let­ters arrived over the next few months: a fly­er with a pho­to­graph of a man in lip­stick adver­tis­ing a per­for­mance in the Green­wich Vil­lage; some­thing offi­cial from the Teacher's Retire­ment Sys­tem; a check-up reminder from the local hospital.
I didn't open any of the let­ters, but I kept all the mail in a fold­er in my desk. As a reform Jew who grew up in Cen­tral Cal­i­for­nia, I had only recent­ly real­ized that com­mu­ni­ties of ultra-Ortho­dox even exist­ed in the U.S., and, I have to admit, the peo­ple who lived in this world fas­ci­nat­ed me. I saw them on the train, dressed in cloth­ing that seemed from anoth­er time; cloth­ing that sep­a­rat­ed them, that screamed, I am Jew­ish.
I start­ed to read about their com­mu­ni­ty, and the more I read, the more I want­ed to know David. I lis­tened for him, but nev­er saw signs of a ghost. For a while I toyed with the idea of track­ing down his fam­i­ly and bring­ing them the thick fold­er of mail. But I real­ized that that would be an exer­cise in self­ish­ness. If they hadn't want­ed to hear from him, they cer­tain­ly wouldn't want to hear from me.
So, because I could only imag­ine him, I did what writ­ers do when we get curi­ous: I start­ed to write about him. Well, not him exact­ly (although you'll find a ref­er­ence to him in my nov­el, Invis­i­ble City), but the world he came from.
And I still have his unopened mail.
Julia Dahl writes about crime and crim­i­nal jus­tice for CBSNews​.com. She was born and raised in Fres­no, Calif. and now lives in Brook­lyn, NY. Read more about her here.
Relat­ed Content:
Julia Dahl is a jour­nal­ist spe­cial­iz­ing in crime and crim­i­nal jus­tice. She has worked as a reporter for CBSNews​.com and the New York Post, and her fea­ture arti­cles have appeared in Men­tal Floss, Salon, the Colum­bia Jour­nal­ism Review, and many oth­ers. She was born in Fres­no, Cal­i­for­nia to a Luther­an father and Jew­ish moth­er and now lives in Brooklyn.