Ear­li­er this week, Let­ty Cot­tin Pogre­bin wrote about a pas­sage that did­n't make it into her just-pub­lished nov­el Sin­gle Jew­ish Male Seek­ing Soul Mate. She will be shar­ing delet­ed scenes from the nov­el all week for Jew­ish Book Coun­cil's Vis­it­ing Scribe series.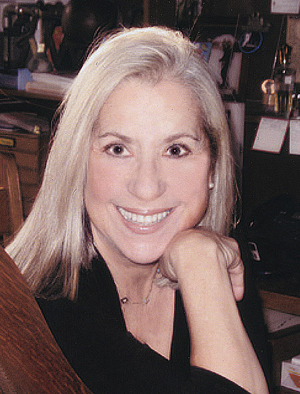 Yesterday's post—the first in my mini-series on Stuff Left Out — described a pas­sage I delet­ed from the orig­i­nal man­u­script of my new nov­el, Sin­gle Jew­ish Male Seek­ing Soul Mate, after a copy edi­tor dis­cov­ered a seri­ous chrono­log­i­cal error. Today, I'm going to share with you a scene that was cut for a dif­fer­ent reason.
The excised pas­sage, reprint­ed below, opened with ten-year-old Zach Levy and his moth­er, Riv­ka, arriv­ing at the dentist's office for his annu­al check­up. (You need to know that Riv­ka, a pro­found­ly trau­ma­tized Holo­caust sur­vivor, was a renowned pedi­a­tri­cian in Krakow before the war.)
His moth­er took the only emp­ty chair in the wait­ing room and idly thumbed through a copy of Woman's Day while Zach, trans­fixed, plant­ed him­self before the broad, bright­ly-lit aquar­i­um, gaz­ing at the skit­ter­ing rain­bow-col­ored fish.

A blue and yel­low striped lon­er glid­ed across the tank's glass wall. ​"That's a Pomacan­this imper­a­tor," Riv­ka said, sud­den­ly mate­ri­al­iz­ing at Zach's side. ​"The pret­ty red fish are Bet­ta splen­dens. And that one" — she point­ed to a sil­ver crea­ture with a long speck­led tail — is a Poe­cil­ia reticulatus."

Zach stared at his moth­er in dis­be­lief. ​"Since when do you know so much about trop­i­cal fish?"

"I had an aquar­i­um once." Her voice was one tone above a whis­per, her glance hooked to the sil­very fish.

"You did?"

"Yes. In my wait­ing room. A doctor's office can be fright­en­ing to chil­dren. Fish calms their anxiety."

Amazed to actu­al­ly be exchang­ing this many words with his dour and tac­i­turn moth­er, Zach tried to keep the con­ver­sa­tion going. ​"Which one's your favorite, Mama?"

"The Caras­sius aura­tus," Riv­ka replied, soft­ly, nod­ding at a plain white fish with a huge red knob stick­ing up from its head.

The boy frowned at the dis­fig­ured spec­i­men but feigned enthu­si­asm. ""That's mine, too, Mama. It's so…so unusu­al!" In truth, the elec­tric blue fish was his favorite.

A few months lat­er, when Riv­ka was trou­bled by an impact­ed wis­dom tooth, they returned to the dentist's office only to find on a ledge beside the aquar­i­um a tow­er of plas­tic con­tain­ers and a mesh net. Taped to the glass tank was a note in block let­ters: MOV­ING TO NEW OFFICE ON FRI­DAY. HELP YOUR­SELF. ONE FISH PER PATIENT.

Zach grabbed the net. ​"I'll get the blue one!" he exclaimed before he could cen­sor himself.

Riv­ka shook her head.

He cor­rect­ed him­self. ​"Sor­ry, Mama. I'll get the white one." He cor­rect­ed him­self, think­ing, if she likes it, I'll learn to like it, but as he dipped the net into the lumi­nous water, Riv­ka grabbed his arm.

"No fish," she said, firm­ly. ​"Jews don't need pets. It's hard enough for us to take care of ourselves."

He begged her to recon­sid­er but once she'd made up her mind, he knew there was no argu­ing with Riv­ka. They left the dentist's office empty-handed.
I wrote that scene to under­score the dis­tance between young Zach and his refugee moth­er. Also to remind the read­er that Riv­ka, a bro­ken casu­al­ty of Nazi bru­tal­i­ty, once had a med­ical prac­tice and, wit­ness her knowl­edge of fish species, oth­er sci­en­tif­ic inter­ests; she wasn't always the semi-comatose woman we meet in this book.
How­ev­er, on sec­ond and third read­ing, the scene rang false. Riv­ka may have been my inven­tion but as I wrote her into being, she made it clear to me that she was not the sort of woman who, mere­ly at the sight of an aquar­i­um, would emerge from the chrysalis of her anguish recit­ing the Latin names of trop­i­cal fish.
Which is why the scene in the dentist's wait­ing room end­ed up on the cut­ting room floor.
Let­ty Cot­tin Pogre­bin is a found­ing edi­tor of Ms. mag­a­zine and the author of eleven books. Read more about her here. And if you're in NYC, you can meet the author and hear her speak about her book on Wednes­day, May 20th at 7 PM at Book Cul­ture, 450 Colum­bus Avenue (81−82 St) in Manhattan.
Relat­ed Content:
Co-founder of Ms. mag­a­zine, Let­ty Cot­tin Pogre­bin is a nation­al­ly acclaimed writer, activist, and pub­lic speak­er. The author of twelve books, her arti­cles and essays have appeared wide­ly. She is a co-founder of the Nation­al Women's Polit­i­cal Cau­cus and the Ms. Foun­da­tion for Women; a past pres­i­dent of the Authors Guild and the recip­i­ent of numer­ous hon­ors and awards.