Ear­li­er this week, Ste­fanie Per­vos Breg­man, the edi­tor of Liv­ing Jew­ish­ly, wrote about engag­ing 20- and 30- some­things in the Jew­ish world and Rab­bi Jason Miller wrote about explor­ing com­mon­al­i­ties between reli­gions. Today we hear from Liv­ing Jew­ish­ly con­trib­u­tor Riv­ka Neho­rai. Check back all week for more Liv­ing Jew­ish­ly posts for the Jew­ish Book Coun­cil and MyJew­ish­Learn­ing.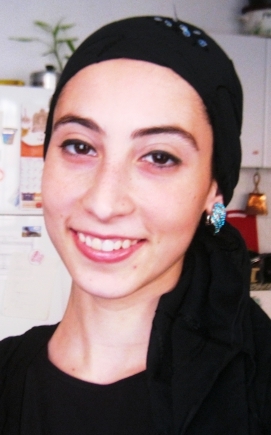 No one ever told me
that to get old­er is to get bet­ter
and so much more sat­is­fy­ing
in a ​"ha-yes?!" type of way

And I thought that I should embrace my youth and hold onto it for dear life
until the wheel passed.

No one ever warned me
that becom­ing a mom is that much cool­er,
in which your lev­el of con­trol and insight, wis­dom and laugh­ter
expands beyond your­self and your own dreams
into this greater com­plex organ­ism.

No one ever whis­pered
that preg­nan­cy was wild,
squirmy lit­tle baby with­in,
no need for air, thank you very much, just squirm­ing around.

I made that, I laugh smug­ly to myself. Cool! (With help from the One Above, etc)

And I won­der- Why all the secrets? Why all the hush­hush? Why pre­tend that col­lege life is the best, or young and free is the ide­al?
It's not true, I tell you, it's a lie, a lie that's spread­ing across Amer­i­ca.
I can assure you, I am much cool­er now than I ever was then. With droplets of time for myself, a whole new mis­sion, and a new direc­tion and explo­sion in life.

Spread the word.
Riv­ka Neho­rai is an artist/​writer, cur­rent­ly sit­u­at­ed in Crown Heights, Brook­lyn. Besides car­ing for her lit­tle girl, Tanya Ester Avi­gay­il, she works on com­mis­sion, cre­at­ing impres­sion­is­tic por­traits. Her work can be found at Naf​tal​iart​.com. She con­tributed to Ste­fanie Per­vos Breg­man's book, Liv­ing Jew­ish­ly.