Elis­sa Alt­man​'s sec­ond mem­oir, Treyf: My Life as an Unortho­dox Out­law, comes out this week. To cel­e­brate her new book's release, Elis­sa is guest blog­ging for the Jew­ish Book Coun­cil all week as part of the Vis­it­ing Scribe series here on The ProsenPeo­ple.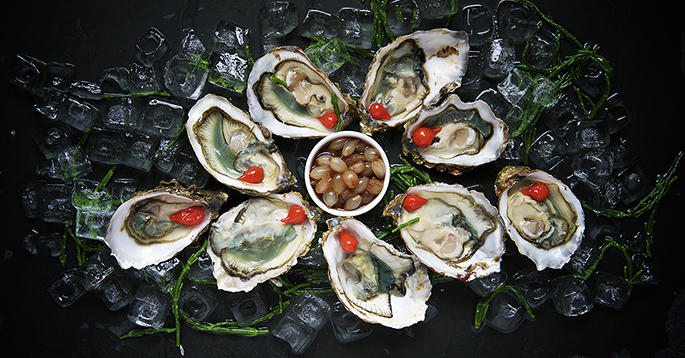 As I write this, I am sit­ting on a screened-in porch in a small cot­tage over­look­ing the Ken­nebec Riv­er in coastal, cen­tral Maine. My rak­ish ter­ri­er mutt, Petey, is asleep at my feet in a beige, ever-so-slight­ly worn Orvis bed that cost as much a pair of Guc­ci loafers; my part­ner, Susan, is in the kitchen, plan­ning the third lob­ster din­ner we've had since we've been here. The scene is some­thing right out of the fall L.L. Bean cat­a­log: there are small bot­tles of bug spray in every room; the cottage's scuffed, util­i­tar­i­an din­ner­ware is dec­o­rat­ed with tiny blue light­hous­es; there is a slight edge of chill to the air — it came on sud­den­ly, with the chang­ing of the cal­en­dar from August to Sep­tem­ber — and for the first time since we arrived, I have to wear a fleece vest with my shorts and flipflops. We love it here. We love the peo­ple, the land, the water, the food, the lit­er­a­ture, the nature, the his­to­ry. We've been com­ing to Maine for two weeks every Sep­tem­ber for a few years now. We have close friends and fam­i­ly who live here year-round and we will, most like­ly, even­tu­al­ly make the state our home.
So when I was asked to do a read­ing from my new book, Treyf: My Life as an Unortho­dox Out­law, up in bucol­ic Rock­port a few days ago, I was thrilled and delight­ed and com­plete­ly hon­ored. And then I real­ized that the odds of any­one know­ing what the word treyf meant — lit­er­al­ly and fig­u­ra­tive­ly; halachi­cal­ly and metaphor­i­cal­ly — were, to say the least, slim. Here, in the land of the lob­ster, the shrimp, the mus­sel, the wild oys­ter, the all-you-can-eat-fried-clam-sup­per, the bean-and-ham-com­mu­ni­ty-church-buf­fet, I would be stand­ing in front of a room­ful of gor­geous Main­ers tan from a sum­mer spent on the water — the women wear­ing nary a drop of make­up beyond a slick of lip­gloss, the men in ancient, salt-caked Dock­siders and polo shirts with fray­ing col­lars — in the least reli­gious state in Amer­i­ca, talk­ing about Shab­bos, and the time my bubbe from the old coun­try fed me boiled calves' brains the day after I saw Young Franken­stein in 1974, the Coney Island para­chute drop hov­er­ing in the dis­tance less than a mile from the schmaltz-soaked low-rise Brook­lyn apart­ment build­ing where she lived for six­ty years.
"What will you read?" Susan asked as she drove us north through Wis­cas­set, past Red's famous lob­ster roll shack and over the Sheep­scot Riv­er, past the penin­su­la turn-offs for New­cas­tle, Damariscot­ta, Wal­doboro, Friendship.
"Prob­a­bly the Lip­shitz chap­ter," I said, star­ing out the win­dow. She looked over at me. ​"Because, you know, it ends with cook­ing Ital­ian food. Every­body under­stands Ital­ian food. Right?"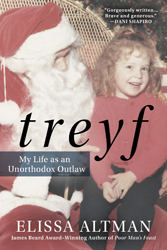 "Sure, Hon­ey," she said. ​"What­ev­er you think."
Dur­ing the last half-hour of our ride to Rock­port, I began to wor­ry: this was the very thing that my pub­lish­er had fret­ted over. No one would know what the word treyf meant out­side of New York City. It hasn't yet been dragged into the Yid­dish-Eng­lish lex­i­con, like schlep and schmuck and yutz and putz. No one at the read­ing would see the cov­er image of a three-year-old me sit­ting on the lap of the 1965 Macy's San­ta and get the joke. I would have to go into great and exhaus­tive detail about Halachic law, and mix­ing milk and meat, and cloven hooves, and fish with­out scales. I would com­pli­cate things even fur­ther by explain­ing that treyf can also mean unclean, unac­cept­able, for­bid­den. That it con­tains with­in it a tinge of exclu­sion, of being on the out­side look­ing in, of assimilation.
And then, for good mea­sure, I was going to read a chap­ter involv­ing a Hasidic rab­bi named Lip­shitz who tried to get me evict­ed from my long-dead bubbe's rent-con­trolled Brook­lyn apart­ment build­ing where he was the super­in­ten­dent, and where I had moved in 1990 after a bad breakup.
With a woman.
And this, I real­ized, is the thing that no one ever much talks about while one is in the throes of writ­ing a book that is hard-wired to a par­tic­u­lar com­mu­ni­ty and par­tic­u­lar sen­si­bil­i­ty: Will it appeal beyond its obvi­ous audi­ence? Will it make sense? Will it require great and inten­sive expla­na­tion that will ulti­mate­ly uncoil its nar­ra­tive tim­ing and humor and insight? Should writ­ers, while we are work­ing, allow our­selves to become dis­tract­ed by the fear that no one beyond our imme­di­ate world will under­stand what we the hell we're talk­ing about?
On the face of it, the answer is no. Writ­ers have, since the begin­ning of time, writ­ten what they know and what they live, in their own culture's ver­nac­u­lar, with­out the hob­bling con­cern that oth­ers sim­ply won't get it. They've had to: the Joe Kava­liers, Dilsey Gib­sons, Rab­bit Angstroms, Joe Many-Hors­es, and Codi Nolines of the world depend­ed on their cre­ators to write them unflinch­ing­ly, unapolo­get­i­cal­ly, with­out cul­tur­al expla­na­tion. But put to the hard test — at events, read­ings, sign­ings — where we come face-to-face with an audi­ence of read­ers to whom we and our char­ac­ters may be utter­ly alien, things become a lit­tle bit more com­pli­cat­ed. In my expe­ri­ence, read­er­ly kind­ness and com­pas­sion and an unflag­ging, almost dire inter­est in the human con­di­tion win out, every time.
My audi­ence in pris­tine Rock­port Maine didn't flinch when I read about Lip­shitz-the-Goniff, and how he and I were out­siders in the worlds in which we land­ed: both of us, treyf, both of us try­ing to find our way in a uni­verse that isn't always kind.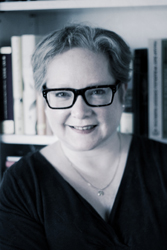 When the read­ing was over, an old­er Main­er came over and silent­ly touched my elbow — the Down East sig­nal for I'd like to have a word with you.
We stepped away from the throng and she grabbed my hand.
"The thing about it is," she said, ​"Treyf is about all of us. We are all on the out­side, look­ing in. Every last one of us. Thank you so much."
I thanked her, this beau­ti­ful old­er lady with the sil­ver page­boy and the bright blue eyes who, with one line, con­firmed my belief: we are far more alike than we are different.
Elis­sa Alt­man is a food and cook­book edi­tor and the writer behind Poor​Mans​Feast​.com, win­ner of the 2012 James Beard Award for an Indi­vid­ual Food Blog and the foun­da­tion for her pre­vi­ous book, Poor Man's Feast: A Love Sto­ry of Com­fort, Desire, and the Art of Sim­ple Cook­ing.
Relat­ed Content:
Elis­sa Alt­man writes Poor​Mans​Feast​.com, win­ner of the 2012 James Beard Award for Indi­vid­ual Food Blog. A food and cook­book edi­tor and writer, her work has appeared in Saveur and The New York Times, on Gilt Taste and The Huff­in­g­ton Post, and has twice been select­ed for inclu­sion in Best Food Writ­ing. She lives in Con­necti­cut with Susan Turn­er and a small herd of animals.