Michelle Braf­man​'s debut nov­el Wash­ing the Dead is being pub­lished this week by Prospect Park Books. She will be blog­ging here all week for Jew­ish Book Coun­cil's Vis­it­ing Scribe series.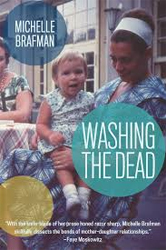 I am a fair­ly obser­vant Jew with a decent Jew­ish edu­ca­tion, yet I only learned about the tahara, our bur­ial rit­u­als, eight years ago, when a friend casu­al­ly men­tioned them to me. And now, even after I've writ­ten a nov­el fea­tur­ing the tahara, the holi­ness of this deed con­tin­ues to reveal itself to me in waves.
The tahara is called the ​"good deed of truth" because tend­ing to the dead is a favor that the recip­i­ent can nei­ther acknowl­edge nor repay. I won't lie, though, my fas­ci­na­tion with this right­eous act ini­tial­ly stemmed from its mys­tery. The chevra kadisha often oper­ates as a secret soci­ety in order to pre­serve the anonymi­ty of the mitz­vah, and the rites are sen­su­al: sponge-bathing, rins­ing, shroud­ing, plac­ing dirt in a pine casket.
In research­ing the nov­el, I approached the head of my syn­a­gogue's chevra kadisha, and we talked for hours about the rit­u­al. She invit­ed me to help per­form a tahara, inform­ing me that this was the ulti­mate act of com­pas­sion. I under­stood this intel­lec­tu­al­ly, I real­ly did. When I entered the prepa­ra­tion room, how­ev­er, my brain switched to writer mode, men­tal­ly record­ing every detail: the scent of the body, the can­is­ters of tooth­picks we would use to clean under the nails, the nar­row width of the coffin.
In the ear­ly days of describ­ing this book, when I told Jews and non-Jews of this rit­u­al, I felt as though I were at a sleep­over, shar­ing a scary, tit­il­lat­ing ghost sto­ry. It took many drafts for me to dis­cov­er the core of the book: my char­ac­ter Bar­bara's attempt to find her way back to the spir­i­tu­al and emo­tion­al home torched by her moth­er's indis­cre­tion. The incit­ing inci­dent is when Bar­bara is invit­ed back to her Ortho­dox com­mu­ni­ty to per­form a tahara on the woman who stepped in to moth­er her after her own moth­er's abandonment.
It was­n't until I read the tahara pas­sage aloud for the first time in pub­lic that I real­ized per­form­ing this rit­u­al was the only way for Bar­bara to loosen a brick in the wall she'd built between her­self and her moth­er and her reli­gious home. This tac­tile deed fired an atro­phied mus­cle of her heart. In his short sto­ry ​"A Father's Sto­ry" Andre Dubus describes the ​"won­der of rit­u­al:" ​"For rit­u­al allows those who can­not will them­selves out of the sec­u­lar to per­form the spir­i­tu­al, as danc­ing allows the tongue-tied man a cer­e­mo­ny of love."
Short­ly after the gal­leys of my book arrived, I had cof­fee with my chevra kadisha guide. We spoke more about the tahara and oth­er Jew­ish rit­u­als, and though I lis­tened care­ful­ly, I knew I was also fil­ing away some of her words, as I do an idea for a sto­ry. Lat­er I will make mean­ing of these mitzvot, the doing and telling, and the gor­geous mys­tery of the fusion of the two.
Michelle Braf­man's essays and short sto­ries have appeared in the Wash­ing­ton Post, Slate, Tablet, Lilith Mag­a­zine, the min­neso­ta review, and else­where. She teach­es fic­tion writ­ing at the Johns Hop­kins MA in Writ­ing Pro­gram. Vis­it her web­site at www​.michelle​braf​man​.com.
Relat­ed Content:
Michelle Brafman's fic­tion and essays have appeared in The Wash­ing­ton Post, Slate, Tablet, and oth­ers. A reg­u­lar con­trib­u­tor to the Lilith Mag­a­zine blog, she has led its salon dis­cus­sions at the­aters and arts cen­ters through­out the Wash­ing­ton, DC area. She teach­es fic­tion writ­ing at Johns Hop­kins Uni­ver­si­ty and lives in Glen Echo, Mary­land with her hus­band and two children.