Ear­li­er this week, author Paul Gold­berg wrote about the pop­u­lar­i­ty of King Lear in mid­cen­tu­ry Moscow and Yid­dish the­ater. With the release of his nov­el The Yid, Paul is guest blog­ging as a Vis­it­ing Scribe all week here on The ProsenPeo­ple.
As a jour­nal­ist, I sep­a­rate fact from fable. As a nov­el­ist, I go through the same process, but keep the fable. You need facts to ground a sto­ry; you need fables make it soar.
The Yid is a con­tin­u­a­tion of my dia­logue with my grand­fa­ther. His name was Moi­sey Semy­onovich Rabi­novich. He served in the Red Army dur­ing the civ­il war and was a phar­ma­cist at field hos­pi­tals dur­ing World War II.
He was an accom­plished pro­fes­sion­al and a hero­ic char­ac­ter in his own right, but for my enter­tain­ment, he made up sto­ries of fight­ing Nazis in the woods of Belarus and march­ing to Berlin, even blast­ing through the walls of Hitler's bunker. These tales were all fic­tion­al, but all these years lat­er I remem­ber them bet­ter than his true stories.
My grand­fa­ther turned me into a col­lec­tor of leg­ends, and I thank him in The Yid by mak­ing him into a fic­tion­al char­ac­ter. He is the fierce Rabi­novich, the Bundist who is not through with com­bat — the sort of guy you want on your side.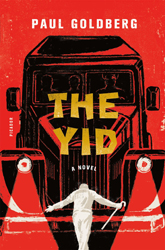 I was born in 1959, six years after Stalin's death. To make this sto­ry real, I need­ed to cre­ate the set for the nov­el. I start­ed with my par­ents' apart­ment, a com­mu­nal cold-water flat in cen­tral Moscow. My prin­ci­pal char­ac­ter, Solomon Shi­monovich Levin­son, set up res­i­dence in what was once our room — the sin­gle com­part­ment that housed all three of us.
Levinson's side­kick, Kogan, resides not far from Levin­son, in a build­ing over­look­ing my school. The dacha that my con­spir­a­tors use to dump bod­ies actu­al­ly belonged to my grand­moth­er. I used real address­es. In the tight­ly-braid­ed world that is Moscow, Shmuel Halkin — the poet who trans­lat­ed King Lear into Yid­dish — lived across the street from my grand­moth­er. Sev­er­al of Halkin's plays, and indeed Halkin him­self, fig­ure in The Yid, and as I write this an auto­graphed copy of his book lies in front of me.
Visu­al­ly, the streets of Moscow of my child­hood haven't changed much since 1953. In The Yid, I want­ed to speak about that time and my city in an entire­ly dif­fer­ent way. The biggest chal­lenge was to keep the nov­el from sound­ing like homage to Bul­gakov, who so bril­liant­ly cap­tured the soul of Moscow and, for that mat­ter, Stal­in­ism. In addi­tion to stran­gling my inner Bul­gakov, I refrained from read­ing writ­ers who explored the same world. I want­ed The Yid to be different.
My grandfather's sto­ries laid down the foun­da­tion of the book. His friends expand­ed this nar­ra­tive. These were old Jews, most­ly Bol­she­viks who had been through the twen­ti­eth century's biggest bon­fires. They sat on bench­es at the Bau­man Gar­den in cen­tral Moscow, telling sto­ries of hero­ism in World War II. Most of them car­ried rolled up copies of the Red Star, Kras­naya Zvez­da, the news­pa­per of the Sovi­et military.
I lis­tened. I don't remem­ber their names, but their sto­ries feed the nar­ra­tive I wrote. We don't get to choose our mate­r­i­al, and this is mine:
Since child­hood, I knew that in 1953 Stal­in was prepar­ing to deport all Jews to set­tle­ments and prison camps, and that res­i­den­tial offices were prepar­ing lists of Jews for depor­ta­tion. By exten­sion, this meant that the names of every­one I knew — includ­ing my par­ents and grand­par­ents — were on these lists.
I also knew that there was once a Yid­dish the­ater in Moscow. I asked my aunt, Ulyana Dobrushi­na, to tell me about going to per­for­mances there, about spend­ing the war years with the Yid­dish the­ater as it wait­ed out the war in Uzbek­istan, about Solomon Mikhoels, and about her uncle, Eliel Dobrushin, a play­wright at the the­ater and a mem­ber of the Jew­ish Anti-Fas­cist Com­mit­tee. I also spoke with Lud­mil­la Alex­eye­va, a long­time human rights activist, and ben­e­fit­ted tremen­dous­ly from under­stand­ing her intel­lec­tu­al jour­ney, which begins in Moscow of the 1930s.
One of the char­ac­ters, Dr. Kogan, the sur­geon, starts to feel a spir­i­tu­al con­nec­tion with the body parts he sees float­ing in formalde­hyde, wait­ing to be dis­sect­ed by med­ical stu­dents. He had seen many a corpse and was a few steps removed from becom­ing a cadav­er. I could nev­er have made this sto­ry up. I heard it from my friend Janusz Bar­dach, a for­mer Sovi­et polit­i­cal pris­on­er, who became a world-renowned max­illo­fa­cial sur­geon, ulti­mate­ly at the Uni­ver­si­ty of Iowa. He and I became friends after I reviewed his mem­oir in The New York Times. As I wrote The Yid, I imag­ined this med­ical lumi­nary curs­ing, bick­er­ing, and, above all, hurting.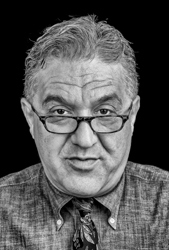 Janusz thought my plan to write a nov­el about Stalin's death was insane and the ear­ly pages he saw scared him.
"You are writ­ing a com­e­dy about trag­ic events," he objected.
I con­curred.
Yet, Janusz, who is now gone, would have been a per­fect recruit into the band of con­spir­a­tors in The Yid—and, in a way, he is in it, fight­ing tyran­ny shoul­der-to-shoul­der with my hero­ic grand­fa­ther and his Red Star-tot­ing Bol­she­vik friends.
Paul Gold­berg has writ­ten two books about the Sovi­et human rights move­ment, and has co-authored (with Otis Braw­ley) the book How We Do Harm, an exposé of the Amer­i­can health­care sys­tem. He is the edi­tor and pub­lish­er of The Can­cer Let­ter, a pub­li­ca­tion focused on the busi­ness and pol­i­tics of can­cer. He lives in Wash­ing­ton, D.C.
Relat­ed Content:
Paul Gold­berg is the author of two pre­vi­ous nov­els: The Yid, a final­ist for the Sami Rohr Prize for Jew­ish Lit­er­a­ture and the Nation­al Jew­ish Book Award's Gold­berg Prize for Debut Fic­tion, and The Chateau. He has writ­ten two books about the Sovi­et human rights move­ment as well as an expose of the U.S. health­care sys­tem. He lives in Wash­ing­ton, D.C.