Stan­ley Gins­berg, a native of Brook­lyn, grew up in a close-knit neigh­bor­hood where gen­er­a­tions lived side by side. He learned to cook and bake from his grand­moth­er, who lived just upstairs in the same apart­ment build­ing, and has con­tin­ued cook­ing and bak­ing ever since. His book, Inside the Jew­ish Bak­ery: Recipes and Mem­o­ries from the Gold­en Age of Jew­ish Bak­ing, is now avail­able. He will be blog­ging here all week for Jew­ish Book Coun­cil and MyJew­ish­Learn­ing.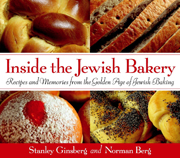 Not too long ago, dur­ing a radio inter­view cen­tered on
Inside the Jew­ish Bak­ery
, the host asked me, ​
"
What is a Jew­ish bak­ery?" I have to con­fess, I was stunned: no one had ever asked me that ques­tion, nor, indeed, had I ever asked it of myself. In my world, every­one
knows
what a Jew­ish bak­ery is – a bak­ery that sells Jew­ish baked goods.
But here's where it gets com­pli­cat­ed. What exact­ly are ​"Jew­ish baked goods?" The ones that come first to mind – bagels, rugelach, onion rolls, chal­lah – appear to be no-brain­ers, but in fact all can be traced back through their Yid­dish fore­bears to the gen­tile Cen­tral and East­ern Euro­pean soci­eties in which the Jews found them­selves liv­ing at var­i­ous times.
Take bagels, for instance. In Amer­i­ca, we think of them as a Jew­ish food that made good, ris­ing to the pin­na­cle of the Amer­i­can main­stream and assim­i­lat­ing away their ​"Jew­ish­ness." But boiled/​baked ring breads made of dou­ble-helix dough strands, called obwarzan­ki, are the sig­na­ture street food of Kraków, Poland, and have been for cen­turies. And lest any­one argue that ​"Jew­ish" bagels don't fea­ture that rope­like twist, I would point out that a 1936 pho­to in the col­lec­tion of the New York Pub­lic Library shows a Jew­ish New York City bagel ped­dler sell­ing what clear­ly are twist­ed obwarzan­ki. At the same time, a 1938 pho­to in the YIVO col­lec­tion shows a bagel sell­er in Lithua­nia sell­ing the untwist­ed bagels we're all famil­iar with. Go figure.
So how about chal­lah? Noth­ing more Jew­ish than that, right? Well, although the term ​"chal­lah" is derived from the Torah, the bread itself was a loan from 14th and 15th cen­tu­ry Ger­man Chris­tians, who hon­ored their Sab­bath with braid­ed loaves, accord­ing to Jew­ish food­ways his­to­ri­an John Coop­er. On top of that (and on top of the loaves), the cus­tom of dec­o­rat­ing breads with sym­bols of faith such as birds, hands, keys and lad­ders – also often thought of as unique­ly Jew­ish – also can be traced back to the Chris­tians of Cen­tral Europe. Even the term ​"koyletch," an alter­na­tive name for chal­lah through­out Yid­dish Europe, is of Slav­ic ori­gin. And to bring things full cir­cle, a braid­ed, egg-glazed sweet bread called chał­ka is a sta­ple offer­ing in the bak­eries of today's Poland.
The same is true of knish­es, babkas, rolls (bulkes), rye breads – you name it and the gen­tile host cul­tures had it before the Jews. Even most mod­ern favorites come from some­place else, most obvi­ous­ly rain­bow cook­ies, whose hor­i­zon­tal lay­ers of red, yel­low and green reprise the Ital­ian flag and trum­pet their origin.
So if every­thing in the Jew­ish bak­ery came from some­place else, what, after all is a ​"Jew­ish bakery?"
Tami­ment Library and Robert F. Wag­n­er Labor Archives

In my view, noth­ing less than the his­to­ry of a peo­ple's wan­der­ings from place to place – from Eretz Yis­rael to the Roman Empire, from Rome north­ward into the Rhine Val­ley, then west into France and Eng­land and east into Aus­tria, Hun­gary, Bohemia, Lithua­nia, Poland and Rus­sia. At every stop, the Jews found the foods of their gen­tile neigh­bors and adapt­ed them to the laws of Kashrut. And when it came time to move again, they took those foods with them and added to their reper­toire the foods of their next home, again adapt­ed to Kashrut.
And so the Jew­ish bak­ery is real­ly a time cap­sule, a dis­til­la­tion of a thou­sand years of Dias­po­ra, come to rest in a row of glass-front­ed dis­play cas­es and shelves full of bread and rolls behind the counter. Every bread and roll, every pas­try, cake and cook­ie, reflects a spe­cif­ic time and place in our com­mu­nal his­to­ry and con­nects us tan­gi­bly (and edi­bly) to our shared expe­ri­ence. And you thought it was only a bakery!
Today, the world's food cul­ture is rapid­ly homog­e­niz­ing. You can find U.S. fast-food fran­chis­es in Tokyo, Bei­jing and Moscow; Japan­ese ramen-chain out­lets in New York, Los Ange­les and Lon­don. And bagels are every­where. TV food porn, as my daugh­ter likes to call it, has uni­ver­sal­ized once-obscure ingre­di­ents and glob­al­ized tech­nique and plat­ing to the point where cook­ing has mor­phed from the deep­est, most vis­cer­al (pun intend­ed) expres­sion of a cul­ture root­ed in time and place to a media-dri­ven vehi­cle for indi­vid­ual creativity.
And while I do appre­ci­ate the pure sen­su­al plea­sures of sculp­tural­ly com­posed, art­ful­ly con­ceived and exe­cut­ed coups de table, I'm also very much aware that even the best of them lack the authen­tic Yid­dish tam of my grand­moth­er's kroyt borscht, a long-sim­mered soup – a stew, real­ly – made from beef flanken and an abun­dance of win­ter veg­eta­bles – cab­bage, beets, turnips, car­rots, pota­toes and onions.
Mean­while, at the oth­er end of the spec­trum, the mass-mar­ket processed food indus­try is wreak­ing its own Holo­caust on fam­i­ly-run, made-from-scratch restau­rants and bak­eries, and in the process, sev­er­ing the con­nec­tion between peo­ple and their per­son­al and com­mu­nal his­to­ries. And sad­ly, as those restau­rants and bak­eries die, so too, dies a piece of our cul­tur­al his­to­ry that most of us bare­ly rec­og­nize, let alone miss, until it's gone.

Stan­ley Gins­berg will be blog­ging here all week for the JBC and MJL. Vis­it his offi­cial web­site here.
Stan­ley Gins­berg, a native of Brook­lyn, grew up in a close-knit Jew­ish and Ital­ian neigh­bor­hood, where gen­er­a­tions lived side by side and every­thing was with­in walk­ing dis­tance. He start­ed bak­ing with his grand­moth­ers at age
4
or
5
and has­n't stopped yet. Now retired, Stan­ley made his career in finan­cial writ­ing and mar­ket­ing. He and his wife, Sylvia, live in South­ern Cal­i­for­nia. They have three adult chil­dren, two beau­ti­ful grand­daugh­ters and two stan­dard poodles.