Ear­li­er this week, David Eben­bach wrote about what makes a short sto­ry Jew­ish. He will be blog­ging here all week for Jew­ish Book Coun­cil and MyJew­ish­Learn­ing.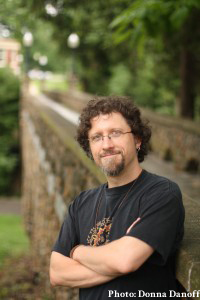 Is my fic­tion Jew­ish? In my last blog post I came to a firm con­clu­sion: yes — and no. Well, I think I can make the same bold claim for the cre­ative process I go through when I'm writ­ing. On the one hand, I have to do the things all writ­ers do, what­ev­er their back­ground: I have to start with some promis­ing, mys­te­ri­ous, uncer­tain thing (a line, a char­ac­ter, a mood), and work with it until some­thing more whole devel­ops, and keep things open so that I can revise and revise and revise, as dras­ti­cal­ly as is required, until I have a piece that I can com­fort­ably call done. Again, this is what all writ­ers do. Yet, when I look at it more close­ly, I have to say that I do those things pret­ty Jew­ish­ly.

What do I mean? Well, the cre­ative process is a basi­cal­ly dead thing if it's just a bunch of pre-ordained steps that you fol­low from start to fin­ish. Cre­ativ­i­ty becomes pow­er­ful when it's infused with pur­pose and mean­ing and direc­tion — the dis­tinct pur­pose, mean­ing, and direc­tion brought to the work by each author — and that infu­sion, in my case, comes from the wis­dom of Judaism.

There's an old, old sto­ry (we've got some very old sto­ries) that sug­gests that, when God was fig­ur­ing out how to make the uni­verse, God read the Torah for instruc­tions. I love that. I also love the old wis­dom of the Pirkei Avot, which says of the Torah, Turn it, turn it, for every­thing is in it. What all that tells me is that artists — folks who bold­ly engage in the act of cre­ation — could get a lot out of that foun­da­tion­al text of ours.

As a mat­ter of fact, one of my big recent projects was a book called The Artist's Torah (Cas­cade Books), an attempt to take on the Torah, por­tion by por­tion, to see if each week­ly read­ing had some­thing — insight, reas­sur­ance, even instruc­tion — to offer artists. I pret­ty much expect­ed the project to fail. And yet it didn't; por­tion after por­tion I found valu­able ideas, images, and sto­ries that were immense­ly rel­e­vant to my work as a writer. I found insights about the ties between cre­ation and destruc­tion; about how abun­dant inspi­ra­tion and also the lack of it are both part of the process; about speak­ing out and silence; about the need to appeal to the sens­es in our work; about why we both­er to cre­ate at all; about the dan­ger­ous attrac­tions of pub­li­ca­tion and fame; about the close rela­tion­ship between con­tent and form; about fear­less­ly tak­ing on dif­fi­cult mate­r­i­al; and so on.

I mean, the Torah is a rich and com­pli­cat­ed book; you might be able to write some­thing called The Lawyer's Torah or The Parent's Torah just as eas­i­ly. (Take those ideas and run with them, some­one.) So I'm not say­ing that the Torah is secret­ly just a mes­sage to artists, and that all oth­er inter­pre­ta­tions are mis­in­ter­pre­ta­tions. What I'm say­ing is just that artists have every rea­son to turn to some of our old­est sources of wis­dom for aid and under­stand­ing in our own lives and work. One of the telling things was that I was simul­ta­ne­ous­ly read­ing a lot of biogra­phies — Jew­ish painters, chore­o­g­ra­phers, writ­ers, etc. — and I saw them echo­ing the very things I was uncov­er­ing in the Torah, so I threw them in along­side the more ancient words and let the echoes speak for them­selves.

I'll make an exam­ple of the sto­ry that stands out the most for me: Adam and Eve. Not as trau­mat­ic a tale for us as for Chris­tians, but still — it's kind of a big deal when they eat the fruit and get kicked out of the gar­den. But why do they get kicked out? Because, so goes the sto­ry, they've eat­en of the Tree of Knowl­edge of Good and Evil. And what do they do right after they set up a new camp? They ​"know" each oth­er and make a baby. In oth­er words, as soon as they know the full range of poten­tial in the world — good and evil both — they right away get start­ed on the very first act of human cre­ation. Which means our cre­ativ­i­ty might be fueled by the same kind of knowl­edge.

I car­ry that tale with me. As a Jew­ish writer, I think my job is, first and fore­most, to come to know that full range of good and evil, beau­ty and bro­ken­ness, cre­ation and destruc­tion — to see it and to know it, and to start writ­ing.

And that's just the beginning.
David Eben­bach's col­lec­tion
Into the Wilder­ness
is now avail­able. Vis­it his web­site here.
David Eben­bach is the author of eight books of fic­tion, non-fic­tion, and poet­ry, includ­ing the new nov­el How to Mars and the cre­ativ­i­ty guide The Artist's Torah. His work has won such awards as the Drue Heinz Lit­er­a­ture Prize, the Juniper Prize, and oth­ers. David lives with his fam­i­ly in Wash­ing­ton, DC, where he teach­es at George­town Uni­ver­si­ty. You can find out more at davideben​bach​.com