This week, Michael Lav­i­gne, the author of The Want­i­ng and the Sami Rohr Prize Choice Award nov­el Not Me, blogs for The Post­script on the dif­fi­cul­ty of edit­ing and what he lost along the way. The Post­script series is a spe­cial peek ​"behind the scenes" of a book. It's a juicy lit­tle extra some­thing to add to a book club​'s dis­cus­sion and a read­er's under­stand­ing of how the book came togeth­er.

To ​"host" Michael at your next book club meet­ing, request him through JBC Live Chat.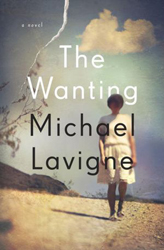 Dear Book Clubs!
One of the hard­est things about writ­ing a nov­el is how much you lose – in pages, that is. In the case of
The Want­i­ng
, well over two hun­dred went by the way­side. Some things had to go because they slowed the read­er too much, oth­ers because they took jour­neys through time that got over­ly com­plex, and oth­ers because the book sim­ply refused to go in that direction.
For instance, at one point, Roman's desert odyssey took him to an aban­doned vil­lage where he expe­ri­enced a reli­gious epiphany in a sand quar­ry – a 20 page adven­ture that end­ed up as four sen­tences in the fin­ished work: I sang to the bright sky as to a child, as I used to do to Anyusha, every night in fact; long after she had fall­en asleep, I would steal into her room, lean over her bed, place my lips beside her ear, and — not sing, because I can't sing – but whis­per my incan­ta­tion, Papa will always take care of you. Papa is your best friend. Papa will nev­er leave you. Anyusha will nev­er be alone again. A ver­sion, by the way, of some­thing I used to say to my own son, Sam. Oth­er loss­es: The tale of beat­ing up Dima Cher­napol­sk once ran many pages and involved Roman's friend Fima, who also was a far more devel­oped char­ac­ter. Collette's his­to­ry was at one time fleshed out by at least thir­ty more pages – actu­al­ly in a very ear­ly draft, more than one hun­dred addi­tion­al pages were ded­i­cat­ed to her, includ­ing an elab­o­rate descrip­tion of her grandfather's life and his house in Paris and the entire sto­ry of her father's tribu­la­tions in the days just before and after her birth. But the lost words I regret most were to be found in a fairy­tale, now con­densed to a sin­gle para­graph and utter­ly changed, that I invent­ed for Roman's drunk­en dream when he fell asleep watch­ing Good Night Chil­dren (a real show, by the way, that three-year-old Sam loved dur­ing our Moscow stay).
My fairy­tale was called The Sto­ry of Prince Oleg And Young Ekim Efiv, and it ran nine pages before Roman was awak­ened mid-dream by his very annoyed moth­er. I even sketched the con­clu­sion of the sto­ry which I intend­ed to intro­duce lat­er in the book. When we were liv­ing in the Sovi­et Union, I read dozens of these tales to Sam or saw ani­mat­ed ver­sions of them on tele­vi­sion, so it didn't take much for me to jump into the role of Russ­ian sto­ry­teller. In my draft, the evil witch Baba Yaga grants a bar­ren queen two chil­dren, on the promise she will give one of them up to the witch. When the day of reck­on­ing comes, the queen hides one of her sons in the for­est, try­ing to fool the witch into believ­ing she gave birth to but a sin­gle child – but the furi­ous witch steals that one any­way. When the queen goes to find her hid­den baby, it too is gone,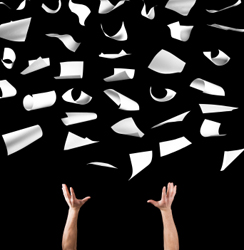 leav­ing her child­less. Unknown to her, the boy was found and nur­tured by an old peas­ant woman and her hus­band. They name him Efim Efiv and he grows strong and hap­py in their vil­lage home. Even­tu­al­ly, though, he must leave this lit­tle par­adise and find his way in the world – to con­front the witch and his lost broth­er (Prince Oleg, now a wicked sor­cer­er), save (and lose) (and save) the woman of his dreams with the help of an enchant­ed bear, carp, and fal­con, all tropes in Russ­ian fairy tales, and final­ly reclaim his right­ful place as prince – which he nev­er quite does since the tale was con­struct­ed as a reflec­tion of Roman's uncon­scious and his true feel­ings about Collette.
What a joy this was to write — and so painful to lose. But cut­ting it was the right thing to do. First drafts are an explo­sion of sto­ry. Real writ­ing, though, is in the edit­ing. So the ques­tion is, would any of these lost sec­tions have deep­ened your under­stand­ing of the book, or is it enough that I, the writer, know them as back-sto­ry? My knowl­edge of all this unre­port­ed his­to­ry gives my char­ac­ters a real­i­ty, a ground­ing, that sure­ly is felt by read­ers. In writ­ing, as in life, loss deep­ens in unseen ways our jour­ney toward truth.
To read more from Michael, see his posts for The Vis­it­ing Scribe here.
Michael Lav­i­gne stud­ied at Millersville State Col­lege and the Uni­ver­si­ty of Chica­go, where he did grad­u­ate work on the Com­mit­tee on Social Thought. His first nov­el, Not Me, received the Sami Rohr Choice Award. Lav­i­gne is a founder of the Tauber Jew­ish Stud­ies Pro­gram at Con­gre­ga­tion Emanu-El in San Fran­cis­co, and spent three years work­ing in the Sovi­et Union.