Ear­li­er this week, Adam Rovn­er wrote about the top five alter­na­tive Jew­ish home­lands that he did­n't explore in his new book, In the Shad­ow of Zion: Promised Lands before Israel, out this week from NYU Press. He will be blog­ging here all week for Jew­ish Book Coun­cil's Vis­it­ing Scribe series.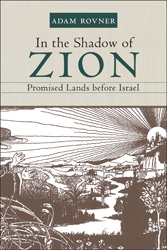 I often describe my book, In the Shad­ow of Zion: Promised Lands before Israel, as the biog­ra­phy of an idea: the mod­ern idea that Jews need­ed a nation­al home some­where — any­where—except the bib­li­cal land of Israel. This Jew­ish nation­al­ist ide­ol­o­gy was known as ter­ri­to­ri­al­ism and is near­ly for­got­ten today. But in some eras it was more pop­u­lar than Zion­ism. My book explores six ter­ri­to­ri­al­ist projects in a vari­ety of far-flung loca­tions: upstate New York, west­ern Kenya (the ​"Ugan­da Plan"), Angola's fer­tile plateaus, the cen­tral high­lands of Mada­gas­car, extreme south­west­ern Tas­ma­nia, and the lush trop­ics of Suri­name. I trav­eled to each of these sites of ter­ri­to­ri­al­ist aspi­ra­tion, and when­ev­er I speak about my research, audi­ences ask me which loca­tion would have been best for the estab­lish­ment of an autonomous Jew­ish colony.
That's a good ques­tion, and a hard one to answer. It's far eas­i­er to cross off places from the list. Cer­tain­ly Ango­la, with its cen­turies of colo­nial exploita­tion at the hands of the Por­tuguese, doesn't seem as if it would have been a promis­ing promised land. Kenya, too, would have been a site fraught with eth­nic, trib­al, and decol­o­niza­tion strug­gles. Nonethe­less, the regions under con­sid­er­a­tion in both Ango­la and Kenya are extra­or­di­nar­i­ly fer­tile and would have been agri­cul­tur­al­ly supe­ri­or to much of the soil in Ottoman Pales­tine. The expense of set­tling remote areas lack­ing infra­struc­ture, like Mada­gas­car and Tas­ma­nia, would have been immense. In the case of Tas­ma­nia, the area pro­posed for set­tle­ment would have been near­ly impos­si­ble to cul­ti­vate due to cli­mate and environment.
That leaves upstate New York and Suri­name as the two most reli­able con­tenders. There's lit­tle doubt that Grand Island in the Nia­gara Riv­er near Buf­fa­lo would have pros­pered. Locat­ed at the ter­mi­nus of the Erie Canal, Grand Island might have become a com­mer­cial cen­ter in the 1820s as Morde­cai Manuel Noah had proph­e­sied. But the tem­po­ral dis­tance of Noah's plan ren­ders it dif­fi­cult to com­pare to the oth­er pro­pos­als, all of which were put for­ward in the twen­ti­eth cen­tu­ry. And so, I think Suri­name, the small­est inde­pen­dent coun­try in South Amer­i­ca, would have been the most viable alter­na­tive Zion.
Suri­name, for­mer­ly Dutch Guiana, pos­sess­es the old­est con­tin­u­al Jew­ish pres­ence in the New World, which dates back to the first half of the sev­en­teenth cen­tu­ry. In the late-eigh­teenth cen­tu­ry, res­i­dents of Joden­sa­vanne, a Jew­ish com­mu­ni­ty of sug­ar planters and mer­can­tilists locat­ed along the Suri­name Riv­er, boast­ed a lev­el of auton­o­my unheard of at that time — and for long after. By the time the Dutch colony was con­sid­ered as a poten­tial sanc­tu­ary for Jew­ish refugees from Europe in the late 1930s, much of the pop­u­la­tion of Suri­name claimed some Jew­ish her­itage. I imag­ine that this rich his­to­ry would have smoothed the path for Jew­ish immigrants.
Like­wise, Suriname's rich nat­ur­al resources, gen­er­al­ly healthy cli­mate, fer­tile soil, sparse pop­u­la­tion, and prox­im­i­ty to the U.S. and major ship­ping routes might have sped the pace of agro-indus­tri­al devel­op­ment and eco­nom­ic growth. But that's all just a bor­ing ratio­nale. Real­ly, I like to imag­ine what a Yid­dish-speak­ing com­mu­ni­ty of pineap­ple farm­ers liv­ing at the edge of a rain­for­est would look like.
To learn more vis­it www​.adam​rovn​er​.com.
Relat­ed Content:
Adam Rovn­er is Asso­ciate Pro­fes­sor of Eng­lish and Jew­ish Lit­er­a­ture at the Uni­ver­si­ty of Den­ver. His arti­cles, essays, trans­la­tions and inter­views have appeared in numer­ous schol­ar­ly jour­nals and gen­er­al inter­est pub­li­ca­tions. Rovn­er's short doc­u­men­tary on Jew­ish ter­ri­to­ri­al­ism, No Land With­out Heav­en, has been screened at exhi­bi­tions in New York, Paris, and Tel Aviv.