2021

Jew­ish Writ­ers Sem­i­nar for Adult Readers
Sunday, December 12, 2021
10am–4pm
Zoom. This event will be in ET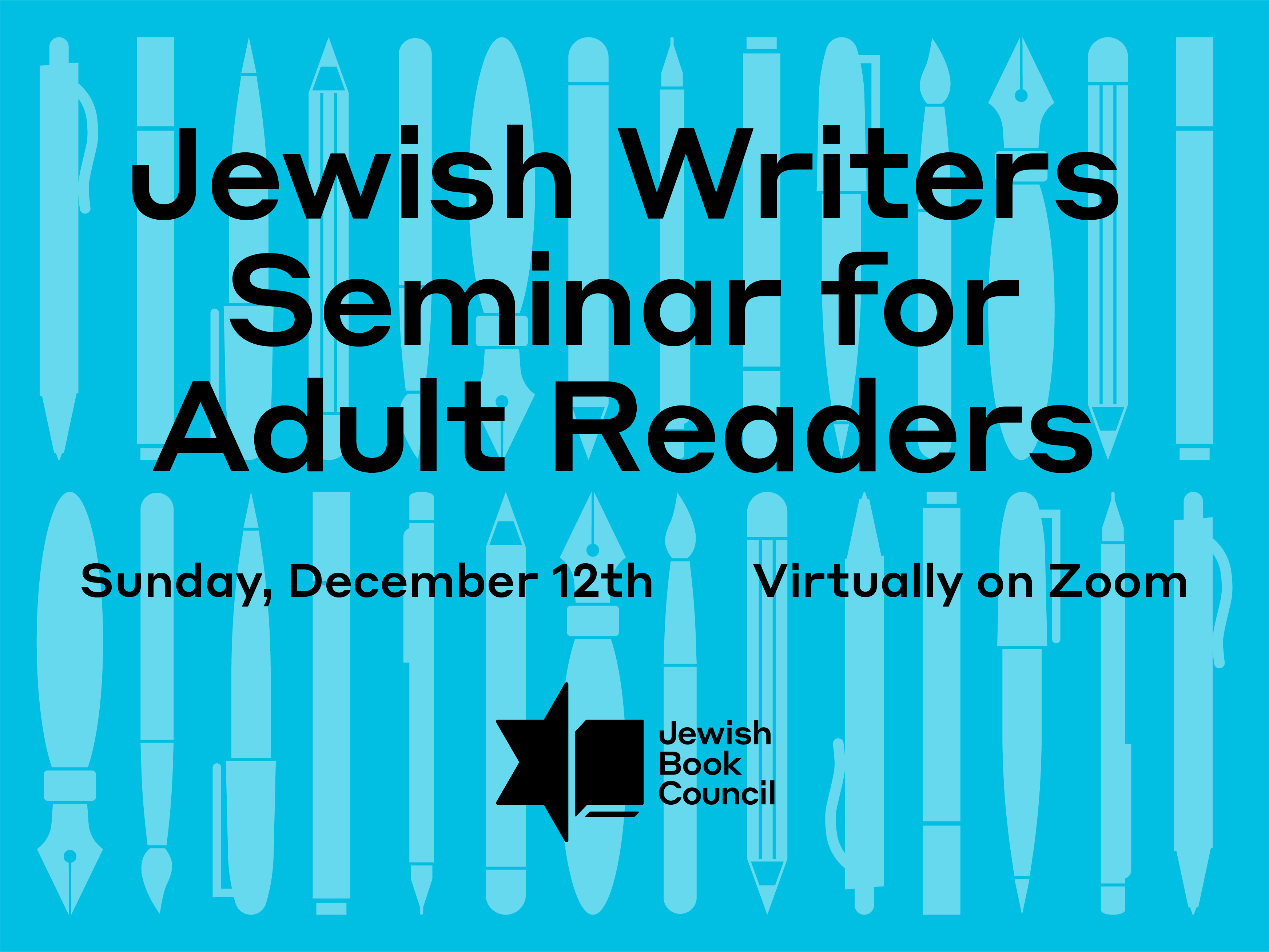 Please click to reg­is­ter, then please click here to buy your tick­et. (This event is over).
Have you writ­ten a book that you'd like to have pub­lished? Do you have a sto­ry idea? Have you already been pub­lished, and would like to net­work with oth­ers in your field? The Jew­ish Writ­ers Sem­i­nar for Adult Read­ers, spon­sored by the Jew­ish Book Coun­cil, brings togeth­er agents, edi­tors, and authors for a full day of dis­cus­sion about Jew­ish book publishing.
This year's sem­i­nar will be held vir­tu­al­ly over Zoom on Sun­day, Decem­ber 12, 2021.
This year the pan­elists and mod­er­a­tors will include the fol­low­ing. More names to come soon!
Helene Weck­er, author of The Golem and the Jin­ni and The Hid­den Palace
Heather Druck­er, pub­li­cist at HarperCollins
Ter­ry Karten, edi­tor at HarperCollins
Sab­ri­na Taitz, lit­er­ary agent at

WME

Rena Ross­ner, lit­er­ary agent at Deb­o­rah Har­ris agency
Joelle Del­bour­go, pres­i­dent and founder of Joëlle Del­bour­go Associates
Ali­cia Brooks, lit­er­ary agent at Jean V. Nag­gar Lit­er­ary Agency
Daniel­la Wexler, edi­tor at HarperCollins
Noa Shapiro, edi­to­r­i­al assis­tant at Pen­guin Ran­dom House
Ilan Sta­vans, pub­lish­er at Rest­less Books
Daniel Ehren­haft, senior acqui­si­tions edi­tor at Black­stone Publishing
Jor­dan Rod­man, pub­li­cist at Avid Read­er Press
Mal­ka Mar­golies, free­lance pub­li­cist at Mal­ka Mar­golies Com­mu­ni­ca­tions,

LLC

Danielle Bartlett, pub­lic­i­ty direc­tor at Harper­Collins Publishing
Mol­ly Tol­sky, founder and edi­tor of Hey Alma
Shi­ra Schin­del, Man­ag­er of strate­gic con­tent part­ner­ships at Audible
Josh Rol­nick, fic­tion edi­tor at Paper Brigade, the lit­er­ary annu­al of the Jew­ish Book Council
Eri­ka Drei­fus-read­er, writer, and lit­er­ary advocate
Evie Saphire-Bern­stein, pro­gram direc­tor at Jew­ish Book Council
Joshua Henkin, author of Morn­ing­side Heights
Early­bird pric­ing for the Sem­i­nar is $135. Pric­ing will go up to $155 on Novem­ber 12th.