Past Con­tin­u­ous: Peter Orner and Sara Lipp­mann in Con­ver­sa­tion with Melis­sa Kirsch
Wednesday, October 25, 2023
7–9pm
Pow­er­house Arena
28 Adams St 28 Adams Street, Brooklyn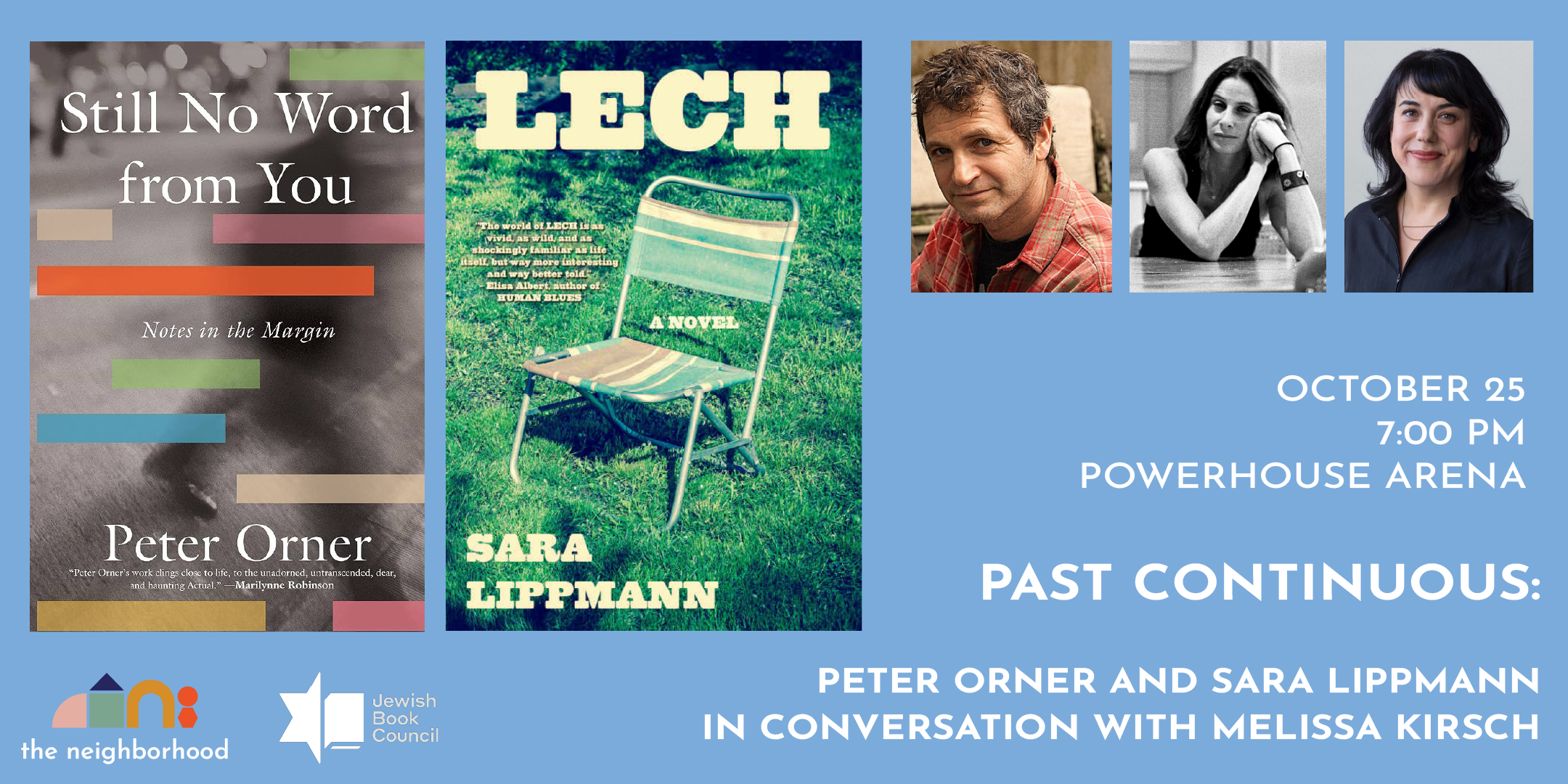 Join The Neigh­bor­hood: An Urban Cen­ter for Jew­ish Life and Jew­ish Book Coun­cil for a con­ver­sa­tion between Peter Orner (Still No Word From You) and Sara Lipp­mann (Lech) about mem­o­ry, inher­it­ed mem­o­ry, and the per­sis­tent coex­is­tence of past and present in the Jew­ish lit­er­ary imag­i­na­tion. The dis­cus­sion will be mod­er­at­ed by Melis­sa Kirsch, deputy edi­tor at The New York Times.
Peter Orner is the author of two nov­els, three short sto­ry col­lec­tions, and two works of cre­ative non­fic­tion, and has edit­ed three col­lect­ed works of oral his­to­ry. Orner's fic­tion and non-fic­tion has appeared in the New York Times, the Atlantic Month­ly, Gran­ta, The Paris Review, The New York­er, McSweeney's, The South­ern Review, Ploughshares and many oth­er pub­li­ca­tions. Sto­ries have been anthol­o­gized in Best Amer­i­can Sto­ries and twice received a Push­cart Prize. He has been award­ed the Rome Prize from the Amer­i­can Acad­e­my of Arts and Let­ters and the Amer­i­can Acad­e­my in Rome, a Guggen­heim Fel­low­ship, and a two-year Lan­nan Foun­da­tion Lit­er­ary Fel­low­ship. He's also received a Cal­i­for­nia Book Award, the Gold­berg Prize for Jew­ish Writ­ing and has been a final­ist for the Pen/​Hem­ing­way Award, the Los Ange­les Times Book Award, and the North­ern Cal­i­for­nia Book Award. In 2017 – 2018, Peter was a Ful­bright U.S. Schol­ar in Namib­ia where he taught at the Uni­ver­si­ty of Namib­ia. He is the direc­tor of Eng­lish lit­er­a­ture and Cre­ative Writ­ing at Dart­mouth Col­lege where he is also a pro­fes­sor and lives in Nor­wich, VT with his fam­i­ly. His lat­est book, Still No Word From You is out in paper­back from Cat­a­pult this fall.
Sara Lipp­mann s the author of the nov­el Lech and the sto­ry col­lec­tions Doll Palace and Jerks. Her fic­tion has been hon­ored by the New York Foun­da­tion for the Arts, and her essays have appeared in The Mil­lions, The Wash­ing­ton Post, Cat­a­pult, The Lit Hub and else­where. With Seth Rogoff, she is co-edit­ing the anthol­o­gy Smash­ing the Tablets: Rad­i­cal Retellings of the Hebrew Bible for SUNY Press. She is a found­ing mem­ber of the Writ­ing Co-Lab, a teach­ing coop­er­a­tive, and lives with her fam­i­ly in Brooklyn.
Melis­sa Kirsch is the deputy edi­tor of Cul­ture and Lifestyle at The New York Times and writes The Morn­ing newslet­ter on Sat­ur­days. She is the author of the book The Girl's Guide.