Ear­li­er this week Mat­ti Fried­man, a reporter in Jerusalem for the Times of Israel, and author of The Alep­po Codex, wrote about the codex vs. the Kin­dle. He will be blog­ging here all week for Jew­ish Book Coun­cil and MyJew­ish­Learn­ing.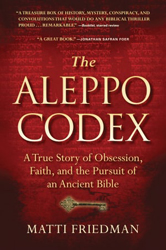 Hav­ing just spent four years on a book about the bib­li­cal man­u­script known as the Alep­po Codex, I can say with some cer­tain­ty that some of the most impor­tant things I learned had noth­ing to do with the codex at all, but rather with the peo­ple who guard­ed it. I came to think of this as a hid­den his­to­ry behind events in the Mid­dle East.
The Jew­ish com­mu­ni­ty of Alep­po, a trad­ing city in north­ern Syr­ia where this man­u­script was kept in a syn­a­gogue for six cen­turies, was one of the com­mu­ni­ties we some­times think of – to the extent that we think of them at all – as belong­ing to the lands of Islam. But Islam came to those places only long after the Jews were already there; the Alep­po Jews, for exam­ple, were in the city rough­ly a mil­len­ni­um before Muham­mad preached in Ara­bia and before his adher­ents arrived in Syr­ia. In Alep­po, and in many cities through­out the Mid­dle East, the Jews were natives in a way that those of us of Euro­pean descent, with our tran­sient ances­tors, can hard­ly imagine.
On Novem­ber 30, 1947, mobs in Alep­po incensed by the UN vote to par­ti­tion Pales­tine the pre­vi­ous day attacked the city's Jews. I inter­viewed peo­ple who remem­bered the riot­ers torch­ing syn­a­gogues, mak­ing piles of Hebrew man­u­scripts, prayer shawls and phy­lac­ter­ies and set­ting them alight. Like a dif­fer­ent wave of riots in Europe nine years before, this one was a har­bin­ger of the end for a Jew­ish way of life: Today, Jew­ish Alep­po has van­ished; its res­i­dents were among the 850,000 Jews forced out of their ances­tral homes in Islam­ic countries.
Two Jew­ish worlds came to an end in the 1940s. We are famil­iar with the first, which many of us think of sim­ply as the Jew­ish world: Jew­ish humor, Jew­ish cui­sine, Jew­ish writ­ing – all of these terms apply, in North Amer­i­can par­lance, to the Jews of Europe. The Jew­ish world of the Mid­dle East includ­ed few­er peo­ple and end­ed in less cat­a­clysmic cir­cum­stances. But it was just as Jew­ish and just as impor­tant, and it is just as gone.
In dis­cussing the mod­ern state of Israel, the Jews of the Mid­dle East are often men­tioned as a kind of curios­i­ty, an aside in what we tell as
a Euro­pean sto­ry – pogroms, Her­zl, Zion­ism, the Holo­caust. In this sto­ry, Jews and Arabs first encoun­tered each oth­er in the late nine­teenth cen­tu­ry; we imag­ine the Russ­ian-born pio­neer encoun­ter­ing the Arab fel­lah on the rocky soil of Pales­tine. But that isn't true, and the Jews who had always lived in the Mid­dle East are not a footnote.
When Islam began in Ara­bia, Jews were there, and when the first Mus­lims began spread­ing to cities across the Mideast, they found Jews there as well. Jews were rec­og­nized by Islam as a pro­tect­ed, sec­ond-class eth­nic group, dhim­mi, some­times per­se­cut­ed, some­times tol­er­at­ed. They were gen­er­al­ly con­sid­ered to be effete and with­out hon­or. In recent years it has become com­mon to speak of the Mus­lim Mid­dle East as a haven in which Jews thrived, but this is non­sense; the Islam­ic world owes its good rep­u­ta­tion in this regard to Euro­peans, who set a stan­dard for mis­treat­ment that is impos­si­ble to match.
Jews had exist­ed in the Mus­lim imag­i­na­tion for many cen­turies by the time the first Zion­ists arrived in the Mid­dle East, and the place they occu­pied in that imag­i­na­tion made the Zion­ist project prob­lem­at­ic in ways that are still play­ing out. Jews were infe­ri­or to Mus­lims by def­i­n­i­tion. They were weak, a sub­ject com­mu­ni­ty, and that made their suc­cess in Pales­tine impos­si­ble to accept: Being beat­en and out­smart­ed by a pow­er­ful empire like Britain or France was one thing. Being beat­en and dom­i­nat­ed by Jews – as Arabs were, again and again, before 1948 and in sub­se­quent wars – was a humil­i­a­tion that sim­ply could not be accept­ed. It was like being beat­en by a girl. The depth of this humil­i­a­tion, which lies at the root of today's con­flict, is some­thing Israel and its sup­port­ers have too often failed to appreciate.
The dis­so­nance between the very old Mus­lim per­cep­tion of the Jew and the real­i­ty of the twen­ti­eth cen­tu­ry came to be explained in the Arab world by turn­ing to con­spir­a­cy the­o­ries. Jews could not have beat­en Mus­lims fair­ly; they were nefar­i­ous, and here Euro­peans had plen­ty of mate­r­i­al they were hap­py to share, and which was trans­lat­ed into Ara­bic and still enthu­si­as­ti­cal­ly cir­cu­lates across the Mid­dle East. (I have encoun­tered the Pro­to­cols of the Elders of Zion at oth­er­wise nor­mal book­stores in Istan­bul and Cairo and in an aca­d­e­m­ic book­store adja­cent to the pres­ti­gious Amer­i­can Uni­ver­si­ty of Beirut.)
By the 1950s, most of the Jews of the Mid­dle East were con­cen­trat­ed in Israel, and they played a cen­tral role in forg­ing the nation­al life of the coun­try. And yet it has been con­ve­nient for all par­ties, Israelis includ­ed, to describe Israel as a Euro­pean enclave. For Israelis, this claim allows them a sense of supe­ri­or­i­ty. For the Arabs, it allows the era­sure of the fate of their own Jew­ish com­mu­ni­ties and enables them to por­tray Israel as a West­ern invad­er. It has become cliché, for exam­ple, to note that hum­mus and falafel and oth­er Mid­dle East­ern foods that Israelis con­sid­er to be Israeli are in fact a native cui­sine appro­pri­at­ed by new­com­ers. This only makes sense if you don't under­stand that ful­ly 50 per­cent of Israel's Jews are the peo­ple who were kicked out of Islam­ic coun­tries or their descen­dants – the cui­sine of the Mideast, of course, belongs to them and their coun­try­men as much as it does to any­one else. When we look at Israel and its neigh­bors, and at the last Jew­ish cen­tu­ry, we would ben­e­fit by restor­ing this miss­ing his­to­ry to its place – right at the cen­ter of the story.
Vis­it Mat­ti Fried­man's offi­cial web­site here and read more about the Alep­po Codex here.