Ear­li­er this week, Har­ry Brod wrote about Jews not have a ​"mid­dle range," speak­ing back­wards, a cou­ple of say­ings with which he dis­agrees and why he always has a valid pass­port. He has been blog­ging here all week for Jew­ish Book Coun­cil and MyJew­ish­Learn­ing.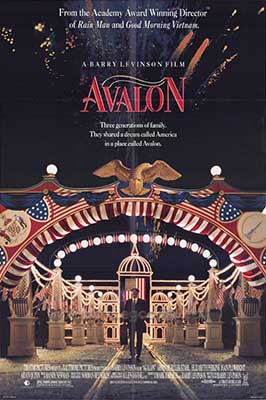 Every Thanks­giv­ing I think of the Thanks­giv­ing scene in the 1990 film Aval­on, one of Bar­ry Levinson's semi-auto­bi­o­graph­i­cal Bal­ti­more films. Aval­on tells a mul­ti-gen­er­a­tional tale of a Jew­ish fam­i­ly, rang­ing from the immi­grant gen­er­a­tion who arrived at the start of the twen­ti­eth cen­tu­ry to the Amer­i­can­ized gen­er­a­tion of mid-century.
At the large fam­i­ly Thanks­giv­ing gath­er­ing a feud devel­ops between the two broth­ers of the cen­tral, tran­si­tion­al gen­er­a­tion because they start the meal before the arrival of the old­er broth­er. The fam­i­ly tries unsuc­cess­ful­ly to soothe him by explain­ing that they wait­ed but couldn't delay the meal any fur­ther because the young kids were get­ting hun­gry. The two broth­ers end up not speak­ing because the old­er broth­er remains so deeply offend­ed that they carved the turkey with­out him.
As I watched the movie I real­ized that the scene makes no sense. In this Jew­ish immi­grant fam­i­ly, how on earth did Thanks­giv­ing, and the ques­tion of who carves the turkey, attain such mon­u­men­tal sig­nif­i­cance that it splits apart a fam­i­ly who have man­aged to stay togeth­er through so many dif­fi­cul­ties? And why is the kids' hunger such a prob­lem? Thanks­giv­ing din­ner is usu­al­ly ear­li­er than stan­dard din­ner time, so why are they so hun­gry? And if they are hun­gry, just feed them. What's the big problem?
Then it hit me. My fam­i­ly didn't look like that at Thanks­giv­ing. My fam­i­ly looked like that at Passover, right down to the kids table added at the foot of the long din­ner table at which the adults sat.
Now I under­stood the scene. It wasn't about a turkey. The offend­ing insult was that they had start­ed the seder with­out wait­ing for the head of the fam­i­ly. And the seder rit­u­al was why you had to start on time so the kids wouldn't be too hun­gry. They'd have to sit there, bored and with food right in front of them, but not being allowed to eat until inter­minably long prayers were over. They'd be mis­er­able, and if the kids are mis­er­able, then so too are the adults tak­ing care of them. So they had to start the seder on time.
By de-Jew­ify­ing the scene, trans­plant­i­ng it from Passover to Thanks­giv­ing to make it more ​"uni­ver­sal," they'd ren­dered the sto­ry inco­her­ent. It annoys me no less now than it did then.
Har­ry Brod is a pro­fes­sor of phi­los­o­phy and human­i­ties at the Uni­ver­si­ty of North­ern Iowa and the author of Super­man is Jew­ish?: How Com­ic Book Super­heroes Came to Serve Truth, Jus­tice, and the Jew­ish-Amer­i­can Way (Free Press; Novem­ber 2012).