Dvo­ra Mey­ers is the author of
Heresy on the High Beam: Con­fes­sions of an Unbal­anced Jew­ess
. She will be blog­ging here all week for Jew­ish Book Coun­cil and MyJew­ish­Learn­ing.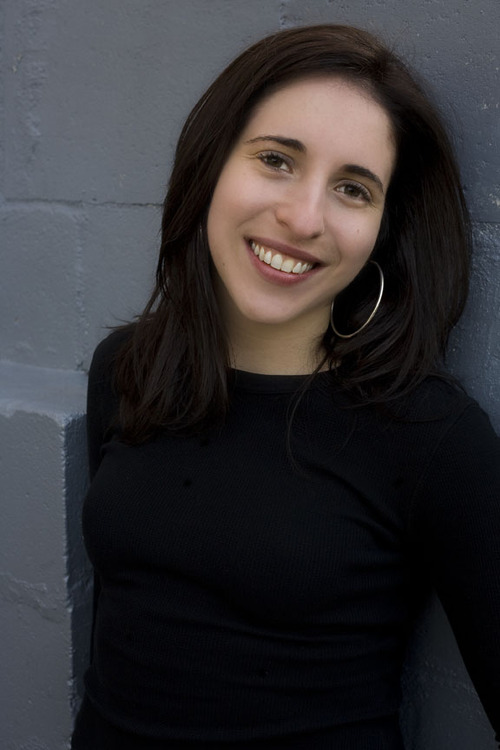 When you tell some­one that you used to do gym­nas­tics, she fre­quent­ly answers that she, too, did it. When she was sev­en. And hadn't thought about it in years. The impli­ca­tion is clear — gym­nas­tics is the sort of sport you're sup­posed to out­grow. In most instances, you start doing it before you know how to sign your own name and it's over by your first ado­les­cent growth spurt, join­ing the child­hood hob­by trash heap, which for me includes rollerblad­ing and play­ing with Bar­bie dolls.
But in my case, I couldn't seem to shake the sport unlike the rest of my prac­tice peers, who end­ed their involve­ment with gym­nas­tics by the end of high school. There I was, about to start grad school in Cre­ative Non­fic­tion at twen­ty-three, still check­ing the online mes­sage boards devot­ed to the sport dai­ly in order to learn which Roman­ian gym­nast had a new vault or who was injured and or who quit and so on. (The gym­nas­tics com­mu­ni­ty, both online and in real life, is espe­cial­ly tight knit for the same rea­sons that Jews tend to clus­ter togeth­er — there are so few of us who give a damn.)
As I was try­ing to fig­ure out the top­ic for the first essay I want­ed to write for my work­shop, my mind drift­ed to the sport, which I hadn't real­ly writ­ten about much (even if I talked about it ad nau­se­um and watched YouTube videos of com­pe­ti­tions from two decades pri­or mere­ly to admire the way a par­tic­u­lar Sovi­et point­ed her toes). Hey, I said to myself, I'm still as obsessed with gym­nas­tics in my 20s as I was at sev­en. In a very Sein­fel­dian way, I won­dered — What's that about?
So I wrote my first essay explor­ing the role of the sport in my life. Like Gen­e­sis, I start­ed at the begin­ning, or at least what I thought was the begin­ning — my seem­ing­ly com­ing-out-of-nowhere obses­sion with gym­nas­tics. In those ear­li­est exam­i­na­tions, it seemed like I had wok­en up one day and decid­ed that I must learn how to flip over my hands. It was a pret­ty unso­phis­ti­cat­ed piece, both in writ­ing and insight, and thank­ful­ly none of it made its way into any for­mal­ly pub­lished work.
But even in those ear­ly efforts, what was becom­ing very clear was the role that my family's strict obser­vance of Ortho­dox Jew­ish rules was play­ing in my par­tic­i­pa­tion in the sport and how it added fuel to the fire of my obses­sion. There was the fact that I couldn't go to a real com­pet­i­tive gym because their after­school class­es start­ed too ear­ly for some­one with the longer hours of a yeshi­va stu­dent. Or that leo­tards posed a reli­gious prob­lem to some­one who wore only skirts and longer sleeved skirts out­side of the gym. And near­ly all com­pe­ti­tions took place on Shab­bos. When it came to the low­er lev­el ones, I sim­ply wasn't allowed to com­pete. As for the elite, tele­vised ones — I had to learn how to pro­gram the VCR so I could even­tu­al­ly watch them after the stars came out on Sat­ur­day night. All of these lim­i­ta­tions imposed by Judaism sim­ply made me want to do and think about the sport even more. I like to imag­ine that if I had been total­ly unfet­tered by reli­gious doc­trine, I prob­a­bly would've left the sport behind when it became appar­ent that I sim­ply wasn't any good at it.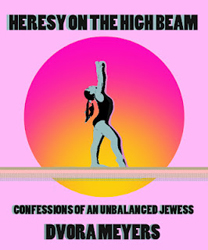 Dur­ing one after class drink­ing ses­sions at a local bar, my work­shop pro­fes­sor, who had been sub­ject­ed to a semes­ter-long bar­rage of gym­nas­tics, tipsi­ly looked me in the eye and said, ​"You've got this whole Potok thing going on. Except with a weird thing about gymnastics."
While my per­son­al essay col­lec­tion, Heresy on the High Beam: Con­fes­sions of an Unbal­anced Jew­ess, bears lit­tle resem­blance to Potok's nov­els — fic­tion vs. non­fic­tion, male vs. female pro­tag­o­nists, dif­fer­ent eras — I'd like to think that per­haps had Potok been enam­ored with gym­nas­tics instead of the nation­al pas­time then maybe Reuven Mal­ter, the main char­ac­ter in The Cho­sen, would've hit his head on the bal­ance beam instead of get­ting nailed in the eye by a base­ball. That would've been cool.
Dvo­ra Mey­ers has writ­ten for The New York Times, Dead­spin, and Tablet. She was nev­er allowed to com­pete pro­fes­sion­al­ly, but she is the recip­i­ent of a gold medal for gym­nas­tics obses­sive­ness. Her new book, Heresy on the High Beam: Con­fes­sions of an Unbal­anced Jew­ess, is out now.