I'm not sure I can express how much I am look­ing for­ward to see­ing Theodore Melfi's Hid­den Fig­ures this week­end: the incred­i­ble true sto­ry of three black female math­e­mati­cians who helped NASA launch John Glenn into orbit in 1962 hits the­aters tomor­row! While the film is based on a Mar­got Lee Shet­ter­ly book of the same title, I have my nose buried in a dif­fer­ent rel­e­vant read: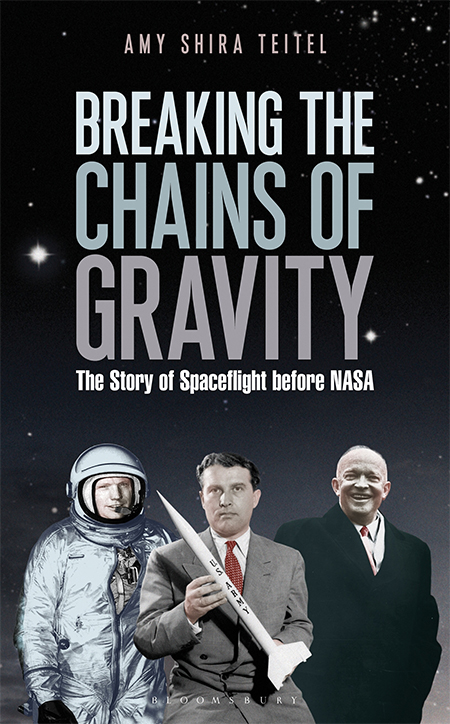 Amy Shi­ra Teitel's Break­ing the Chains of Grav­i­ty: The Sto­ry of Space­flight before NASA begins in the spring of 1930, fol­low­ing the Ger­man rock­et pro­gram from the Wehrma­cht through World War II and its post­war inte­gra­tion into the Nation­al Advi­so­ry Com­mit­tee for Aero­nau­tics (NACA), the Unit­ed States fed­er­al agency found­ed in 1915 and absorbed into the Nation­al Aero­nau­tics and Space Admin­is­tra­tion (NASA) in 1958 under Pres­i­dent Eisen­how­er — in response to the Octo­ber 1957 launch of Sput­nik by the Sovi­et Union. This fas­ci­nat­ing his­tor­i­cal account is a an excel­lent com­pan­ion to Michael Chabon's recent nov­el Moon­glow, which depicts many of the same events, pro­grams, and engi­neers intro­duced here in Amy Shi­ra Teitel's non­fic­tion debut.
Nat Bern­stein is the for­mer Man­ag­er of Dig­i­tal Con­tent & Media, JBC Net­work Coor­di­na­tor, and Con­tribut­ing Edi­tor at the Jew­ish Book Coun­cil and a grad­u­ate of Hamp­shire College.