Per­haps one of the best reli­gious tra­di­tions I have adopt­ed for myself as an adult is hear­ing the Book of Lamen­ta­tions read at Con­gre­ga­tion Shearith Israel, the Span­ish and Por­tuguese Syn­a­gogue on New York's Upper West Side, on the Eve of Tisha B'Av each year. It is a beau­ti­ful, eerie ser­vice held in the dark, fol­lowed by a lec­ture relat­ing to the Jew­ish obser­vance of the sad­dest day in the Hebrew year.
In his lec­ture this past sum­mer, Rab­bi Meir Soloveitchik brought up a cus­tom of the Jews of Rome con­nect­ing Tisha B'Av to Hanukkah, which is near­ly upon us now: mem­bers of this com­mu­ni­ty read the Book of Lamen­ta­tions by can­dle­light and pre­serve what remains of each taper, keep­ing the can­dle in their homes to use as the shamash on the first night of Hanukkah sev­er­al months lat­er. This prac­tice is rife with sym­bol­ism, relat­ed to imagery and sig­nif­i­cance of the Arch of Titus — I wish I could go into more detail, but that would be plagiarism.
Instead, I am hap­py to direct read­ers to a short essay on the Yeshi­va Uni­ver­si­ty blog, writ­ten by Dr. Steven Fine, the author of our Book Cov­er of the Week!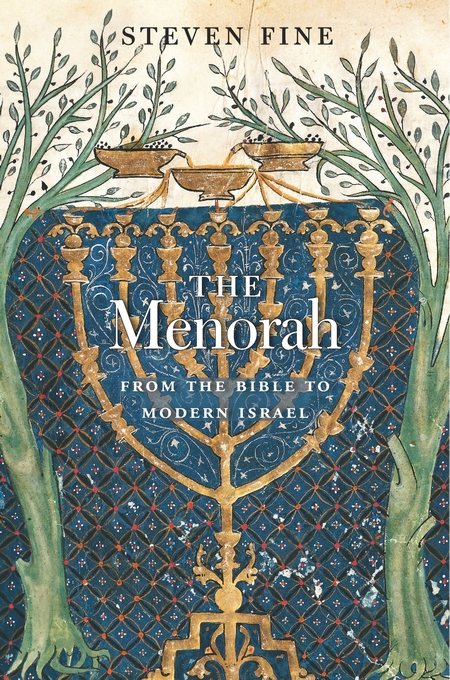 The Meno­rah: From the Bible to Mod­ern Israel focus­es par­tic­u­lar­ly on the Arch of Titus and Fine's dis­cov­ery of the orig­i­nal yel­low ochre paint for the meno­rah in its relief, depict­ing Titus's tri­umphal return from Jerusalem with the trea­sures of the Tem­ple he destroyed at the end of a bicen­ten­ni­al of Jew­ish upris­ing against pagan ene­mies and oppres­sors that began with the Mac­cabees. So yes, I do under­stand the dif­fer­ence between a meno­rah and a chanukki­ah, but this book still makes for a great Hanukkah read!
Relat­ed Content:
Nat Bern­stein is the for­mer Man­ag­er of Dig­i­tal Con­tent & Media, JBC Net­work Coor­di­na­tor, and Con­tribut­ing Edi­tor at the Jew­ish Book Coun­cil and a grad­u­ate of Hamp­shire College.