Charles Belfoure is the author of the debut nov­el
The Paris Archi­tect
(Source­books Land­mark), an Octo­ber Indie Next Pick and Nation­al Read­ing Group Month Selec­tion. He will be blog­ging here all week for Jew­ish Book Coun­cil and MyJew­ish­Learn­ing.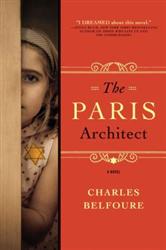 One of the hard­est things to get used to in writ­ing a nov­el is cut­ting mate­r­i­al to speed up the pac­ing and tight­en­ing the plot. It's like cast­ing out a beloved child into the street. You hate to see it go, but it in the end, it's prob­a­bly for the best.
In my nov­el, The Paris Archi­tect, I had to do some chop­ping — but one scene was par­tic­u­lar­ly hard to edit. The book is about a gen­tile archi­tect who designs hid­ing places for Jews in occu­pied Paris; many of the peo­ple the pro­tag­o­nist helps have been hid­ing in the most hor­ren­dous places, based on the his­tor­i­cal real­i­ties of the time. Their friends have turned their backs on them, and the Parisian Jews must find any refuge no mat­ter how squalid.
One of these places, I reluc­tant­ly cut out. Some Jews dur­ing World War II hid in false graves in ceme­ter­ies. For an exor­bi­tant fee, ceme­tery care­tak­ers would hide peo­ple: The grave would be dug out a lit­tle deep­er and larg­er then boards would be placed over the open­ing and dirt mound­ed over so it looked like a real grave. A grave­stone would be put in place and flow­ers set in front for a real­is­tic touch. A pipe extend­ing a cou­ple of inch­es above the ground was placed at the rear to pro­vide air for the occu­pants. One of the boards could be removed to drop food and water into the grave.
One would think that a grave could hold but one per­son, but the times were so des­per­ate that three or four peo­ple could make do down there. Liv­ing in Sty­gian dark­ness, the peo­ple just sat there day after ago­niz­ing day with only a can­dle for light. Some were fam­i­ly mem­bers and some were com­plete strangers to each oth­er. It would be just end­less excru­ci­at­ing bore­dom mixed with the fear of being dis­cov­ered at any minute.
Your exis­tence depend­ed sole­ly on the hon­esty and integri­ty of the care­tak­er. Some were kind and oth­ers aban­doned their charges. Because the dirt was mound­ed on top of the boards, it was no easy task to escape.
My char­ac­ter was a bach­e­lor chemist in his for­ties. When he fled, he couldn't bear to part with his pet rab­bit so he took it down into the grave. It was the only com­fort he had down there. But the oth­er fam­ished inhab­i­tants of the grave began imag­in­ing his rab­bit as a very deli­cious meal. The chemist swore he'd kill any­one who touched his pet as though it were his child. I hat­ed to see him go.
An archi­tect by pro­fes­sion, Charles Belfoure grad­u­at­ed from the Pratt Insti­tute and Colum­bia Uni­ver­si­ty. His writ­ing has appeared in the
The Bal­ti­more Sun
and
The New York Times
. He lives in Maryland.
Charles Belfoure is The New York Times best­selling author of The Paris Archi­tect, a Jew­ish-inter­est book. A retired his­toric preser­va­tion archi­tect, he is a good-natured gen­tile who grew up with Jews in Bal­ti­more and will not bore peo­ple with a pre­ten­tious lit­er­ary pre­sen­ta­tion. They learn about their own his­to­ry, pogroms, and Faberge East­er Eggs.