Ear­li­er this week, Jen­ny Fel­don wrote about becom­ing an acci­den­tal house­wife and how to ignore the labels. She is the author of the recent­ly pub­lished Kar­ma Gone Bad: How I Learned to Love Man­goes, Bol­ly­wood and Water Buf­fa­lo (Source­books) and has been blog­ging here all week for Jew­ish Book Coun­cil and MyJew­ish­Learn­ing.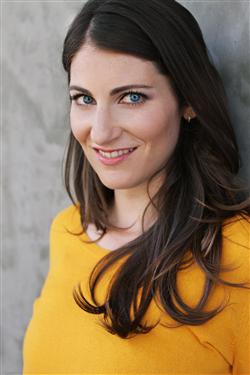 Until I moved to India, I'd nev­er viewed being Jew­ish as some­thing unusu­al. I grew up in an upper mid­dle class Boston sub­urb, where Rosh Hashanah and Yom Kip­pur were pub­lic school hol­i­days for the entire dis­trict. The cafe­te­rias in mid­dle school and high school served mat­zoh all week long every Passover. We grew up think­ing that Hanukkah was just as big of a deal as Christmas.
After col­lege, in New York City, my hus­band and I syn­a­gogue-hopped with friends dur­ing the High Holy Days and ate kosher Chi­nese with his ortho­dox cousins in Queens. We were as eas­i­ly, trans­par­ent­ly Jew­ish as we were young and ambi­tious and naive about the world. We took our reli­gion, and the com­mu­ni­ty that came with it, for grant­ed. We didn't know any bet­ter. We had nev­er been ​"oth­er." I couldn't even imag­ine what that felt like…until ​"oth­er" became the very essence of my rela­tion­ship with the world around me.
In India, we were seen as dif­fer­ent the minute we stepped off the air­plane. Hyder­abad hadn't yet expe­ri­enced the influx of West­ern­ers so many oth­er Indi­an cities had. Sev­en­ty per­cent Mus­lim, the city had want­ed to secede and become part of Pak­istan (look on a map and you'll see why such a wish was impos­si­ble). We were not only white; we were Jew­ish in a pre­dom­i­nant­ly Mus­lim city. I saw women in burkas and felt even more like an out­sider than I had just being an Amer­i­can in India.
But no one we met knew what ​"Jew­ish" was. As white peo­ple, we were auto­mat­i­cal­ly cat­e­go­rized as Chris­t­ian. My dri­ver, Venkat, with lim­it­ed edu­ca­tion and Eng­lish skills but end­less enthu­si­asm for learn­ing about West­ern cul­ture, sim­ply could not wrap his head around the fact that Jay and I went to tem­ple to observe our faith. The only tem­ples he knew were Hin­du; the only white peo­ple he knew went to church.
Dur­ing the hol­i­days, strangers would stop us on the street and shout ​"Hap­py Mer­ry Christ­mas, Sir and Ma'am!" We received dozens of Christ­mas cards and gifts from friends and col­leagues. It was clear our new com­mu­ni­ty want­ed to cel­e­brate with us, but most attempts we made to explain ​"Jew­ish" and ​"Hanukkah" were met with con­fu­sion. We were West­ern, there­fore we must cel­e­brate Christ­mas. End of sto­ry. In the end, we stopped try­ing to swim upstream and gra­cious­ly accept­ed our Mer­ry Christ­mas wish­es and bou­quets of daisies dyed red and green.
It wasn't until we trav­eled to Ker­ala and vis­it­ed the Parade­si Syn­a­gogue in Kochi that I real­ized how deep and intrin­sic Judaism was to my iden­ti­ty — and how much I'd missed feel­ing con­nect­ed to my faith. Locat­ed in ​"Jew Town," the ortho­dox Parade­si syn­a­gogue is one of only a hand­ful of func­tion­ing syn­a­gogues in all of India and one of the only ones with a minyan. No rab­bi is present, but their ser­vices are led by com­mu­ni­ty elders.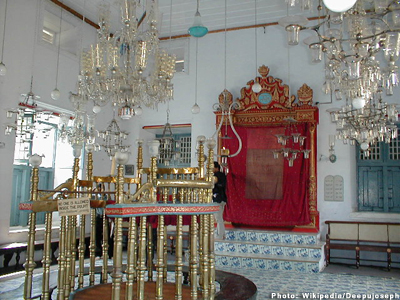 Set­ting foot in that syn­a­gogue, in the mid­dle of India, I felt home in a way I still can't quite describe. Even though we were still so firm­ly and obvi­ous­ly in India, a sense of home washed over me like warm, calm­ing rain. I looked at the Hebrew let­ters with eyes that had grown accus­tomed to San­skrit and Hin­di and felt con­nect­ed again to a part of me I'd been ignor­ing since we left the Unit­ed States. Being Jew­ish wasn't just about what I believed, but an intrin­sic part of who I was.
It was tru­ly amaz­ing how this reli­gion I'd often neglect­ed, had tak­en for grant­ed or passed over in favor of work­ing and play­ing and being young in New York, had sud­den­ly ground­ed me in faith and famil­iar­i­ty right in the mid­dle of a coun­try I'd been strug­gling for months to find my place in. India, so for­eign and beau­ti­ful and con­fus­ing, was also — at least for that moment, in that tiny, ancient white syn­a­gogue in Kerala's Jew Town — a place that felt like home.
Jen­ny Fel­don was named one of BlogHer's Voic­es of the Year in 2012. She lives in Los Ange­les with her hus­band and two chil­dren. Read more about her here.