NET­WORK author Angel­la Nazar­i­an shares a touch­ing anec­dote from her Jew­ish Book Month tour with the Jew­ish Book Council.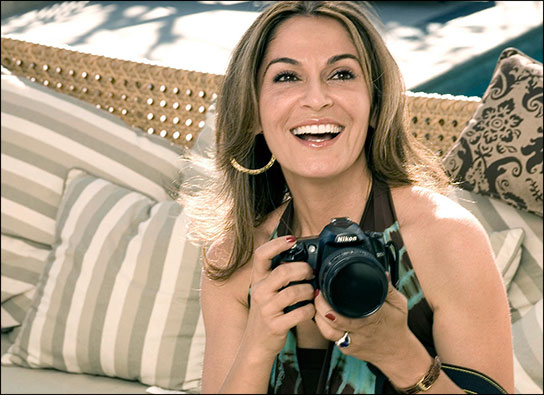 When she wasn't gig­gling, she talked in a rapid-fire, sing-song reg­is­ter. And her voice….her voice car­ried a slight raspy edge. We con­stant­ly whis­pered in each other's ears and wrote notes to each oth­er in the mid­dle of class.
Although the court­yard in front of the strict and fear-inspir­ing Eng­lish head­mistress of our school was not the most pop­u­lar place, we were there often chal­leng­ing each oth­er to a game of ping pong. And more often than not, we dared the oth­er girls to squeeze through the met­al rail­ings of the fence that sep­a­rat­ed the court­yard from the play­ground. This led to many instances of class­mates get­ting their heads stuck in the gaps of the rail­ing. They blushed with anger and frus­tra­tion but were too scared to yell out and call the atten­tion of the headmistress.
That is what I remem­ber of my times with my dear friend, Nag­meh, back in ele­men­tary school in Iran. Hers was the last par­ty I attend­ed in Iran, before we all fled and dis­persed to dif­fer­ent parts of the world. I have vivid mem­o­ries of Nagmeh's 11th birth­day par­ty. All the girls had gath­ered in her liv­ing room, hud­dled in a cir­cle. We were think­ing of a game to play and Nagmeh's cousin sug­gest­ed a dance com­pe­ti­tion– I guess you could call it a Per­sian ver­sion of a dance-off! The hot song straight out of the States was Boney M's Ma Bak­er and we all sashayed to the mid­dle of the liv­ing room floor. It was appar­ent even back then that I liked to strut my stuff on the dance floor, and I went home as one of winners.
Three months lat­er I remem­ber lis­ten­ing to Bee Gees's Stay­ing Alive in the States and won­der­ing if I would ever see my friends again. We had left Iran in a hur­ry and thought we would return once things calmed down. But it nev­er did. Iran was in the midst of a rev­o­lu­tion, and I lost touch with all my child­hood friends.
Imag­ine that just a few months ago I got a face­book mes­sage from my long-lost, child­hood friend, Nag­meh. It didn't take long for us to rem­i­nisce about our school, our friends, and her last par­ty. We caught up on each other's lives. I found out that she was mar­ried with two kids and liv­ing in San Diego – just a three-hour dri­ve from me.
She knew that I was com­ing out to San Diego for a book event, but alas I would only be there for a cou­ple of hours. The Jew­ish Book Coun­cil had booked me for anoth­er speak­ing engage­ment in New Orleans the next day, and I had to fly out of San Diego that after­noon. So Nag­meh and I made plans to see each oth­er at anoth­er time, when we could actu­al­ly sit and talk.
Then came her call the very day I was going to San Diego. ​"You know it's crazy that you will be here in San Diego and we won't meet up," she said. The rhythm of her talk was still the same even though now, after thir­ty-two years, we were speak­ing in anoth­er lan­guage (Eng­lish). I could even sense that she was smil­ing through the phone and the thought that she was on the oth­er end made me smile. It was true. It was a shame that we wouldn't get a chance to see each oth­er, but oth­er road blocks had pre­sent­ed them­selves for the day. Nag­meh had tak­en off work because her son was sick with strep throat and she had no sit­ter. So, as dis­ap­point­ed as I was, I didn't want to make things hard­er for her.
I got to the book fair in time and took a seat with some of the orga­niz­ers before I was called up to speak. Five min­utes before tak­ing the stage, I got a text from her: I am sit­ting here in the audi­ence! I stood up and looked around, but real­ized that I wasn't even sure what she looked like as an adult. To tell you the truth, I still imag­ined her as a feisty eleven-year-old with short hair and round, brown eyes. She had sent a pic­ture of her adult self to my black­ber­ry that morn­ing – only because I kept insist­ing that I need­ed to see who she had grown to become.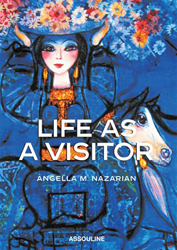 I searched around the room for Nag­meh, but she was lost in the sea of faces. I texted her: where are you? It didn't help that the lights were par­tic­u­lar­ly bright by the stage and they were hit­ting me straight in the eyes. I walked a lit­tle to the right. And moments lat­er I saw a per­son in a red jack­et stand up and wave at me. There she was, seat­ed at a table on the left side of the room.
The pro­gram was start­ing short­ly but I couldn't wait. I made a bee-line toward her and we held each oth­er tight­ly. Hon­est­ly nei­ther of us would have rec­og­nized each oth­er had we walked side-by-side in the street some­where. Thir­ty-two years is a long time not to see a friend.
We still held on to each other's arms while we looked intent­ly at each other's face. We were two grown women now. I guess I was search­ing to find my child­hood friend in the now adult fea­tures. And with­out me tak­ing notice, I found myself smil­ing in recog­ni­tion and say­ing, ​"Nag­meh, its those eyes. You have the same eyes that I remem­ber look­ing into when I was a child." She smiled and looked back. She still held me tight and said, ​"And your smile. You have the same smile, Angella."