Craig Darch is author of From Brook­lyn to the Olympics: The Hall of Fame Career of Auburn Uni­ver­si­ty Track Coach Mel Rosen. He will be blog­ging here all week for Jew­ish Book Coun­cil's Vis­it­ing Scribe series.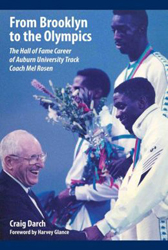 My inter­est in writ­ing the Mel Rosen sto­ry has its roots in South Bend Indi­ana, where I grew up. My father and moth­er (actu­al­ly my entire fam­i­ly) were avid sports fans and always talked about Jew­ish ath­letes. In their minds, if an ath­lete was Jew­ish, then his or her achieve­ment was even more note­wor­thy, some­thing to talk about and, as Jews, some­thing to be proud of, because Amer­i­can Jews are always look­ing for Jew­ish sports heroes.
I vivid­ly remem­ber fam­i­ly din­ners where we dis­cussed (or argued about) the mer­its of a Jew­ish ath­lete. I remem­ber my dad and his cousin Gene wist­ful­ly describ­ing the pugilis­tic exploits of Ben­ny Leonard, in their opin­ion the great­est of all the great Jew­ish fight­ers dur­ing the 1920s and 1930s. I can remem­ber sit­ting around the tele­vi­sion when I was about 12 years old with my broth­ers Mike and Lance and my dad watch­ing bas­ket­ball play­er Dolph Schayes, one of the few Jew­ish play­ers in the Nation­al Bas­ket­ball Asso­ci­a­tion, play­ing for the Syra­cuse Nation­als. Watch­ing him play made the game excit­ing. Schayes was a war­rior and fierce com­peti­tor: from Feb­ru­ary 1952 to Decem­ber 1961 he played in 764 straight games. Our think­ing at that time was, if Dolph Schayes could be a bas­ket­ball star, then why couldn't we? I also remem­ber when Sandy Koufax, Los Ange­les Dodger's pitch­er and Hall of Famer, and one of the most dom­i­nat­ing pitch­ers in base­ball his­to­ry, elect­ed not to pitch the open­ing game of the Dodger and Min­neso­ta Twins world series in 1965 because it fell on Yom Kip­pur. And I remem­ber my family's pride sur­round­ing his deci­sion not to pitch. It was lis­ten­ing to the sto­ries of Jew­ish ath­letes when I was a kid that boost­ed my life-long inter­est in Jew­ish sports stories.
I also remem­ber the morn­ing when I decid­ed to write about Mel Rosen. Here's the sto­ry. I am an avid jog­ger, and four years ago I was run­ning my typ­i­cal route on Auburn University's cam­pus. It was ear­ly, about 4 o'clock in the morn­ing, and I was run­ning near Memo­r­i­al Col­i­se­um. From a dis­tance I saw a Grey­hound bus parked next to the col­i­se­um. The inside of the bus was lit up. The bus seemed to glow in the dark­ness. Curi­ous I ran towards it. As I got clos­er I noticed a lone fig­ure sit­ting in the front seat. It was Mel Rosen, then the retired head coach of Auburn's track and field team, who was serv­ing as an unpaid assis­tant coach. There was no one else in the bus, just Rosen, wait­ing to leave for a track meet. I thought to myself, how is it that an 82-year-old unpaid assis­tant coach can be so enthu­si­as­tic about his sport that he beats every­one to the bus at four in the morn­ing. The look on his face seemed to say, I have trav­eled a long way from Brook­lyn and do I have sto­ries to tell! It was then, at that instant, I knew I had to write, From Brook­lyn to the Olympics: The Hall of Fame Career of Auburn Uni­ver­si­ty Track Coach Mel Rosen. I'm grate­ful I took that jog.
Craig Darch is the Humana-Sher­man-Ger­many Dis­tin­guished Pro­fes­sor of Spe­cial Edu­ca­tion at Auburn University.
Relat­ed Content: