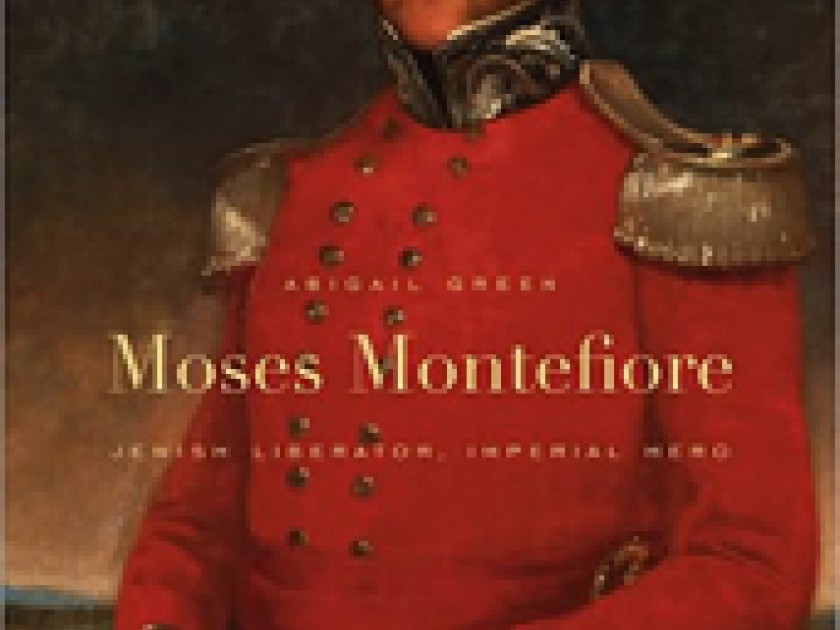 Ear­li­er this week, Sami Rohr Prize Choice Award Win­ner Dr. Abi­gail Green wrote about the mak­ing of a good biog­ra­phy. She will be blog­ging here all week for Jew­ish Book Coun­cil and MyJew­ish­Learn­ing.
For the past ten years I've been trav­el­ling the world in Moses Montefiore's foot­steps. This was a man who spent much of his (long) life on the road: besides the usu­al round of Euro­pean tourist des­ti­na­tions (Paris, Flo­rence, Rome, Frank­furt and Berlin), he vis­it­ed Jerusalem sev­en times in total and passed through innu­mer­able Jew­ish com­mu­ni­ties as he embarked on polit­i­cal­ly moti­vat­ed mis­sions to places like St. Peters­burg, Istan­bul, Mar­rakesh and Bucharest.
But what does it mean to trav­el in the foot­steps of a man who's been dead for over 120 years, and why both­er? After all, it's impos­si­ble to recre­ate the nine­teenth cen­tu­ry trav­el expe­ri­ence in our world of cars, planes and high-speed trains. (I once met a Reform Rab­bi who fol­lowed the Mon­te­fiores' route dur­ing their first trip abroad; appar­ent­ly it was very scenic, involv­ing only minor roads.) More to the point, most of the places Mon­te­fiore vis­it­ed have changed beyond all recog­ni­tion. It's not just that Bucharest is full of shab­by, Ceaus­es­cu high-rise flats, or that a whole quar­ter of Mar­rakesh is devot­ed to glitzy hotels. The real prob­lem is more fun­da­men­tal. The shift­ing cur­rents of world his­to­ry mean that places that were once heart­lands of the dias­po­ra are now bare­ly Jew­ish places at all.
And yet, it was worth the trou­ble. I found no echo of Montefiore's vis­it when I trav­elled through Poland and Lithua­nia, but the scale of Jew­ish absence helped me to under­stand the ways in which twen­ti­eth cen­tu­ry devel­op­ments had erased his achieve­ments. Sit­ting through Shab­bat ser­vices in Rome​'s emp­ty Great Syn­a­gogue and the even emp­ti­er Choral Tem­ple in Bucharest, I could not fail to notice the ways in which syn­a­gogue archi­tec­ture paid trib­ute to the aes­thet­ic val­ues of the non-Jew­ish world. Noth­ing could have pre­pared me for the florid extrav­a­gance of the for­mer or the del­i­cate, Byzan­tine beau­ty of the lat­ter – sure­ly the most beau­ti­ful syn­a­gogue in which I have ever been priv­i­leged to sit. Only retrac­ing the bound­aries of Rome's ancient Ghet­to could have shown me how piti­ful­ly small it was. Only by vis­it­ing the tiny Moroc­can sea-port of Essaouira could I appre­ci­ate the rocky iso­la­tion of this wealthy entre­pot that was once home to so many of Moroc­can Jew­ry​'s finan­cial and com­mer­cial elite.
If any­thing, then, I regret the places I left unvis­it­ed. Dam­as­cus and Alexan­dria are only names to me. But if I close my eyes I can see the gold­en sands of the beach that is the old Jew­ish ceme­tery of Essaouira; I can see the crum­bling stone fan­tasies of the Jew­ish ceme­tery in War­saw; and I can see streets of the old Jew­ish quar­ter in Vil­na, emp­ty now but in Montefiore's day teem­ing with vibrant, impov­er­ished, con­tentious Jew­ish life.
Dr. Abi­gail Green is Lec­tur­er (CUF) in Mod­ern His­to­ry at Brasenose Col­lege, Oxford Uni­ver­si­ty. She is the 2011 Choice Award win­ner for the Sami Rohr Prize. Her new book, Moses Mon­te­fiore: Jew­ish Lib­er­a­tor, Impe­r­i­al Hero, is now available.