This week, Alice Mat­ti­son, the author of
When We Argued All Night
blogs for The Post­script on what it means to argue.
The Post­script
series is a spe­cial peek ​

"

behind the scenes" of a book. It's a juicy lit­tle extra some­thing to add to a
book club
​

'

s dis­cus­sion and a read­er's under­stand­ing of how the book came togeth­er. To ​

"

host" Alice at your next book club meet­ing, request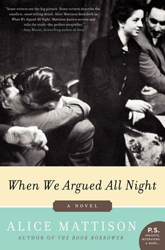 her through

JBC

Live Chat.
A Brook­lyn girl, I com­mut­ed to col­lege while con­tin­u­ing to live with my par­ents, and one evening after sup­per dur­ing my fresh­man year, my moth­er and I drove over to call on my grand­moth­er, my aunt Sarah, and my uncle Joe, who lived togeth­er. After a while my moth­er glanced at her watch and stood to leave. ​"Alice has school tomor­row," she said.
"School?" shout­ed Aunt Sarah (who had quit school after eighth grade). ​"School? What do you mean, school? Col­lege!!"
It was a per­fect exam­ple of how we argued in our fam­i­ly. Aunt Sarah was yelling at my moth­er about word choice to express love, to express pride, to express the need for prop­er recog­ni­tion of the august heights I'd reached in life. A polite mur­mur just wouldn't do it.
It hap­pened all the time. At a cousin's Bar Mitz­vah when I was a teenag­er, my uncle Willie shout­ed at me for a con­sid­er­able peri­od of time, while I shout­ed back. We argued about whether I felt pride that Jonas Salk, who'd devel­oped a vac­cine for polio, was Jewish.He said I must be proud. I said I couldn't be proud, because until he men­tioned it, I didn't know that Jonas Salk was Jew­ish; and I also made an argu­ment against parochial favoritism for one's own eth­nic group. My uncle had grown up in an immi­grant fam­i­ly (as my own par­ents did) near the start of the twen­ti­eth cen­tu­ry. I was a gen­er­a­tion fur­ther along, and we didn't under­stand each other.
Yet Uncle Willie took the time to engage in loud, ani­mat­ed dis­cus­sion with his niece— as did, often, my own father. Girls weren't just pret­ty crea­tures to be com­pli­ment­ed on their dress­es and then ignored. Girls, like any­one else, had opin­ions. The opin­ions, how­ev­er, might be wrong—and that should be point­ed out! At the time it seemed that adults were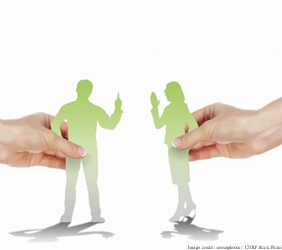 always yelling at me for no good rea­son. Now I mar­vel that they respect­ed me enough to disagree.
So when I wrote a nov­el about their gen­er­a­tion and my own — about two men who are some­thing like my father and my uncles, and the daugh­ter of one of them — I imag­ined my char­ac­ters argu­ing. When We Argued All Night takes its title from what echoed in my mind after I grew up among New York Jews in the mid­dle years of the twen­ti­eth cen­tu­ry: argu­ment as an expres­sion of friend­ship or love as often as anger, argu­ment because peo­ple mat­tered. They mat­tered enough to be told how wrong they were.
Alice Mattison's most recent nov­el,
Noth­ing Is Quite For­got­ten In Brook­lyn
, was pub­lished in
2008
by Harp­er Peren­ni­al and was a
New York Times
Book Review Edi­tors' Choice and a final­ist for the Con­necti­cut Book Award. Her col­lec­tion of con­nect­ed sto­ries,
In Case We're Sep­a­rat­ed
, was a
New York Times
Notable Book and won the Con­necti­cut Book Award for Fic­tion. She is the author of four pre­vi­ous nov­els and three ear­li­er col­lec­tions of sto­ries. Her sto­ries have been pub­lished in
The New York­er
,
The New York Times
,
The Yale Review
,
The Women's Review of Books
,
Ploughshares
,
The Three­pen­ny Review
,
Glim­mer Train
,
Michi­gan Quar­ter­ly Review
(which award­ed her the Lawrence Foun­da­tion Prize),
Agni
, and else­where, and have been reprint­ed in
The Push­cart Prize
and
Best Amer­i­can Short Sto­ries
. She teach­es fic­tion in the Ben­ning­ton Writ­ing Sem­i­nars, at Ben­ning­ton Col­lege in Ver­mont, and teach­es sum­mer work­shops in fic­tion at the Fine Arts Work Cen­ter in Province­town, Mass­a­chu­setts. She lives in New Haven, Con­necti­cut, where she is one of the orga­niz­ers of the Ordi­nary Evening Read­ing Series.