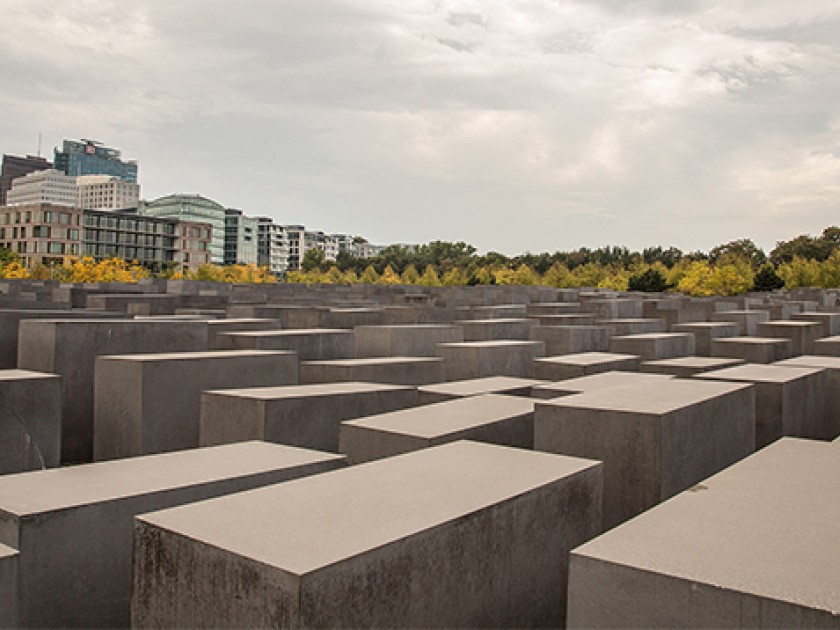 In the not-too-dis­tant future, the Holo­caust will have passed from liv­ing mem­o­ry. There will be no sur­vivors left to tell us of the hor­rors they endured, or the tri­umph of sur­vival, or even the mun­dane minu­ti­ae that is so rarely acknowl­edged. What they will have left behind is, of course, extra­or­di­nary. In vol­ume. In breadth. In depth. Count­less words, many of them assem­bled into great works of lit­er­a­ture, oth­ers into more mod­est efforts, writ­ten down so that their fam­i­lies might know. Thou­sands upon thou­sands of hours of audio and video tes­ti­mo­ny, pic­tures, dia­grams, pho­tos, ephemera of the most var­ied kinds. Soon, how­ev­er, it will all begin to gath­er dust, to fade into his­to­ry. It will become a set­ting, a con­text, just like every oth­er his­tor­i­cal cat­a­stro­phe. If this idea offends you, I'm glad. It offends me too. But only because it is the one hor­ror that I have tru­ly known, that has befall­en peo­ple I have loved. I can­not sep­a­rate my own con­nec­tion, my need to des­per­ate­ly cling to its impor­tance, from the inevitable effect of time.
I often won­der about the shape of Holo­caust mem­o­ry in a post-sur­vivor world. In par­tic­u­lar, I ques­tion the role of the nov­el­ist in keep­ing mem­o­ry alive. Fic­tion has always had its place along­side mem­oir and non­fic­tion when it comes to telling sto­ries about the Holo­caust. Even in the sur­vivor gen­er­a­tion, for every Pri­mo Levi or Vik­tor Fran­kl, there was an Aharon Appelfeld or Imre Kertesz. Lat­er, fic­tion became a way for the chil­dren of sur­vivors to con­front the trau­ma that had ren­dered their par­ents silent. The third gen­er­a­tion, with the ben­e­fit of time and an enor­mous ocean of pri­ma­ry sources, could search for essen­tial truths that the his­tor­i­cal record alone could not hope to con­vey. So too, writ­ers with no per­son­al con­nec­tion at all. But the one thing that anchored all of them — access to first­hand accounts that are not frozen in form or sub­stance — will soon dis­ap­pear. No longer will writ­ers be able to speak with sur­vivors, ask ques­tions, clar­i­fy. This might all seem obvi­ous, but it is also crit­i­cal­ly impor­tant because what is at stake is the future of Holo­caust narrative.
Nowhere has this been more appar­ent than in the recent con­tro­ver­sy sur­round­ing The Tat­tooist of Auschwitz, an inter­na­tion­al best­seller based on ​"the incred­i­ble true sto­ry" of Lali Sokolov. Its author, the Aus­tralian Heather Mor­ris, has long main­tained that the nov­el is ​"95% fact," but it has become increas­ing­ly appar­ent that she took con­sid­er­able lib­er­ties with the sto­ry. Sokolov's fam­i­ly is said to be dis­mayed by Morris's por­tray­al. But more telling was the response from the Auschwitz Memo­r­i­al Research Cen­ter. In an unprece­dent­ed move, the Cen­ter has come out against the book and its dis­tor­tion of the real­i­ties of the camp. It even went so far as to pub­lish a fact-check­ing report, which refutes many of Morris's descrip­tions and his­tor­i­cal obser­va­tions. The Center's press offi­cer ulti­mate­ly con­clud­ed, in an inter­view with The Aus­tralian, that The Tat­tooist of Auschwitz is ​"almost with­out val­ue as a doc­u­ment." Anoth­er lead­ing Holo­caust schol­ar called it ​"a sex sto­ry of Auschwitz that has very lit­tle his­tor­i­cal accuracy."
Of course, this is not the first time that such a fuss has been made about a suc­cess­ful Holo­caust nov­el. Sim­i­lar accu­sa­tions were lev­eled at John Boyne's The Boy In The Striped Paja­mas. Like The Tat­tooist of Auschwitz, Boyne's book — which tells the sto­ry of a young Jew­ish boy who befriends the son of the camp com­man­dant — was accused of min­i­miz­ing and san­i­tiz­ing the Holo­caust. Even the U.K‑based Lit­er­ary Review, about as un-Jew­ish a pub­li­ca­tion as you could imag­ine, devot­ed an entire edi­to­r­i­al to its prob­lem­at­ic nature. But Boyne had his sup­port­ers, too. For the most part they point­ed to the book's alle­gor­i­cal, almost fan­tas­ti­cal nature. It was a kid's book, after all, and its val­ue lay in its mes­sage, not its fideli­ty or oth­er­wise to the his­tor­i­cal record. That has been the line tak­en by Mor­ris and her pub­lish­ers: a nov­el does not claim to stand in place of his­to­ry. The Tat­tooist of Auschwitz is fic­tion, and pop­u­lar fic­tion at that. Sounds log­i­cal, I guess. But is there not an eth­i­cal oblig­a­tion, no mat­ter how fan­tas­ti­cal your sto­ry, to get the basic facts right?
Leav­ing aside Morris's claim about her book being only 5% removed from truth (despite mul­ti­ple crit­i­cal depar­tures from Sokolov's Shoah Foun­da­tion tes­ti­mo­ny, which it would appear she nev­er watched), the real prob­lem with The Tat­tooist of Auschwitz is not that it gets Lali's sto­ry wrong but that it gets Auschwitz wrong. Very wrong. And giv­en its suc­cess, the ver­sion of Auschwitz it describes risks becom­ing dom­i­nant in the his­tor­i­cal nar­ra­tive, espe­cial­ly at a time when stud­ies show that gen­er­al knowl­edge of the Holo­caust is at an all-time low and falling.
So, if dis­tor­tion is already a grow­ing phe­nom­e­non, where does that leave the Holo­caust nov­el­ist? What hap­pens when there are no sur­vivors left and the Holo­caust exists, in the cre­ative sense, as just anoth­er his­tor­i­cal set­ting? One thing is for sure. It will con­tin­ue to be fer­tile ground for fic­tion. As one Eng­lish book­seller said to me, ​"Put in a few Nazis, it's sure to shift units." Holo­caust nar­ra­tive will also drift ever fur­ther from Jew­ish ​"cus­to­di­an­ship." Some detrac­tors of both Mor­ris and Boyne have point­ed to their not being Jew­ish as part of the issue. They are, in my mind, wrong. While #Own­Voic­es (a term coined to high­light mar­gin­al­ized char­ac­ters writ­ten by authors who are part of that mar­gin­al­ized group) has right­ly sought to rec­ti­fy the silenc­ing of under­rep­re­sent­ed minori­ties in lit­er­a­ture, it does not pre­clude par­tic­i­pa­tion from out­side the Jew­ish writ­ing world. In fact, two of the best Holo­caust nov­els of recent times were writ­ten by non-Jews: Daša Drndić's Tri­este, and The Zone of Inter­est by Mar­tin Amis. Drndić's book, in par­tic­u­lar, stands out for its metic­u­lous research, intel­lec­tu­al feroc­i­ty, and emi­nent read­abil­i­ty. I asked Drndić some years ago why, though she wasn't Jew­ish and was from Croa­t­ia, a coun­try with its own, more recent geno­ci­dal his­to­ry, she chose to write about the Holo­caust. Her response: the Holo­caust is the uni­ver­sal sym­bol of bar­barous inhu­man­i­ty. Drndić used it as an indict­ment against our col­lec­tive fail­ings, to rub our noses in the worst our species has to offer. I would sug­gest, as a log­i­cal exten­sion, that the Holo­caust allows for the deep­er explo­ration of themes because it car­ries with it a degree of assumed knowl­edge; you needn't labor your­self with describ­ing the atroc­i­ties. This allows you space that oth­er geno­cides — those that might require you to write the sto­ry of the geno­cide, as opposed to writ­ing a human sto­ry with­in it — do not.
And those are pre­cise­ly the kind of sto­ries we, as nov­el­ists, seek to tell. Not hav­ing to write the Holo­caust, not hav­ing to doc­u­ment atroc­i­ties (itself prob­lem­at­ic as many books tip into the realm of atroc­i­ty porn), sets us free. We can move away from the victim/​hero arche­type that has plagued much of Holo­caust lit­er­a­ture and return agency to those who lived through it. We can tell small sto­ries, sto­ries of rela­tion­ships. We can con­front taboos, crack open the silences. And we can do it with­out pages of didac­tic exposition.
Assum­ing knowl­edge, how­ev­er, also car­ries con­sid­er­able risk. It can breed com­pla­cen­cy in both the read­er and the writer. It can entrench errors and mis­truths. And so it is incum­bent upon writ­ers to ground them­selves in deep knowl­edge of any aspect of the Holo­caust about which they write. Research, cross-check, ques­tion. All the more so if, like Mor­ris, you are turn­ing a survivor's sto­ry into a nov­el that you will be pass­ing off as ​"95% fact." Trau­ma and time do ter­ri­ble things to mem­o­ry. Seek­ing to cor­rob­o­rate, to cor­rect, is the ulti­mate act of respect, not some cyn­i­cal sur­ren­der to doubt. Lali Sokolov deserved bet­ter than to have his sto­ry left open to ques­tion­ing and crit­i­cism. His laps­es can eas­i­ly be account­ed for. Morris's cannot.
That said, I don't mean to be pro­scrip­tive. We need not place lim­its on the cre­ative endeav­or. Indeed, some of my favorite Holo­caust nov­els ven­ture into the sur­re­al, the hilar­i­ous, the spec­u­la­tive. Ladislav Fuks's Mr. Theodore Mund­stock, a for­got­ten clas­sic of post­war Czech lit­er­a­ture, cen­ters around an old man who decides to pre­pare him­self for the con­cen­tra­tion camps by build­ing a repli­ca bar­racks in his apart­ment. Mund­stock is both Chick­en Lit­tle and prac­ti­cal sage, with a touch of Jakob the Liar. That he is accom­pa­nied through­out by his shad­ow and an imag­i­nary bird (both ful­ly real­ized char­ac­ters), allows the read­er con­sid­er­able insight into a mind torn between despair and unbri­dled opti­mism. Sim­i­lar­ly, The Dance of Genghis Cohn by Romain Gary hilar­i­ous­ly tells of a prankster who, at the moment of his exe­cu­tion, flash­es his but­tocks at a Nazi fir­ing squad and returns as a ghost to haunt the man who shot him. And then, of course, there is Shalom Auslander's out­ra­geous­ly fun­ny Hope: A Tragedy, in which the pro­tag­o­nist finds him­self embroiled in a bat­tle of wits with an elder­ly Anne Frank who, it so hap­pens, is liv­ing in his roof and suf­fer­ing one heck of a bout of Sec­ond Book Syn­drome. Nov­els like these may do all sorts of strange things with the Holo­caust nar­ra­tive as we know it. They self-con­scious­ly depart from ​"the facts." But they don't pass off inac­cu­ra­cies as his­tor­i­cal record.
And there­in lies the moral. Cre­ate, cre­ate, cre­ate. But do so from a place of knowl­edge, and always speak the truth.
For ten years, Bram Press­er schlepped around the world as the singer of icon­ic Jew­ish punk band Yid­core before turn­ing to writ­ing. His debut nov­el, The Book of Dirt, was released in Aus­tralia to great acclaim and won numer­ous major lit­er­ary prizes. It was recent­ly pub­lished in the USA where it won the Nation­al Jew­ish Book Award for Debut Fiction.