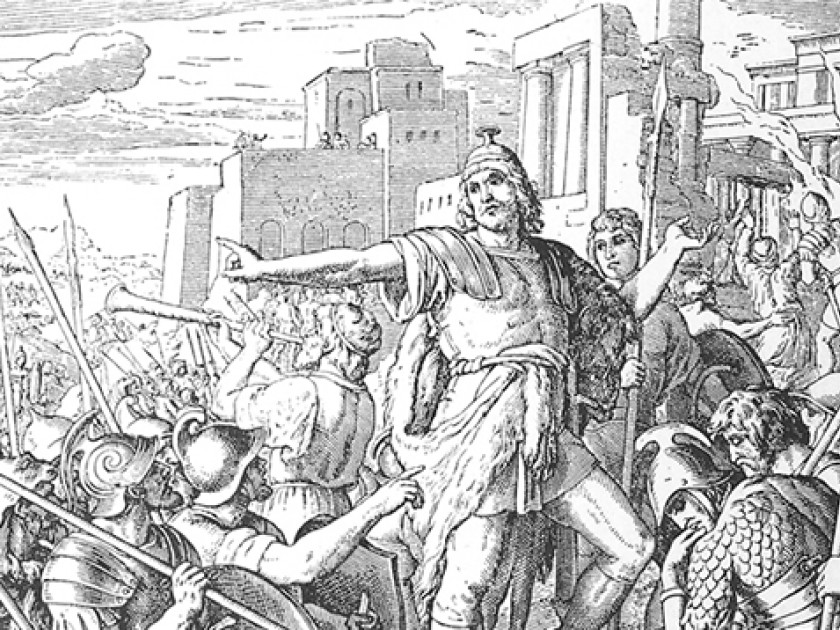 For Jew­ish Book Month, Jew­ish Book Coun­cil has teamed up with Yeshi­va Uni­ver­si­ty to high­light new books in the broad field of Jew­ish schol­ar­ship. For many of us, schol­ar­ly books, par­tic­u­lar­ly those on ancient times, belong only to the world of acad­e­mia. But often, the his­to­ry and thought in these books have direct rela­tion to con­tem­po­rary ideas, events, and rituals.
Every Jew­ish school­child knows of Judah Mac­cabee; per­haps they've even dressed up like him for a Hanukkah play. Sim­i­lar­ly, every his­to­ri­an of the peri­od places this fear­some mil­i­tary leader at cen­ter stage, regard­less of whether they describe him as a hero­ic free­dom fight­er or as a fun­da­men­tal­ist reli­gious ter­ror­ist. Remark­ably, how­ev­er, Judah's name appears nowhere in all of rab­binic lit­er­a­ture. This absence requires expla­na­tion, espe­cial­ly when con­trast­ed with the hero­ic descrip­tion of Judah in the Books of Mac­cabees, and his even greater aggran­dize­ment in the four hun­dred para­graphs about his achieve­ments in the writ­ings of Josephus.
Nine­teenth-cen­tu­ry schol­ar­ship por­trayed the Phar­isees and rab­bis as car­ing only about reli­gious free­dom rather than polit­i­cal sov­er­eign­ty. The rab­bis accord­ing­ly down­played mil­i­tary activism, which might encour­age a dan­ger­ous replay of anti-Roman revolts, in favor of reli­gious and spir­i­tu­al lead­er­ship. These schol­ars point­ed to the lack of a Mish­na­ic trac­tate for Hanukkah, state­ments oppos­ing non-Davidic kings, and the de-empha­sis on the mil­i­tary vic­to­ry in favor of the mir­a­cle of the cruse of oil as the basis for the holiday.
After the 1930s, how­ev­er, his­to­ri­ans ques­tioned the ear­li­er inter­pre­ta­tion and instead empha­sized pro-Has­monean state­ments in rab­binic lit­er­a­ture and assumed lit­er­ary rather than polit­i­cal expla­na­tions for the cen­tral­i­ty of the cruse of oil sto­ry. In part moti­vat­ed by Zion­ist ide­ol­o­gy, this schol­ar­ship paved the way for a pos­i­tive view of the Has­moneans as mod­els for mod­ern Israeli state­hood. These schol­ars cor­rect­ly not­ed that rab­binic lit­er­a­ture is not his­to­ri­og­ra­phy, and there­fore omis­sion of even sig­nif­i­cant events need not arouse atten­tion. Nev­er­the­less, Judah the Mac­cabee seems too cen­tral to miss even tak­ing into account the spot­ty nature of the Talmud.
Vered Noam, in her book Shift­ing Images of the Has­moneans: Sec­ond Tem­ple Leg­ends and Their Recep­tion in Jose­phus and Rabin­nic Lit­er­a­ture, resolves this apo­r­ia and arrives at a more nuanced con­clu­sion by sep­a­rat­ing indi­vid­ual Has­monean lead­ers from their col­lec­tive achieve­ments: ​"The rab­bis cher­ished the Has­monean vic­to­ry and the nation­al free­dom to which it gave birth, but stead­fast­ly refused to regard mil­i­tary-polit­i­cal lead­ers as fig­ures wor­thy of emu­la­tion. Instead of idol­iz­ing a fight­er, the leader of a rebel­lion, they pre­ferred to ignore him as an indi­vid­ual and to praise an anony­mous victory."
While the Tal­mud cen­sors the names of the first gen­er­a­tion of Mattathias's sons, they do men­tion pos­i­tive­ly the sec­ond gen­er­a­tion Has­monean leader John Hyr­canus. But that is only because they are able to por­tray him as a rab­binized sage who received prophe­cy, draw­ing on an ancient tra­di­tion also cit­ed by Jose­phus. For the next two gen­er­a­tions, Tal­mu­dic sto­ries vil­i­fy Alexan­der Yan­nai and his sons and defend the rep­u­ta­tion of the Phar­i­sa­ic lead­ers. In sum, the rab­bis endorse the polit­i­cal aspi­ra­tions of the Has­moneans, but praise indi­vid­u­als Has­moneans only if they fit into a Pharisaic/​rabbinic model.
All of this con­trasts with Jose­phus, who extols the Has­monean lead­ers beyond even the praise lav­ished on them in 1 Mac­cabees, his pri­ma­ry source. He also intro­duces some crit­i­cisms of the Phar­isees in order to mit­i­gate the evil of the last gen­er­a­tions of Has­moneans. Jose­phus may have end­ed his days in the Phar­i­sa­ic camp, but he also remem­bered his Has­monean ances­try and, in a con­flict, pre­ferred the lat­ter over the former.
With her typ­i­cal eru­di­tion and insight, Noam reviews six sig­nif­i­cant nar­ra­tives about the Has­monean dynasty as record­ed in Jose­phus and rab­binic lit­er­a­ture. This book focus­es less on what real­ly hap­pened and more on what Jose­phus and the rab­bis thought of the Has­moneans. She does this by peel­ing away each lay­er of these tra­di­tions so that they can be com­pared and con­trast­ed side by side.
While pre­vi­ous schol­ars have assumed that the rab­bis drew their sto­ries direct­ly or indi­rect­ly from Jose­phus, Noam's project proves that rab­binic tra­di­tions stand inde­pen­dent of Jose­phus and that both draw upon ear­li­er sets of tra­di­tions, many deriv­ing from now-lost Phar­i­sa­ic sources. Fas­ci­nat­ing­ly, this means that some details with­in rab­binic sto­ries may retain greater his­tor­i­cal accu­ra­cy than dis­crep­an­cies in Jose­phus, despite the for­mer com­pos­ing their works cen­turies after the latter.
Hav­ing become one of the most pop­u­lar hol­i­days in the Jew­ish cal­en­dar, Jews today con­tin­ue to cel­e­brate Hanukkah and retell the sto­ries of Judah the Mac­cabee and his fam­i­ly. Dif­fer­ent peo­ple will choose to empha­size var­i­ous aspects of these sto­ries to reflect their own views on pol­i­tics, pow­er, sov­er­eign­ty, and assim­i­la­tion. But this is noth­ing new. As Noam demon­strates, each nar­ra­tive retelling teach­es us as much about their orig­i­nal Mac­cabean sub­jects as about the sto­ry­tellers themselves.
Image via Die Bibel in Bildern / Wiki­me­dia Commons
Rab­bi Dr. Richard Hidary is Asso­ciate Pro­fes­sor of Juda­ic stud­ies at Yeshi­va Uni­ver­si­ty and author of, most recent­ly, Rab­bis and Clas­si­cal Rhetoric: Sophis­tic Edu­ca­tion and Ora­to­ry in the Tal­mud and Midrash (Cam­bridge Uni­ver­si­ty Press, 2017)
Rab­bi Dr. Richard Hidary is Asso­ciate Pro­fes­sor of Juda­ic stud­ies at Yeshi­va Uni­ver­si­ty and author of, most recent­ly,
Rab­bis and Clas­si­cal Rhetoric: Sophis­tic Edu­ca­tion and Ora­to­ry in the Tal­mud and Midrash
(Cam­bridge Uni­ver­si­ty Press,
2017
)