Ear­li­er this week, Kati Mar­ton wrote about Paris's black mar­ble plaques and the sub­ject of race in France. She will be blog­ging here all week for Jew­ish Book Coun­cil and MyJew­ish­Learn­ing.
Now that I live part-time in Paris, I explore the city's com­plex and some­times dis­turb­ing rela­tion­ship to toward its Jew­ish cit­i­zens — which giv­en my own Jew­ish her­itage, feels per­son­al to me. In Paris: A Love Sto­ry, I probe this aspect of the city which most tourists miss.
One morn­ing as I con­tin­ue my Parisian ram­ble, I enter a hyper­refined Prous­t­ian world fur­nished with the car­pets, tapes­tries and bibelots of the reigns of Louis XV and XVI. I pic­ture glit­ter­ing soirees in the din­ing room where the table is per­ma­nent­ly set – as if await­ing Proust, Her­zl, and the oth­er great fig­ures of the day. It is hard to con­jure a more quin­tes­sen­tial­ly French décor than this ode to the 18th Cen­tu­ry, the Age of Rea­son. But the host and his chil­dren and grand­chil­dren are miss­ing. The patri­arch, Moïse de Camon­do, built this tem­ple to French civ­i­liza­tion and left pre­cise instruc­tions that it would all remain untouched, as they left it – the Jew­ish Camon­dos' gift to the French nation. Moïs­es's son Nis­sim, after whom he named his muse­um, gave his life for France. His plane went down in flames dur­ing World War I , when he was shot pho­tograph­ing Ger­man mil­i­tary instal­la­tions from the air.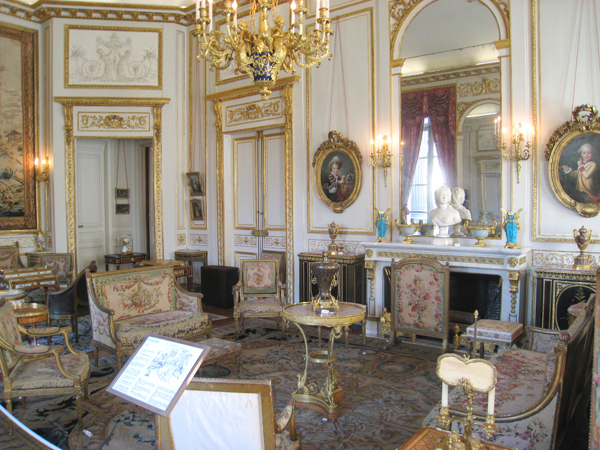 Nissim's sis­ter, Beat­rice, con­vert­ed to Catholi­cism, no doubt assum­ing that would pro­tect her dur­ing the Age of Hate. In her family's man­sion, with its price­less French trea­sures and its vast col­lec­tion of Impres­sion­ist paint­ings – all gifts to the French Repub­lic as spelled out in her father's will – Beat­rice may have felt safe. Her father had been award­ed the Legion d'Honneur. He was a found­ing mem­ber of the Friends of the Paris Opera. Mar­cel Proust, the great­est French writer of the day, was a habitué –a reg­u­lar — of their salon. Why leave? So Beat­rice did not heed the warn­ing signs, as French police under SS super­vi­sion began round­ing up less well placed Jews, from their schools and homes. She con­tin­ued to ride her beau­ti­ful horse in the Bois de Boulogne, some­times accom­pa­nied by a Ger­man offi­cer. Until the sum­mer of 1942, when the same peo­ple who seized eight chil­dren from the Ecole Mater­nelle in my neigh­bor­hood, arrived at her splen­did house. Parisian offi­cers packed Beat­rice and her chil­dren into a wag­on bound for Dran­cy. She and her chil­dren, Fan­ny and Bertrand, spent the next nine months in that grotesque antecham­ber to the Auschwitz bound trains. (Dran­cy is just a sta­tion en route to the air­port now — but an ugly stop in any weather.)
On the morn­ing of March 10, 1943, Beat­rice and her chil­dren arrived at Auschwitz – from where they nev­er returned. They were the last of the Camondos.
Vis­it on Fri­day for Kati Mar­ton​

'

s final post for the Vis­it­ing Scribe.