Post­ed by Miri Pomer­antz Dauber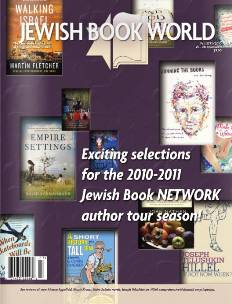 Every year, through our Jew­ish Book NET­WORK pro­gram, we makeshid­duchs between over 200 recent­ly pub­lished authors and Jew­ish book pro­grams around the coun­try and help arrange tours for these amaz­ing authors. With Jew­ish Book Month around the cor­ner (Novem­ber 2!), we can now share the list of tour­ing authors with you (which includes some of your favorite JBC/MJL guest blog­gers). We're all read­ing our way through them. The huge range of top­ics and inter­ests that are cov­ered makes this a great read­ing list. And if you're lucky, one of these authors might be com­ing to your city this fall – check here to see if there's a NET­WORK mem­ber site in your area.
Find out more about the Jew­ish Book NET­WORK and how authors or book program/​festival coor­di­na­tors can join.
Miri joined the JBC team in Win­ter, 2004 upon grad­u­at­ing from Bran­deis Uni­ver­si­ty. Orig­i­nal­ly from Philadel­phia, she has lived and stud­ied in Israel and Lon­don. Pri­or to work­ing with JBC, she interned for the Jew­ish Pub­li­ca­tion Soci­ety. After sev­en years as the direc­tor of the JBC Net­work pro­gram, Miri has shift­ed her focus to book clubs, work­ing to devel­op resources to bet­ter serve book club readers.