Jerome Charyn is the author the recent­ly pub­lished short sto­ry col­lec­tion Bit­ter Bronx. He will be blog­ging here all week for Jew­ish Book Coun­cil's Vis­it­ing Scribe series.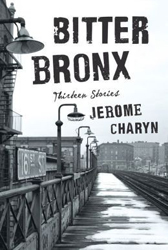 Has any­one ever real­ly dealt with the Jew­ish under­class of the Bronx, where I grew up, next to the trol­ley tracks of South­ern Boule­vard and Boston Road? Some of us might look back with a kind of nos­tal­gia, talk of a gold­en peri­od, when fam­i­lies ram­bled around Indi­an Lake in Cro­tona Park, before Robert Moses ruined the bor­ough with his super express­way. Peo­ple ask me if the Bronx had ever been my play­ground. It was a lit­tle par­adise of emp­ty spaces, a gar­den where noth­ing would grow, except bit­ter­ness and regret. I had one book in the apart­ment where I lived with my par­ents and two broth­ers. It was the first vol­ume of an ency­clo­pe­dia that must have been sent to my par­ents as some sales gim­mick — it was a trea­tise on the let­ter ​"A." And so I mem­o­rized that book, start­ing with aard­vark, and could sing out to you all the man­i­fes­ta­tions of ​"A." Then my lan­guage stopped. And years lat­er, when I read Wal­ter Abish's avant-garde nov­el, Alpha­bet­i­cal Africa, where every chap­ter begins with a dif­fer­ent let­ter of the alpha­bet, I won­dered if he too had start­ed life with the same ency­clo­pe­dia, but had been priv­i­leged enough to have more than one vol­ume, since he could go all the way to ​"Z." And here I am, like some wily pirate, trapped inside the let­ter ​"A." Well, that's the Bronx.
I began to won­der why the apart­ments I have in Paris and New York resem­ble bar­ren, non­de­script clos­ets. Both apart­ments are in lux­u­ri­ous build­ings in clas­sic neigh­bor­hoods — Mont­par­nasse and Green­wich Vil­lage — but they're absolute­ly sparse, with­out much fur­ni­ture at all. Does this void recall the void of grow­ing up in the Bronx, where there was lit­tle ​"fur­ni­ture" in the street — that is, noth­ing that could ever catch the eye? Is this ​"desert" more com­fort­able for me, and did it force me a long, long time ago to live inside my head? I must have been a nov­el­ist at five and six, or per­haps I was a walk­ing, talk­ing text, suck­ing in the movies I saw, the sto­ries I heard, and the adven­tures of my old­er broth­er, Har­vey, one of the bold­est boys in the East Bronx, a Casano­va at nine, pre­pared to take on any gang, a knight guard­ing his own turf, while I was fright­ened of any­thing beyond the reach of my nose, and lived only to imag­ine, to invent out of the noth­ing­ness I knew. Har­vey would become a homi­cide detec­tive, a catch­er of cas­es, and I was the one who killed peo­ple off, the prince of an alto­geth­er dif­fer­ent realm, a tum­bler of words, who could only be adven­tur­ous on the page.
Jerome Charyn's sto­ries have appeared in The Atlantic, Paris Review, Amer­i­can Schol­ar, Epoch, Nar­ra­tive, Ellery Queen, and oth­er mag­a­zines. His most recent books include Bit­ter Bronx and I Am Abra­ham. He lived for many years in Paris and cur­rent­ly resides in Manhattan.
Relat­ed Content:
Jerome Charyn is the author of more than fifty works of fic­tion and non­fic­tion, includ­ing Rav­age & Son; Sergeant Salinger; Cesare: A Nov­el of War-Torn Berlin; In the Shad­ow of King Saul: Essays on Silence and Song; Jerzy: A Nov­el; and A Loaded Gun: Emi­ly Dick­in­son for the 21st Cen­tu­ry. Among oth­er hon­ors, his work has been longlist­ed for the PEN Award for Biog­ra­phy, short­list­ed for the Phi Beta Kap­pa Chris­t­ian Gauss Award, and select­ed as a final­ist for the Fire­crack­er Award and PEN/​Faulkner Award for Fic­tion. Charyn has also been named a Com­man­der of Arts and Let­ters by the French Min­is­ter of Cul­ture and received a Guggen­heim Fel­low­ship and the Rosen­thal Fam­i­ly Foun­da­tion Award for Fic­tion from the Amer­i­can Acad­e­my of Arts and Let­ters. He lives in New York.