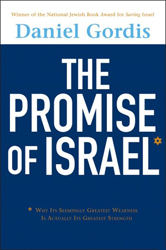 Peo­ple some­times ask: What would you like your book to accom­plish? In this case, my answer is easy: I would be thrilled if The Promise of Israel changed the con­ver­sa­tion that we're hav­ing about Zion­ism.
The Promise of Israel
makes an auda­cious and seem­ing­ly odd claim. It sug­gests that what now divides Israel and the inter­na­tion­al com­mu­ni­ty is an idea: the idea of the eth­nic nation-state— a coun­try cre­at­ed around a shared cul­tur­al her­itage. Yes, it is true that the Israelis and the Pales­tini­ans are still trag­i­cal­ly locked in an intractable and painful
con­flict
; but that, I believe, is not the pri­ma­ry rea­son for Israel's unprece­dent­ed fall from inter­na­tion­al grace.
Israel is mar­gin­al­ized and reviled because of a bat­tle over the idea of the nation-state. Israel, the quin­tes­sen­tial mod­ern exam­ple of the eth­nic nation-state, came on the scene just as most of the West­ern world had decid­ed that the time had come to be rid of the nation-state. Today, Europe's elites wish to move in one direc­tion, while Israel sug­gests that human­i­ty should be doing pre­cise­ly the oppo­site. The con­flict in the Mid­dle East is about bor­ders and state­hood, but the con­flict about the Mid­dle East is over uni­ver­sal­ism ver­sus par­tic­u­lar­ism, over com­pet­ing con­cep­tions of how human beings ought to orga­nize themselves.
So I decid­ed that what we real­ly need to be speak­ing about is how the con­flict over the nation-state devel­oped, how Israel got caught in it, and, most impor­tant­ly, to demon­strate that a world bereft of the idea that Israel rep­re­sents would be an impov­er­ished one. Yes, I knew it would sound hyper­bol­ic, but I want­ed to argue that what is at stake in the cur­rent bat­tle over Israel's legit­i­ma­cy is not sim­ply the idea on which Israel is based, but, quite pos­si­bly, human free­dom as we know it.
The very notion that the future of human free­dom might depend on a small coun­try like Israel is very counter-intu­itive, to put it mild­ly. The very idea sounds crazy, I know. But that's the con­ver­sa­tion I want­ed to get start­ed. Imag­ine a world in which Jews, when talk­ing about Israel, focused not on bor­ders and check­points, occu­pa­tion and con­flict, but about the idea that the Jew­ish state is crit­i­cal not just for Jews, but for free­dom-lov­ing peo­ple every­where. It would be a new con­ver­sa­tion, a new Zion­ist dis­course. We need that, des­per­ate­ly. If The Promise of Israel con­tributes to that con­ver­sa­tion in even a small way, I'll be very gratified.
Check back on Wednes­day for Daniel Gordis​'s next post for the Vis­it­ing Scribe.
Daniel Gordis is the Koret Dis­tin­guished Fel­low at Shalem Col­lege — Israel's first lib­er­al arts col­lege — which he helped found in 2007. The author of numer­ous books on Jew­ish thought and polit­i­cal cur­rents in Israel, he has twice won the Nation­al Jew­ish Book Award, includ­ing the prize for Book of the Year for Israel: A Con­cise His­to­ry of a Nation Reborn. Raised and edu­cat­ed in the Unit­ed States, he has been liv­ing in Jerusalem since 1998.