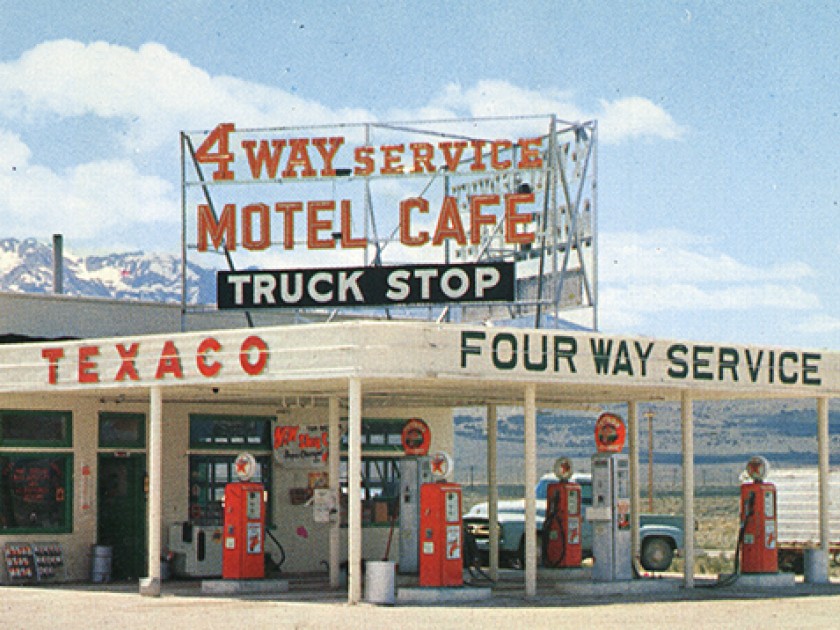 "Falls in Love, or Reads Spin­oza," a poem from my 2017 col­lec­tion Line Study of a Motel Clerk, is in con­ver­sa­tion with H. Leivick's cycle on Spin­oza and Charles Reznikoff's ​"Spin­oza" (1934). It is also in the tra­di­tion of rebelling against T.S. Eliot, join­ing Emanuel Litvinoff's ​"To T.S. Eliot" (1951), Hyam Plutzik's ​"For T.S.E. Only" (1955), and Philip Levine's deci­sion to skip meet­ing Eliot at a book­store in 1953 after spend­ing ​"a sleep­less night won­der­ing what I might do if Eliot were sud­den­ly to blurt out a racist remark." I antic­i­pate anti-Semi­tism when read­ing Mod­ernists, so I was pre­pared for Eliot's overt­ly prob­lem­at­ic poems, but noth­ing pre­pared me for this line in ​"The Meta­phys­i­cal Poets" (1921): ​"The lat­ter falls in love, or reads Spin­oza, and these expe­ri­ences have noth­ing to do with each oth­er…". That is, unless, Spin­oza is part of your world­view. That is, unless, you have a father who reads Spin­oza relent­less­ly, who leaves a copy of Ethics on the back of the toi­let so ​"the lat­ter" might take a shit and read Spin­oza, let alone fall in love. But Eliot didn't grow up in my home. And he cer­tain­ly didn't have my father.
The kind of Judaism that shaped my col­lec­tion was hand­ed down to me by my father and uncle, who run a truck­ing motel in the Rust Belt. It was orig­i­nal­ly opened in 1960 by my grand­fa­ther, the epony­mous ​"motel clerk" of my col­lec­tion. To the casu­al onlook­er, the motel isn't Jew­ish­ly marked. The mezuzah is paint­ed over (by acci­dent? for safe­ty?) and we only sell Man­is­che­witz through the beer-and-wine dri­ve-thru before Passover. My father's per­pet­u­al head cov­er­ing is a base­ball hat, not a kip­pah. But the motel is where, behind spare ash­trays and wood­en tire thumper, my old Jew­ish Stud­ies books line the book­shelf. Where, between check­ing in dri­vers, my father wrote his address for my sister's bat mitz­vah. Where I drove to at dawn the morn­ing of my wed­ding to pick up my grand­ma, fresh in from Deer­field Beach, and orig­i­nal­ly from Mon­tre­al, where she was raised down the street from Morde­cai Richler.
Beside the motel is a road­side restau­rant — the set­ting for my poem ​"The Mar­quee Is Emp­ty at the Big Rig Saloon." My father and I have been eat­ing at the restau­rant since we've been babies. Cur­rent­ly, its inte­ri­or includes deer heads and a steady stream of coun­try music and Fox News. It is per­haps not a like­ly place to find a man with a name that you don't hear out­side of Cana­di­an Jew­ish nurs­ing homes and his poet-daugh­ter, but when I'm home, it's where my father and I go after work for a drink. What­ev­er we talk about ends up being about the Holo­caust because my father, when not read­ing about Spin­oza, reads about the Holo­caust. He reads books with titles so grim that he tapes paper over them when read­ing in pub­lic so peo­ple don't give him looks. When we walk into the restau­rant, truck dri­vers around the bar offer to buy him beers. We sit in a booth, drink Coors Lights, and then we stop pass­ing as nor­mal cus­tomers because we are drunk and talk­ing too loud about Treblinka.
I wrote that poem and this essay because I sus­pect that there are read­ers like me who find noth­ing strange about love and Spin­oza, about Coors Light and Tre­blin­ka. If there is a par­tic­u­lar strain of Rust Belt Jew­ish cul­ture, per­haps it's in ​"Once" (1999) when a weary Philip Levine shows up at a restau­rant in the Low­er East Side and the own­er exclaims, in dis­be­lief, ​"They got Jews in Detroit!" It's Mur­ray Saul, the 1970s-era DJ in my poem ​"The Motel Clerk's Son Gets Bad Recep­tion of Cleve­land 100.7 FM," who wel­comes in Shab­bat stoned and gur­gling with his own fero­cious spit. It's moth­ers writ­ing beau­ti­ful, cur­sive notes excus­ing their chil­dren from school on the High Hol­i­days only to have the atten­dance work­ers stare at the grace­ful let­ter­ing in sus­pi­cion. It's par­ents nam­ing their chil­dren ​"Alli­son Davis" so we ​"don't seem too eth­nic." It's the econ­o­my nev­er recov­er­ing from post-indus­tri­al­ism, the per­sis­tence of racial and class inequal­i­ties. It's every­one leav­ing town, and syn­a­gogues strug­gling to make minyans. It's know­ing that Jew­ish cul­ture will only sur­vive if you shoul­der part of the weight, or rather, as you're born with the extra weight already on you, it's accept­ing the grav­i­ty, accept­ing that if you escape it will be at the expense of nev­er feel­ing ground­ed again.
I sensed this oblig­a­tion at a young age, one day in the motel office, when my uncle, after a par­tic­u­lar­ly fran­tic series of phone calls, told me ​"Alli­son, there are two things you should nev­er do: run a truck­ing motel or be the pres­i­dent of a syn­a­gogue." Yet, all over the Rust Belt, count­less peo­ple like my uncle are doing what it takes to keep busi­ness­es and syn­a­gogues open, because the region is our spir­i­tu­al home, our dias­po­ra once removed from the coasts. It has its own beau­ty and wilder­ness, and its authors are nav­i­gat­ing it in all of its diver­si­ty and com­plex­i­ty. The rest of Amer­i­ca can fly over the mid­dle, but not with­out miss­ing crit­i­cal lit­er­a­ture of our time.
Image via Allen/​Flickr
Alli­son Pitinii Davis is the author of Line Study of a Motel Clerk (Baobab Press, 2017), a final­ist for the Berru Poet­ry Award and the Ohioana Book Award.