Unpack­ing the Book: The Art of Understanding
Thursday, February 21, 2019
7–8:30pm
The Jew­ish Museum
1109 5th Ave
New York, NY 10128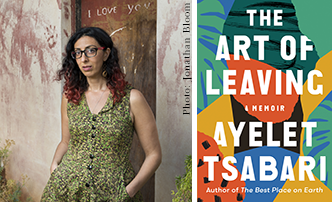 In their new mem­oirs, Nora Krug and Ayelet Tsabari both tack­le larg­er issues of nation­al­i­ty, iden­ti­ty, and her­itage. Grow­ing up, both felt that there was a stig­ma con­nect­ed to their respec­tive back­grounds. As adults, both moved away from your coun­tries of birth. But, as their mem­oirs dis­cuss, ulti­mate­ly Krug and Tsabari delve back into fam­i­ly his­to­ry and recon­nect with fam­i­ly mem­bers — and in doing so, come to bet­ter under­stand the nuances of their back­grounds and her­itages. Mod­er­at­ed by Stephanie But­nick, deputy edi­tor of Tablet Mag­a­zine and a host of ​"Unortho­dox," its week­ly podcast.
Nora Krug is a Ger­man Amer­i­can author and illus­tra­tor whose draw­ings and visu­al nar­ra­tives have appeared in pub­li­ca­tions includ­ing The New York Times, The Guardian, Le Monde diplo­ma­tique, and A Pub­lic Space, and in antholo­gies pub­lished by Houghton Mif­flin Har­court, Simon and Schus­ter, and Chron­i­cle Books. Her visu­al mem­oir Belong­ing: A Ger­man Reck­ons with His­to­ry and Home (for­eign edi­tion title Heimat), about WWII and her own Ger­man fam­i­ly his­to­ry, was cho­sen as a New York Times Crit­ics' Top Books of 2018, as one of The Guardian​'s 50 Biggest Books of Autumn 2018 and Best Books of 2018, as an NPR Book of the Year 2018, as one of Kirkus Reviews' Best Mem­oirs of 2018, and as one of Time Mag­a­zine​'s 8 Must-Read Books you May Have Missed in 2018. Krug is an asso­ciate pro­fes­sor in the Illus­tra­tion Pro­gram at the Par­sons School of Design in New York City.
Ayelet Tsabar­i's debut sto­ry col­lec­tion, The Best Place on Earth, won Jew­ish Book Council's Sami Rohr Prize for Jew­ish Lit­er­a­ture and the Edward Lewis Wal­lant Award. The book was a New York Times Book Review Edi­tors' Choice and was a Kirkus Reviews Best Book, was nom­i­nat­ed for the Frank O'Connor Inter­na­tion­al Short Sto­ry Award, and has been pub­lished inter­na­tion­al­ly. Excerpts from The Art of Leav­ing have won a Nation­al Mag­a­zine Award, a West­ern Mag­a­zine Award and an Edna Stae­bler Award. She is the recip­i­ent of a Chalmers Arts Fel­low­ship and a grad­u­ate of both the Writer's Stu­dio at Simon Fras­er Uni­ver­si­ty and the MFA Pro­gram in Cre­ative Writ­ing at the Uni­ver­si­ty of Guelph. Tsabari teach­es cre­ative writ­ing at the Uni­ver­si­ty of King's Col­lege MFA in Cre­ative Non­fic­tion, at the Uni­ver­si­ty of Tel Aviv, and the Uni­ver­si­ty of Toronto's School of Con­tin­u­ing Education.
Host­ed at the Jew­ish Muse­um in New York City (1109 5th Avenue), Unpack­ing the Book: Jew­ish Writ­ers in Con­ver­sa­tion brings togeth­er some of the finest writ­ers of the day for con­ver­sa­tions around con­tem­po­rary Jew­ish life and iden­ti­ty. This event is FREE with pay-what-you-want admis­sion and includes wine and refresh­ments, a book sale and sign­ing, and the oppor­tu­ni­ty to vis­it the Jew­ish Muse­um gal­leries on the day of the pro­gram; how­ev­er, space is lim­it­ed and guests must reg­is­ter in advance (see free tick­et links below each event).