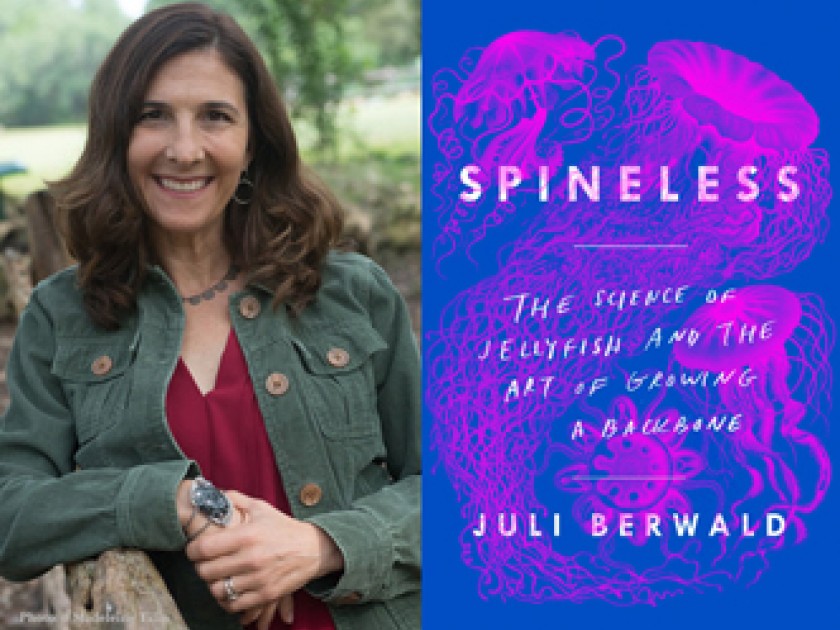 Cel­e­brate Jew­ish Book Month with #30days30authors! JBC invit­ed an author to share thoughts on #Jew­Lit for each day of Jew­ish Book Month. Watch, read, enjoy, and dis­cov­er!
Today, Juli Berwald, the author of Spine­less: The Sci­ence of Jel­ly­fish and the Art of Grow­ing a Back­bone, on the jel­ly­fish of Chelm.
"Papa, what do you think about my jel­ly­fish book?" I so want to ask my grand­fa­ther. He's been gone for more than a decade, but I imag­ine him lean­ing back in his arm­chair, bel­ly full of gefilte fish and tart apple pie after Shab­bos din­ner. If I'm lucky my ques­tion will lead to a sto­ry from his child­hood: the Tow­er of Bab­ble, Samp­son and his hair, Aesop, or per­haps, Isaac Bashe­vis Singer. They are sto­ries he brought with him from a place he had been forced to flee and that no longer exists. I have always loved the way the tales twist and turn unex­pect­ed­ly, unlike the reg­i­ment­ed Dis­ney plot­lines that pat­tern so many Amer­i­can stories.
"What do I think?" he answers in the way of all good Jew­ish sages. ​"I mean, jellyfish…"
"I know. Trust me. It sound­ed a lit­tle weird to me when I start­ed too."
He chuck­les in the way he did, with a round bel­ly bob­bing up and down, his some­times-fierce eyes soft­en­ing behind the thick boxy lens­es of his glass­es. ​"I mean, jel­ly­fish aren't real­ly a sub­ject that too many Jews know too much about."
"Right," I answered. ​"Since they are trayf after all."
"But there was this one time," he seems to catch an idea and warm up to it, ​"that a man brought a buck­et to the town of Chelm. You know Chelm, the town where only fools lived. And inside was a crea­ture unlike any­thing any­one had ever seen. It was near­ly as clear as your grandma's good crys­tal, but shaped like a yarmulke. It moved with a motion that made every­one who saw it think of their own heart beat­ing in their chest."
I let his voice, which still held accent of his lost past, envel­op me.
"The towns­peo­ple said to the man, ​'The rab­bi must see this right away.' Well, the rab­bi took one look at the stun­ning ani­mal and decreed that it would be the mas­cot of Chelm, a sign of the bril­liance of the peo­ple who lived there. And he leaned down to bless the crea­ture. But as he did so, you can't imag­ine what happened."
Papa looks over at me con­spir­a­to­ri­al­ly. ​"You know, it was orig­i­nal­ly a carp, but I made it a jel­ly­fish for you."
I smile back, nodding.
"Well, the jel­ly­fish stung the rab­bi! He jumped back in shock! The peo­ple of Chelm were, as you can imag­ine, out­raged. They want­ed to pun­ish it. But, how should you pun­ish a jellyfish?"
Papa con­tin­ues, ​"One of the fools said, ​"Put it in jail!" No. no. no. Every­one replied. It already lives alone in a buck­et. ​"Make it pay a fine!" said anoth­er. No, no, no, every­one replied. Gold is no salve for a sting. And then, just when the peo­ple of Chelm despaired that there would be no prop­er pun­ish­ment for the jel­ly­fish, Gron­am Ox, the most fool­ish of the fools, had an idea. ​"We should drown it!" Yes! The peo­ple of Chelm agreed. So, they marched to the edge of the sea, where they sub­merged the jel­ly­fish beneath the water. And as it sank below the waves, they all felt that jus­tice had been served."
I know that I will nev­er hear my grand­fa­ther tell this tale this way. But as I sink into the sweet mem­o­ries of his old Jew­ish sto­ries, I real­ize that they laid the foun­da­tion for me to write a book about jel­ly­fish, our plan­et, and our place in it. And I can't help but see echoes of our own fol­ly toward our planet's health in the sil­ly argu­ments of the good cit­i­zens of Chelm. But rather than bum­ble and drift along, the jel­ly­fish taught me that we must act with inten­tion to pro­tect this plan­et we share. And to do so, we all need to grow a spine.
Juli Berwald Ph.D. is a sci­ence writer liv­ing in Austin, Texas and the author of Spine­less: the Sci­ence of Jel­ly­fish and the Art of Grow­ing a Back­bone. Her book on the future of coral will be pub­lished in 2021.