Post­ed by Joseph Winkler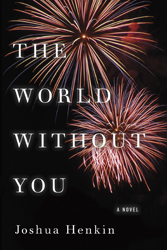 At one point, I couldn't tell if I was inter­view­ing Joshua Henkin, author of the splen­did new book,
The World With­out You,
or if we were engag­ing in a dia­logue of friends. For the first fif­teen min­utes, he asked me ques­tions about my life, then we dis­cussed his book. Most of his answers — eru­dite, poet­ic, and insight­ful — leaned toward the didac­tic, which makes sense giv­en that he heads the cre­ative writ­ing pro­gram at Brook­lyn Col­lege. In
The World With­out You,
Henkin writes deft­ly about the inner dynam­ics of a fam­i­ly in mourn­ing, but here we dis­cuss Henkin's meth­ods, chal­lenges, inspi­ra­tions, and his joy of writ­ing.
Joseph Win­kler: Your books lack a cen­tral pro­tag­o­nist. This method plays an essen­tial role in this book. Was that planned? Joshua Henkin:
In gen­er­al I plan very lit­tle when I write fic­tion. I like to think of writ­ing in this way: adults think in terms of con­cepts, and kids think in terms of sto­ry. To be a good fic­tion writer, you need to learn how to be a child again, albeit a pre­co­cious child. In the first draft, I try to pro­ceed intu­itive­ly and then when I revise I bring my intel­lect back in.
Specif­i­cal­ly, about the lack of pro­tag­o­nist, I like to think of books as we think of rela­tion­ships. Most rela­tion­ships are rebound rela­tion­ships from the one before, so too with books. I spent ten years with my first book,
Mat­ri­mo­ny,
and for the most part there are only two voic­es in that book. Com­ing off of
Mat­ri­mo­ny
I want­ed to write a dif­fer­ent book, more com­pact and yet more spa­cious. More com­pact because
Mat­ri­mo­ny
took place over twen­ty years, and more spa­cious because I did want more than two voic­es, but this was all most­ly instinc­tive.
The ini­tial inspi­ra­tion for the book came from dif­fer­ent per­son­al expe­ri­ences. My grand­fa­ther was an impor­tant Ortho­dox rab­bi; how­ev­er, the next gen­er­a­tions expe­ri­enced assim­i­la­tion. Con­se­quent­ly, he wouldn't be able to see us all on hol­i­days because he did­n't want us trav­el­ing on a hol­i­day. The one time he would see the whole extend­ed fam­i­ly was Purim, because you can trav­el on Purim, and the hol­i­day remains as the famil­ial gath­er­ing in my fam­i­ly. At a recent Purim gath­er­ing, my aunt spoke about her two sons despite the fact that one of her chil­dren died of can­cer. She wasn't delu­sion­al at all. Rather she was express­ing the point that a par­ent nev­er gets over a lost child. Lat­er, I went to a wed­ding of a man whose first wife died and left him with an eigh­teen-month-old child. At this wed­ding, his pre­vi­ous in-law were there, bawl­ing, and both of these moments real­ly stayed with me.
Con­se­quent­ly, This­be, who lost her hus­band, and Mar­i­lyn, who lost her son, were at the core of the book. I thought of This­be as the cen­tral char­ac­ter, but she's not. Even­tu­al­ly the sis­ters became more impor­tant. What real­ly allowed the book to expand in terms of pro­tag­o­nists was the need to fig­ure out how to give the book focus. Grant­ed it's a short peri­od of time, and there's a memo­r­i­al, but some­thing still felt miss­ing. One of the trick­i­er things to nego­ti­ate was try­ing to fig­ure out how all these strands fit togeth­er. They are all con­nect­ed by this dead per­son, Leo, but he is gone, and the sis­ters are all dif­fer­ent, and This­be is from a dif­fer­ent world. How do you con­nect every­thing? Find­ing that answer pushed the book into the ter­ri­to­ry of numer­ous pro­tag­o­nists and voic­es.
JW

: The book feels dense in the sense that it not only jug­gles numer­ous dis­parate char­ac­ters, but also plays host to count­less themes: lib­er­al or con­ser­v­a­tive pol­i­tics, death, mourn­ing, divorce, mon­ey, unem­ploy­ment, econ­o­my, and the war, to name a few. Did you feel chal­lenged in bal­anc­ing all these parts?

JH

:
As a writer I don't think about those things at all, about themes, per se. I think in terms of sto­ry. To me fic­tion is about char­ac­ter. Obvi­ous­ly lan­guage is extreme­ly impor­tant, but, at the end, I don't nec­es­sar­i­ly want my read­er feel like the char­ac­ter, because this isn't a pop­u­lar­i­ty con­test, but rather that they know the char­ac­ters well. Fic­tion writ­ers use the par­tic­u­lar to get to the gen­er­al. If you cre­ate a thought­ful, engaged char­ac­ter then the themes will come through the back­door. The key is to get to know your char­ac­ters, some­thing I tell my stu­dents all the time. I like to think of it as a spine. If you have the right spine going through your sto­ry, then you can have loads of nerves through­out that spine jump­ing all over the place. Once you have focus, you can reach out as far as you want.
Read the full inter­view here.
Joseph Win­kler is a free­lance writer liv­ing in New York City. He writes for Vol
1
Brooklyn, The Huff­in­g­ton Post, Jew­cy, and oth­er sites. While not writ­ing, Joe is get­ting a Mas­ters in Eng­lish Lit­er­a­ture at City Col­lege. To sup­port his extrav­a­gant lifestyle, Joe also tutors and unabashed­ly babysits. Check out his blog at nocon​ver​sa​tion​left​be​hind​.blogspot​.com.