Eve Har­ris was born to Israeli-Pol­ish par­ents in Chiswick, West Lon­don, in 1973. She taught for 12 years at inner-city com­pre­hen­sives and inde­pen­dent schools in Lon­don and also in Tel Aviv, after mov­ing to Israel in 1999. She returned to Lon­don in 2002 to resume teach­ing at an all girls' Catholic con­vent school. The Mar­ry­ing of Chani Kauf­man was inspired by her final year of teach­ing at an all girls' ultra-Ortho­dox Jew­ish school in North West Lon­don. She will be blog­ging here all week for Jew­ish Book Coun­cil and MyJew­ish­Learn­ing.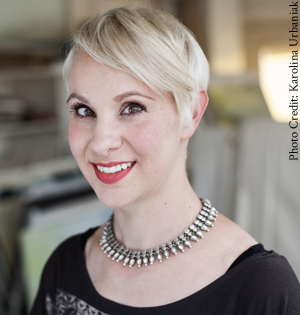 The school was on a res­i­den­tial street in North West Lon­don. From the out­side it was unre­mark­able, but the atmos­phere as I crossed the thresh­old for the first time for an inter­view to become an Eng­lish teacher, was aston­ish­ing. The Catholic con­vent school I'd just left was a seething caul­dron of ener­gy and chaos. The noise of ring­ing school bells and yelling teenagers formed the back­drop to a relent­less melo­dra­ma of flunked exams and teenage preg­nan­cies. After twelve years teach­ing in the com­pre­hen­sive sys­tem, I was burnt out.
The advert in the TLS described the school as a girls' gram­mar, but I guessed from the Jew­ish name that it would be quite reli­gious, so I was dressed appro­pri­ate­ly — long skirt, long sleeves and a neck­line high enough to cov­er my col­lar­bone. I'm a sec­u­lar Jew, but I had no inkling what I was let­ting myself in for. The school wasn't just a bit reli­gious; it was a Chare­di school, the most the­o­log­i­cal­ly con­ser­v­a­tive stream of Ortho­dox Judaism. In the UK, they are known for their black sable ​'shtreimel' hats and curled side-locks, and lit­tle else, since they are noto­ri­ous­ly insu­lar. Accord­ing to Jew­ish Pol­i­cy Research, there are cur­rent­ly 53,400 Chare­di Jews in Britain, a group that is grow­ing fast. Mem­ber­ship of Chare­di syn­a­gogues has dou­bled since 1990, and they now account for three out of every four British Jew­ish births.
After a suc­cess­ful inter­view with the head­mistress, I was offered the job. I won't name it, but it is a pri­vate day school attend­ed by 300 girls from North West Lon­don aged between 11 and 18. It is one of many such schools to be found across the UK. The mood inside was com­plete­ly alien to any edu­ca­tion­al estab­lish­ment I'd entered pre­vi­ous­ly – qui­et, calm and dig­ni­fied, more like a place of wor­ship than four walls con­tain­ing hun­dreds of hor­mon­al teens.
The girls here, though, were dif­fer­ent, inhab­it­ing a tiny bub­ble con­struct­ed for them by their com­mu­ni­ty. Banned from going on the inter­net, read­ing unsanc­tioned books and news­pa­pers, or lis­ten­ing to the radio. Jeans and make-up are taboo and boyfriends are com­plete­ly unheard of. The tele­vi­sion in par­tic­u­lar is regard­ed as ​'a sew­er in the liv­ing room'. No girl is accept­ed by the school unless her par­ents first sign an agree­ment that they don't own one of these demon­ic sets. This cen­sor­ship is so suc­cess­ful that not one of my pupils had heard of Madon­na, Rihan­na or Bey­on­cé. They are vig­i­lant­ly pro­tect­ed from the hyper-sex­u­al­i­sa­tion of the mod­ern world we're so used to that it's become the norm. The result is a child­hood pre­served and extend­ed to its full lim­its, not cur­tailed by world­ly knowl­edge of adult things. What struck me most pro­found­ly in those first few weeks, as I com­pared the girls to the numer­ous twelve and thir­teen year-olds I'd taught (some of whom had had chil­dren at that age), was that at 12, 13, 14, 15 these girls are still inno­cent, liv­ing the lives of Enid Bly­ton char­ac­ters in the 21st Cen­tu­ry. And it was beau­ti­ful. They were viva­cious and live­ly; not down­trod­den, meek or mild, but burst­ing with life, and gen­er­al­ly very happy.
The cur­ricu­lum was divid­ed into two bal­anced strands. Kodesh, or Jew­ish stud­ies, which includ­ed Torah, Jew­ish ethics, phi­los­o­phy and prayers. The oth­er strand was Chol, or sec­u­lar stud­ies, includ­ing Eng­lish, maths, sci­ence, French, his­to­ry, Yid­dish, sewing and cook­ing. The last two might sound back­wards to our ears, but actu­al­ly, I came to think it was fan­tas­tic. Ultra-Ortho­dox fam­i­lies are so large – hav­ing twelve chil­dren is com­mon – that know­ing how to churn out nutri­tious food and mend hand-me-down clothes is a cru­cial life skill.
The entire cur­ricu­lum, how­ev­er, was heav­i­ly cen­sored, which often made teach­ing dif­fi­cult. Whole pages of the biol­o­gy text­book were glued togeth­er or ripped out. Art books con­tain­ing pic­tures of Boti­cel­li or Michelan­ge­lo nudes were cov­ered in white stick­ers to block out breasts or gen­i­talia. The selec­tion of Eng­lish lit­er­a­ture texts that wasn't deemed impure was minis­cule. The Year 7s were taught Hei­di, because once you begin to look, there's hard­ly a poem or nov­el that doesn't make ref­er­ence to sex or have inap­pro­pri­ate lan­guage. Romeo & Juli­et was out, due to its steamy love scenes, as were Mid­sum­mer Night's Dream and the Tem­pest, because they involve love sto­ries and sex. Mac­beth and Julius Cae­sar how­ev­er, full of mur­der and vio­lence, were fine! Even Har­ry Pot­ter was frowned upon for being too mag­i­cal and world­ly. So we stud­ied Wind in the Wil­lows, Roar of Thun­der Hear My Cry, Kinder­trans­port, and Journey's End. Over and over again. Despite this, the girl's results were impres­sive. They loved Eng­lish because it was a port­hole onto the out­side world.
Every­thing I taught had to be sanc­tioned by the head of depart­ment, and I got into trou­ble on numer­ous occa­sions. I was once teach­ing an illus­trat­ed and anno­tat­ed ver­sion of Julius Cae­sar to a group of 14-year-olds, when one put up her hand and said ​'Miss, are we sup­posed to be look­ing at this pic­ture? I don't think it's appro­pri­ate'. I looked down and saw an inch-high car­toon of a man wear­ing a loin­cloth, rep­re­sent­ing the Colos­sus of Rhodes. I thought noth­ing of it, and said ​'what's wrong with him?' and she, grin­ning like a Cheshire cat, said ​'he's immod­est!' I took it straight to the head of depart­ment, who prompt­ly col­lect­ed every copy in the school and togeth­er, using black mark­er pens, we hur­ried­ly gave each Colos­sus a t‑shirt and shorts.
On anoth­er occa­sion, I was scup­pered by a William Blake poem, ​"Lon­don," which con­tains the word ​'har­lot'. The head of Eng­lish told me she had to keep the word in because it would be in their GCSE exam, but that I should be very care­ful to gloss over it. If they asked what it meant, I was to say ​'like the fall­en women in the Torah'. My pupils were very aca­d­e­m­ic and ambi­tious and they all want­ed A grades, so I knew this sketchy cop-out wouldn't suf­fice. Sure enough, they pressed me, and I found myself explain­ing that it meant ​'a woman who sells her body for mon­ey to sur­vive'. They wrote it down word for word. Lat­er that day, one girl's father looked at her notes and wrote a stink­ing let­ter say­ing ​'why is Mrs Har­ris teach­ing this filth to my child?' The head of depart­ment was furi­ous. She had to pull the poem from the cur­ricu­lum. It was anoth­er text lost.
In a sim­i­lar vein, the girls have lit­tle scope for self-expres­sion – the uni­form of long sleeves and long skirts mim­ics the same mut­ed colours and con­ser­v­a­tive clothes they will wear as adult women. Save for one dif­fer­ence – once mar­ried, the major­i­ty will wear wigs, allow­ing only their hus­bands to see their nat­ur­al hair. A woman's hair is a sym­bol of her sex­u­al attrac­tion and a mar­ried woman should only dis­play it in the pri­va­cy of the mar­i­tal bed­room. This les­son was firm­ly drummed into the girls once a year when the school held its annu­al ​'mod­esty cam­paign', con­sist­ing of a week-long marathon of DVDs and ser­mons from var­i­ous female fig­ures of author­i­ty on the impor­tance of but­ton­ing up and cov­er­ing one's hair.
On one occa­sion, I found myself sit­ting in a school assem­bly lis­ten­ing to a woman tell the girls that a mar­ried Jew­ish woman who allows even a strand of hair to show is respon­si­ble for the sins of the world. I was wear­ing a head­scarf that par­tial­ly cov­ered my real hair. Oth­er sec­u­lar mem­bers of staff were wear­ing hats. Some of the girls turned around to gawp. I remem­ber feel­ing embar­rassed and extreme­ly irri­tat­ed. The lack of respect that is some­times shown for Jews who are not Ortho­dox is dis­taste­ful. Some of them would not even con­sid­er a woman like me to be Jewish.
Teenagers are renowned for their propen­si­ty to rebel­lion, but attempts at defec­tion were sur­pris­ing­ly rare. I heard that one girl was expelled from the school for wear­ing jeans at the week­end, and anoth­er for climb­ing out of her bed­room win­dow to meet a boy. The major­i­ty, how­ev­er, com­ply, I believe, sim­ply because they're hap­py. They know they're going to get mar­ried and they don't have to wor­ry about mon­ey. They don't have to wor­ry about lone­li­ness either and their sense of fam­i­ly, com­mu­ni­ty and friend­ship are incom­pa­ra­ble. They know what is expect­ed of them and they're content.
Their view of our soci­ety is that we're liv­ing in sex­u­alised chaos, where every­thing is allowed and there is no respect or fam­i­ly life. They look at the out­side world and think we're in hell, that we've got it all wrong. They call us ​'the goy­im', a deroga­to­ry Hebrew term for ​'the oth­ers'. They believe that the mes­si­ah is com­ing, and soon, and for him to do so we need to be in a puri­fied state. That's not to say that sex doesn't have a place in Judaism. Sex is a very impor­tant part of their lives as long as it takes place in a mar­i­tal bed, and there it is cel­e­brat­ed. The myth about doing it through a hole in a sheet is just that, a myth. When I mar­ried my hus­band a few years ago, we went through the Ortho­dox sys­tem and my hus­band was giv­en a sex les­son by the rab­bi. The rab­bi said to him, ​'your wife's plea­sure is more impor­tant than yours, and it's very impor­tant that you sat­is­fy her desires when required and learn to restrain your own needs when she shows unin­ter­est.' Ortho­dox Jew­ish women are far from the sub­servient chat­tels they're so often per­ceived to be.
For the girls I taught, the fairy-tale end­ing was to be mar­ried to a good Jew­ish boy, from the right sort of fam­i­ly, and to lead a spir­i­tu­al life where they hon­our HaShem (God) and have lots of chil­dren. They don't see mar­riage the way we see it. It's not about romance and falling in love. Their idea of a rela­tion­ship is that you build it, get­ting to know each oth­er over time. You're a part­ner­ship. Pas­sion and love are not impor­tant, but they can come, lat­er on in life. You have very elder­ly ortho­dox cou­ples who are extreme­ly in love with each oth­er and have beau­ti­ful rela­tion­ships. They knew noth­ing about each oth­er at the begin­ning, but they're told ​'respect each oth­er, learn from each oth­er, grow together'.
Typ­i­cal­ly, Chare­di girls mar­ry from 19 upwards, and if you're not mar­ried by 23, you're pan­ick­ing. The ratio of girls to boy is skewed for some rea­son, and so the boys get to pick the youngest, pret­ti­est ones. There's a lot of pres­sure, and girls can get left on the shelf, or end up mar­ry­ing some­one much older.
If you're an unmar­ried girl, what do you do with your­self? Very few go to uni­ver­si­ty, and if they do, it will be the Open Uni­ver­si­ty or the local col­lege so they can live at home. Even few­er get jobs; their role is to have chil­dren and bring them up in the yid­dish­er way. With­out a hus­band and kids, you're an odd­i­ty, a freak, and so most peo­ple turn to spe­cial match­mak­ers to help them find some­one of the right sect, health and wealth. The first meet­ing usu­al­ly takes place some­where pret­ty anony­mous, like a hotel foy­er, and there's no chap­er­one; they meet on their own. They have cof­fee and talk, and if it doesn't work they move on.
At the school, the reli­gious Kodesh strand of the cur­ricu­lum is taught by ex-pupils who are wait­ing to get mar­ried. Every morn­ing these girls would pray in the staffroom for God to send them the right match. They have to turn east towards Jerusalem, and the fridge hap­pens to face east. So they would bow and pray in front of it, and peo­ple would get frus­trat­ed because they'd come in to have their break­fast and these girls were in the way and you can't dis­turb them! In the end some­one stuck a note on the fridge say­ing ​'please do not dav­en (pray) in front of the fridge'.
Chare­di cou­ples have as many chil­dren as they can, because the Torah com­mands that you go forth and mul­ti­ply, but there's also a deep­er, more poignant rea­son. Behind that extra­or­di­nary Chare­di insu­lar­i­ty, behind every­thing they do, is a dark shad­ow – the holo­caust, Hitler. They'll nev­er for­get, and many of those who become Chare­di are the chil­dren of sur­vivors. They want to make up for the six mil­lion who were mur­dered and they do that by hav­ing a lot of chil­dren. Their fear of inter­act­ing with the sec­u­lar world stems from the same thing. To out­siders it seems extreme, but they believe that ​'if we let our chil­dren out with peo­ple who are not Jews they'll lose their spir­i­tu­al puri­ty, they will turn away from God, and we'll be doing Hitler's job for him'.
For all that I found it dif­fi­cult, I couldn't help but envy aspects of my pupils' lives. Their inno­cence was beau­ti­ful. Their lives have mean­ing, and there's a con­tent­ed calm­ness to the cycle. Mak­ing lots of mon­ey, the pres­sure we have to suc­ceed and be inter­est­ing, just doesn't exist for them.
After a while, I came to find the cen­sor­ship sti­fling, and teach­ing the same few sanc­tioned texts became dull. So I left the school, but the girls for­ev­er stamped them­selves into my heart, con­tent­ed­ly liv­ing their lives in a glass bowl, whilst the rest of us scur­ried and hur­ried around them.
This arti­cle first appeared in The Times.
Relat­ed Content:
Eve Har­ris | Jew­ish Book Coun­cil
Eve Har­ris was born to Israeli-Pol­ish par­ents in Chiswick, West Lon­don, in 1973. She taught for 12 years at inner-city com­pre­hen­sives and inde­pen­dent schools in Lon­don and also in Tel Aviv, after mov­ing to Israel in 1999. She returned to Lon­don in 2002 to resume teach­ing at an all girls' Catholic con­vent school. The Mar­ry­ing of Chani Kauf­manwas inspired by her final year of teach­ing at an all girls' ultra-Ortho­dox Jew­ish school in North West Lon­don. Eve lives in Lon­don with her hus­band, Jules, and their daugh­ter Rosie.
A Glimpse into the Eng­lish Chare­di School System