Leah Uman­sky is the author of the Mad-Men inspired chap­book, Don Dreams and I Dream (Kat­ty­wom­pus Press 2014) and Domes­tic Uncer­tain­ties (Blazevox 2013). She curates the COU­PLET Read­ing Series and has been pub­lished in such places as POET­RY, Poet­ry Review, and The Brook­lyn Rail. Today, in hon­or of Nation­al Poet­ry Month, she writes about and shares one of her poems from Don Dreams and I Dream.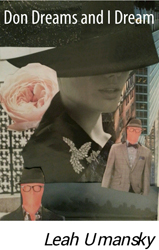 In the first sea­son of ​"Mad Men," we're intro­duced to Rachel Menken, head of a pop­u­lar Jew­ish depart­ment store named Menken's in Man­hat­tan, and one of my favorite char­ac­ters of the past six seasons.
Ster­ling Coop­er, the firm, is try­ing to land Menken's as a client, and Don and Rachel find them­selves in love. I was drawn to Rachel, the Jew­ess, being Jew­ish myself, but I was also drawn to Don and the way Don sees her: exot­ic, oth­ered and alluring.
Don and Rachel get each oth­er. Their affair is sweet and near-inno­cent. They dis­cov­er one anoth­er based on their instincts and their pas­sions. Their love is fierce and he's intrigued by her because she's a strong woman.
She's a hustler.
They are good for one anoth­er, but Don is mar­ried and sure­ly, Rachel's father would want her to find a nice Jew­ish man. But Don is drawn to Rachel.
Could it be the fact that both of their mother's died in childbirth?
Maybe. Both are look­ing to ful­ly belong to someone.
In Rachel, Don sees an equal and some­one who under­stands him. They have both been on the out­skirts. She's a Jew, for­get about being a female Jew, and there­fore she's an out­sider in the big, bad, man­ly world of Ster­ling Coop­er. But Don, Don's a wealthy ad man, with the heart of a small, pover­ty-strick­en, coun­try boy. I want Rachel to run­away with Don, but she doesn't need him. And in turn­ing him down, we not only see anoth­er strong female char­ac­ter on ​"Mad Men," but a strong female Jewess.
Drap­er and the Jewess
You'll like this poem, because you should. Because we all fight for the under­dog. It has a nice ring to it, jew­ess. Drap­er invents their dichoto­my, but I, I imag­ine their kiss is sweet, like an apple halved. Fresh, yet sour, and of course, ver­dant. Very ver­dant.
[which is close to vir­gin].
She reminds him of ofo­fof some­thing pure, and of val­ue and charm. An antique. A throw-back to a day of glo­ry and grain, a day of the hum­ble and pain. She is some­thing unseem­ing, or appears to be so, until he lays his paws on her. She wants to love him, but he grows clingy and pale, recoil­ing from what she is: jew­ess. Her kiss is both a moth­er and a smoth­er. Her wild hea­then­ness beck­ons and stirs, beck­ons and purrs, and then, look what the cat drags in:
In her, he sees nos­tal­gia. He sees what is sun­dogged, dawned and near-death. He sees pen­nies and scrapes and his scrap­ing-by but also sees clar­i­ty and calm. In him, she sees his goishe Amer­i­can­ways. They are Napoleon­ic, bion­ic, and myopic. They could take over the world, but, she, she is a busi­ness­woman. Her guards [and garters] rise to his touch. If he wants to invest, he will need to earn his shares just like every­one else. She is the Empress of Fifth Avenue. A rose, and he is a hornet.
[ Now, who's the one with horns?]
He aban­dons his life. In her, he sees how the oth­er side lives, but he for­gets she is a pro­pri­etor. She knows what she val­ues and man­hood is gold­en. The Jew­ess does not get what she wants, but either does the Don. He's got noth­ing. Zilch.
Read more about Leah Uman­sky and her work here.
Relat­ed Content: