Deb­o­rah Lip­stadt​'s most recent book, The Eich­mann Tri­al
, is now avail­able. She will be blog­ging all week for the Jew­ish Book Coun­cil and MyJew­ish­Learn­ing.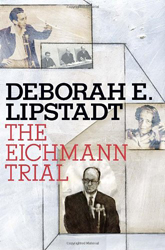 It was the 50th anniver­sary of the start of the Eich­mann Tri­al and the 11th anniver­sary of the ver­dict [judg­ment] in my libel tri­al in the UK when David Irv­ing sued me for libel for call­ing him a Holo­caust denier.
More sig­nif­i­cant­ly, on April 11th I spoke at the Unit­ed States State Depart­ment to mark the anniver­sary of the Eich­mann tri­al. In addi­tion to State Depart­ment staff mem­bers, there were a num­ber of diplo­mats present [Turkey, Moroc­co, Ukraine, and Israel among oth­ers], as well as friends and col­leagues. It was quite mean­ing­ful that I was speak­ing about this sem­i­nar act of geno­cide to an audi­ence com­posed in part of peo­ple who deal with geno­cide and per­se­cu­tion-relat­ed issues. One of the peo­ple with whom I spoke has spent years work­ing to rid the world of land mines. Anoth­er had been involved in the geno­cide in Dar­fur. Anoth­er had worked on issues relat­ed to the for­mer Yugoslavia. Tragedies all.
There was anoth­er fac­tor that made this a mean­ing­ful moment. The audi­ence was com­posed of Fed­er­al employ­ees. My book is ded­i­cat­ed to three men who worked for a Fed­er­al insti­tu­tion, the Unit­ed States Holo­caust Memo­r­i­al Muse­um. One of them, Spe­cial Offi­cer Stephen Tyrone Johns, gave his life for the insti­tu­tion. The quick response by the oth­er two, Spe­cial Offi­cer Har­ry Weeks and Spe­cial Offi­cer Jason ​"Mac" McCuis­ton, pre­vent­ed this tragedy from assum­ing far greater proportions.
I began by tak­ing note of that fact and read­ing from the ded­i­ca­tion. I was sur­prised by the emo­tion it evoked, not just from the audi­ence, but from me. Soon it will be two years since the tragedy but the pain of that moment is still palpable.
Deb­o­rah Lipstadt's The Eich­mann Tri­al
is now avail­able. Check back all week for her posts on the Jew­ish Book Coun­cil and MyJew­ish­Learn­ing​'s Vis­it­ing Scribe.
Deb­o­rah E. Lip­stadt is Dorot Pro­fes­sor of Mod­ern Jew­ish His­to­ry and Holo­caust Stud­ies at Emory Uni­ver­si­ty. Her books include The Eich­mann Tri­al, His­to­ry on Tri­al: My Day in Court with David Irv­ing (a Nation­al Jew­ish Book Award-win­ner), Deny­ing the Holo­caust: The Grow­ing Assault on Truth and Mem­o­ry, and Beyond Belief: The Amer­i­can Press and the Com­ing of the Holo­caust, 1933 – 1945. She lives in Atlanta.