Post­ed by Nat Bern­stein
I was so tak­en with the con­tent of Steven Shankman's Turned Inside Out: Read­ing the Russ­ian Nov­el in Prison I almost failed to notice the book cov­er, which cer­tain­ly stands on its own: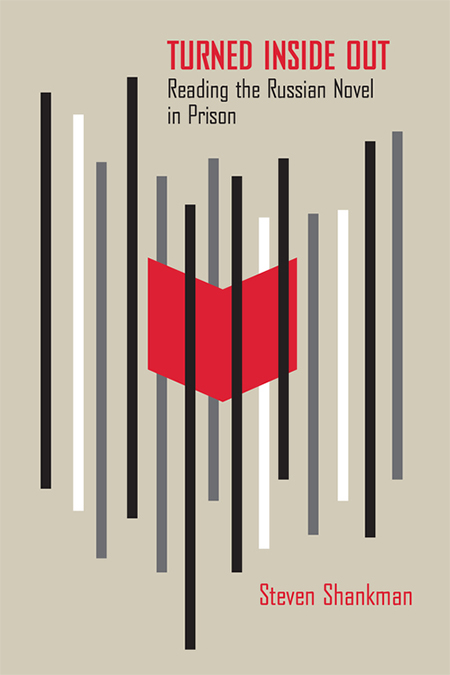 Put Fyo­dor Dos­to­evsky, Vasi­ly Gross­man, and Emmanuel Lev­inas togeth­er in one sen­tence and I'm already hooked, but Shankman's sto­ry is even more intrigu­ing and impor­tant than a dis­cus­sion of those three oeu­vres: it's an account of hold­ing that dis­cus­sion between uni­ver­si­ty cam­pus­es and prison class­rooms in the Unit­ed States. Turned Inside Out promis­es to be a wor­thy suc­ces­sor to Andrew D. Kaufman's Give War and Peace a Chance: Tol­stoy­an Wis­dom for Our Trou­bled Times and Avi Steinberg's stun­ning debut mem­oir, Run­ning the Books: The Adven­tures of an Acci­den­tal Prison Librar­i­an, and the art­work on this book cov­er is per­fec­tion: a graph­ic blend of lit­er­al and abstract rep­re­sen­ta­tion of the sto­ry that strikes the appeal­ing bal­ance of spare clut­ter, paint­ed in just the right colors.
Relat­ed Content:
Nat Bern­stein is the for­mer Man­ag­er of Dig­i­tal Con­tent & Media, JBC Net­work Coor­di­na­tor, and Con­tribut­ing Edi­tor at the Jew­ish Book Coun­cil and a grad­u­ate of Hamp­shire College.