Inter­nal Dia­logue is a Jew­ish Book Coun­cil blog series on lit­er­ary trends, ideas, and dis­cus­sions of inter­est to Jew­ish read­ers and com­mu­ni­ty orga­niz­ers, curat­ed by the Jew­ish Book Coun­cil edi­tors and staff. Post­ed by Nat Bern­stein.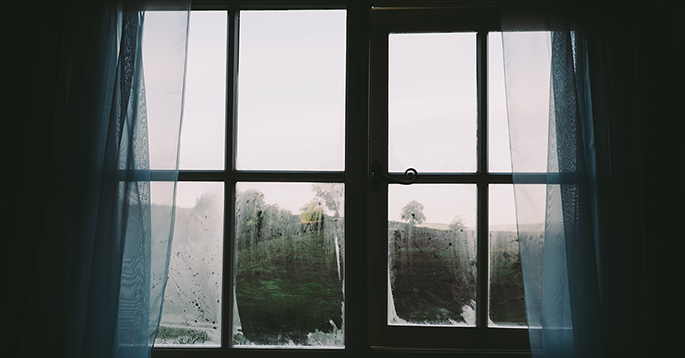 The new issue of The New York­er arrived ear­li­er this week, but I'm still hold­ing onto the last one; I loved read­ing Aman­da Petrusich's ret­ro­spec­tive on the ​"resur­gent appeal of Ste­vie Nicks" in The New York­er​'s Novem­ber 28, 2016 over Thanks­giv­ing. Writ­ing about the ex-lover mus­es that inspired Nicks' sec­ond solo record, The Wild Heart, Petru­sich men­tions that ​"Nicks fre­quent­ly cites as a guid­ing influ­ence for the record­ing ses­sions the 1939 film adap­ta­tion of Emi­ly Brontë's Wuther­ing Heights, which depicts an undy­ing, almost fiendish love. Most­ly," Petru­sich con­nects, ​"the songs are about buck­ing against the cir­cum­stances that sep­a­rate us from the peo­ple we need."
A song­writer inspired by a film adap­ta­tion of Wuther­ing Heights—I've heard this before.
In Jan­u­ary 1978 — half a decade before Ste­vie Nicks reunit­ed with her ex-lover and Bel­la Don­na pro­duc­er Jim­my Iovine to put The Wild Heart togeth­er — a doe-eyed ado­les­cent crooned her eerie debut through a thick brunette mop of bangs, instant­ly tak­ing the British music scene by storm. No one knew what to make of Kate Bush, a soft-spo­ken young woman who blushed shy­ly through inter­views and then wal­loped the air­waves with her hyper-styl­ized siren's call, wail­ing to Heath­cliff at the win­dow in her first released single.
Per­haps it is not sur­pris­ing that the dif­fi­cult sto­ry of Wuther­ing Heights speaks so direct­ly to song­writ­ers: the saga of Cathy and Heath­cliff is, of course, about the the poten­cy of love and its poten­tial to simul­ta­ne­ous­ly dri­ve and inca­pac­i­tate those who plunge head­long into its deep­est, dark­est depths. It's a sto­ry of self-destruc­tion and despair — is there any romance that hasn't been to some degree belea­guered by both? If music is sup­posed to express the core expe­ri­ences and emo­tions of the human con­di­tion, ​"shout­ing ​'Cathy' and bang­ing your head against a tree," as Helen Field­ing would put it, is prob­a­bly a good start­ing point for trans­lat­ing the inner tur­moil of thwart­ed or unre­quit­ed devotion.
"It was per­fect mate­r­i­al for a song," Bush shared in one of her ear­li­est inter­views. ​"It was so pas­sion­ate and full of impact. And I read the book," she is quick to add. ​"Yeah, I read the book before I wrote the song, because I need­ed to get the mood properly."
The orig­i­nal inspi­ra­tion for the song had come many years ear­li­er, when Bush caught the last cou­ple min­utes of tele­vi­sion minis­eries adap­ta­tion of Brontë's mas­ter­piece. She couldn't have been old­er than ten years old at the time, but the image of Cathy haunt­ing the win­dows of Thrushcross Grange cap­ti­vat­ed Bush, swirling around her imag­i­na­tion for the next decade of her life until she released ​"Wuther­ing Heights" in that uncan­ny voice over the keys of a Grand piano.
What is sig­nif­i­cant about Kate Bush's artis­tic license — and like­ly Ste­vie Nicks's, and many oth­ers, for that mat­ter — is not that she was inspired by a work of clas­sic lit­er­a­ture: it's that she was inspired by an adap­ta­tion of clas­sic lit­er­a­ture, and that it led her to the orig­i­nal source. Like how Bey­on­cé dis­cov­ered the work of Bob Fos­se from a video mashup of Gwen Ver­don and two back­up dancers syn­co­pat­ing across ​'60s tele­vi­sion set with a DJ Unk rap song replac­ing the ​"Mex­i­can Break­fast" jazz, which led her down a chore­og­ra­phy rab­bit hole and now we have the icon­ic cul­tur­al gem that is ​"All the Sin­gle Ladies"—one of the best videos of all time, accord­ing to Kanye West (and pret­ty much everyone).
Film and tv series adap­ta­tions get a bad rap. They are almost nev­er as good as the book, and often fall far short of read­ers' expec­ta­tions. Lis­ten, the ​"Mex­i­can Break­fast" dance inter­lude wasn't exact­ly Cabaret, either. But even if the copy isn't accu­rate or ful­ly rep­re­sen­ta­tive of the orig­i­nal work, it pro­vides a cru­cial access point. A young girl read Wuther­ing Heights after glimps­ing a sin­gle scene from the book, reimag­ined on tele­vi­sion late one night, and end­ed up ampli­fy­ing the sto­ry ten years lat­er with the first self-writ­ten song by a female artist to hit num­ber one on the British charts — at the same time as one of the biggest names in Amer­i­can music was watch­ing an ear­ly film adap­ta­tion of the same book on repeat, coax­ing out the begin­nings of her sec­ond solo project. Who knows how many read­ers first picked up the book after hear­ing Kate Bush's song or learn­ing how the sto­ry had inspired Ste­vie Nicks, but the per­pet­u­at­ing expo­sure isn't real­ly the point: the point is that in find­ing lit­er­a­ture adapt­ed to a dif­fer­ent form, one per­son traced it back to its source and then pro­duced her own cre­ative expres­sion of that work. How­ev­er they find the books that take root, we want young read­ers to engage with lit­er­a­ture beyond the act of read­ing: books are meant to shape how we per­ceive and inhab­it the world around us, and encoun­ter­ing inter­pre­ta­tions of great works — even the ones that dis­ap­point — expos­es the end­less pos­si­bil­i­ties for mak­ing a beloved or new­ly claimed book tru­ly one's own and opens up new modes, voic­es, and media for self-expres­sion and discovery.
When teach­ers show the movie adap­ta­tion of a book in their class­rooms, it's an inten­tion­al com­po­nent of their cur­ricu­lum: beyond pro­vid­ing a clear image of scenes, con­cepts, and char­ac­ters for stu­dents who might strug­gle to piece togeth­er such ele­ments in their own imag­i­na­tions, guid­ed screen­ings train young view­ers to not only ana­lyze the inter­pre­ta­tion and cre­ative choic­es of the film­mak­er but fur­ther­more con­sid­er how they them­selves can re-relate the sto­ry and lan­guage of the book before them to their own lives, tastes, and artis­tic out­lets. And for those who encounter these adap­ta­tions on their own — so much the bet­ter! In that spir­it, here's a list of clas­sic and con­tem­po­rary works of Jew­ish lit­er­a­ture that made it onto the sil­ver screen, the small screen, and now even the screens of the home com­put­er, lap­top, tablet, or hand­held device — and some to look for­ward too:
Now Play­ing
Com­ing Soon
Crit­i­cal­ly Acclaimed Classics
Find an extend­ed read­ing list of books that inspired films here!
Relat­ed Content:
Nat Bern­stein is the for­mer Man­ag­er of Dig­i­tal Con­tent & Media, JBC Net­work Coor­di­na­tor, and Con­tribut­ing Edi­tor at the Jew­ish Book Coun­cil and a grad­u­ate of Hamp­shire College.