Post­ed by Nat Bern­stein
One of my favorite non­fic­tion writ­ers has a new book com­ing out at the end of the month that address­es the bizarre his­to­ry of Biro­bidzhan, a Russ­ian region grant­i­ng auton­o­my to its Jew­ish set­tlers along the bor­der with China: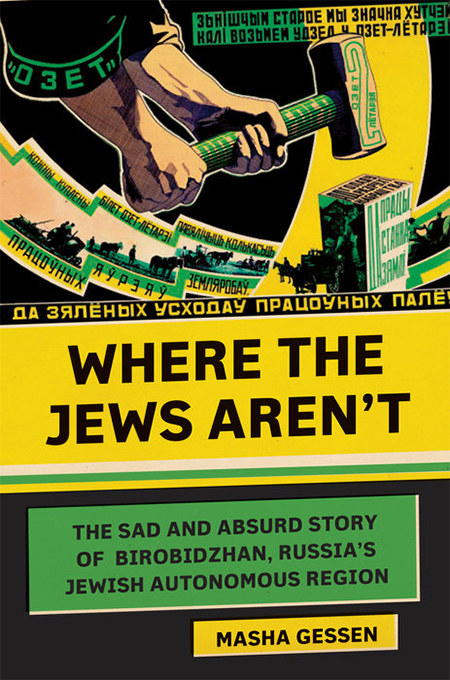 Envi­sioned as a strong­hold of Jew­ish cul­ture, Biro­bidzhan became home to thou­sands of Jews with­in a cou­ple years of its estab­lish­ment in 1929 before it was plun­dered for intel­lec­tu­als and elites in a wave of arrests in the late 1930s. Fol­low­ing World War II, refugees from the Jew­ish Pale of Set­tle­ment rein­forced the remote region's pop­u­la­tion, only to suc­cumb once more to the Sovi­et purges which effec­tive­ly silenced Biro­bidzhan's inhab­i­tants and their sto­ry — until now.
Those sto­ries form­ing Where the Jews Aren't: The Sad and Absurd Sto­ry of Biro­bidzhan, Rus­si­a's Jew­ish Autonomous Region could not be left to a more capa­ble cus­to­di­an than Masha Gessen, whose pre­vi­ous books on Russ­ian his­to­ry and cur­rent events range from biogra­phies of math­e­mati­cians to the love sto­ries of LGBT Rus­sians to the fate of the Sovi­et intel­li­gentsia under Com­mu­nism to the Pussy Riot revolution.
Relat­ed Content:
Nat Bern­stein is the for­mer Man­ag­er of Dig­i­tal Con­tent & Media, JBC Net­work Coor­di­na­tor, and Con­tribut­ing Edi­tor at the Jew­ish Book Coun­cil and a grad­u­ate of Hamp­shire College.