Ear­li­er this week, Tamar Barzel wrote about defin­ing rad­i­cal Jew­ish music beyond klezmer. Her first book, New York Noise: Rad­i­cal Jew­ish Music and the Down­town Scene (Indi­ana Uni­ver­si­ty Press, 2014, with a com­pan­ion web­site with audio/​video), explores the strange and com­pelling Jew­ish music that emerged from Manhattan's down­town scene of the 1990s. She has been blog­ging here all week for Jew­ish Book Coun­cil's Vis­it­ing Scribe series.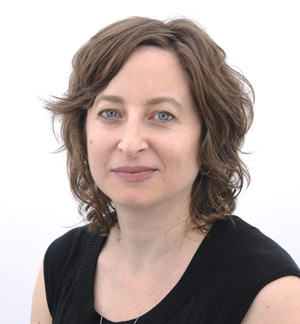 This Thanks­giv­ing, I had a cou­ple of friends over. I had recent­ly got­ten back from doing research on the cre­ative impro­vi­sa­tion scene in Mex­i­co City, and they want­ed to hear some of the music I'd brought back with me. But avant-garde jazz, elec­tron­ic noise exper­i­ments and free impro­vi­sa­tion are not to everyone's taste. ​"Are you sure?" I asked, ​"It's pret­ty weird." But yes, they were. So I put on some­thing beau­ti­ful and real­ly, to my ears, not that strange at all. I would have been hap­py lis­ten­ing to it all night, but right away, they both got pained expres­sions on their faces and knocked back some more wine before ven­tur­ing a series of ques­tions that amount­ed to ​"What the hell?" After a while I asked my friend to choose some­thing else, and he put on some Fiona Apple and every­one was happy.
I love a lot of dif­fer­ent kinds of music, includ­ing Fiona Apple. But the music that usu­al­ly grabs me the hard­est, and most of the music I write about, is not that easy for most peo­ple to lis­ten to the first time around. As 1950s movies about the gen­er­a­tion gap ("Turn down that noise!") and reams of schol­ar­ly lit­er­a­ture attest (Jacques Attali, Noise), both music and noise car­ry all kinds of emo­tion­al, cul­tur­al, even ide­o­log­i­cal bag­gage. Noise is dis­turb­ing, and, as I know from the expe­ri­ence of intro­duc­ing work by Ornette Cole­man and Albert Ayler to stu­dents in my jazz his­to­ry class­es, the line between music and noise is one most peo­ple feel they can read­i­ly iden­ti­fy even though they can't agree on where it is.
All this comes intense­ly into play in the case of Jew­ish music — as it would in any music, real­ly, that is sup­posed to have a par­tic­u­lar cul­tur­al valence, or even to speak, like the vio­lin in Sholom Aleichem's Stem­penyu, in the voice of a peo­ple. While there is by now a tra­di­tion of Jew­ish music pair­ing dis­so­nance with wrench­ing his­tor­i­cal themes (Schoen­berg, A Sur­vivor from War­saw), much of the music I write about is dis­so­nant, noisy, or frag­ment­ed just for the sake of it. It can be hard­er to con­vince peo­ple that this kind of music is Jew­ish­ly viable or inter­est­ing. But it's that very nature that I find com­pelling, both as a sound­ed object and in a Jew­ish­ly usable way.
Take Alvin Curran's Sho­far Rags, released on Tzadik in 2013. I'm sure that to many lis­ten­ers, a few sec­onds of the open­ing of this piece, an errat­i­cal­ly pat­terned sound/​noise col­lage, fol­lowed by a long, spa­cious and rel­a­tive­ly sta­t­ic sec­tion of explorato­ry blow­ing, might sig­nal an affront to Jew­ish tra­di­tion, a con­fu­sion over Jew­ish iden­ti­ty, or a repu­di­a­tion of Jew­ish music itself. As Cur­ran writes in the lin­er notes, the first time he fea­tured the sho­far in one of his per­for­mances, along with ​"midi trig­gered sam­ples … bro­ken accor­dion and sopra­no clar­inet … and of course my usu­al coun­ter­point of taped sounds," he was answered by ​"boos and foot drum­ming from two irate and pre­sum­ably obser­vant Israeli com­posers present in the audi­ence." In response, he wrote the music for Sho­far Rags, for which he ​"had no deep post-mod­ern inter­est in col­lec­tive mem­o­ry, in lost spaces of child­hood or Jew­ish folk­lore, rather than in the con­tem­po­rary task of unlock­ing the sub-atom­ic par­ti­cles of res­o­nant ani­mal gas, fus­ing them with my own spit and breath and hurl­ing this damp ethe­re­al mix­ture into space … just to see, as one does in art, what might happen."
To me, hear­ing the sho­far in this con­text is thrilling. It brings the emo­tion­al­ly, cul­tur­al­ly, and phys­i­cal­ly res­o­nant sound of the sho­far — its Jew­ish voice, if you will — into new ter­ri­to­ry, allow­ing it to trav­el through unfa­mil­iar land­scapes and take on sur­pris­ing son­ic char­ac­ters. And because music has that pow­er to trans­form us phys­i­o­log­i­cal­ly, it brings me right along with it. Far from sound­ing like an affront to tra­di­tion, I hear this music as an alter­na­tive world, one that recasts one's expe­ri­ences and per­cep­tions of time, space, and the voice of the sho­far itself. ​"Sho­far," as Cur­ran writes, ​"is a form of pet­ri­fied time … when noise, breath, speech and music were all the same."
I didn't always love music that takes me to an unfa­mil­iar place. By now, I can't live with­out it. And hear­ing Jew­ish­ly res­o­nant sounds woven into inven­tive son­ic land­scapes is very mov­ing to me. In a way, lis­ten­ing to this music is a deeply rest­ful expe­ri­ence to me, because it uni­fies two fun­da­men­tal aspects of my iden­ti­ty. It's hard to explain. But if you keep lis­ten­ing, you'll know it when you hear it.
Tamar Barzel is an eth­no­mu­si­col­o­gist and lec­tur­er at Har­vard Uni­ver­si­ty whose research address­es the inter­face between cre­ative iden­ti­ty, cul­tur­al her­itage, and adven­ture­some sounds. She is cur­rent­ly immersed in field­work on the cre­ative impro­vi­sa­tion scene in Mex­i­co City.
Relat­ed Content
Tamar Barzel is an eth­no­mu­si­col­o­gist and lec­tur­er at Har­vard Uni­ver­si­ty whose research focus­es on exper­i­men­tal music, with an empha­sis on late twen­ti­eth-cen­tu­ry jazz and the Jew­ish avant-garde.