Elana Ben­jamin is an Aus­tralian free­lance writer. In 2014, her work has been pub­lished in major Aus­tralian pub­li­ca­tions includ­ing The Syd­ney Morn­ing Her­ald and Sun­day Life mag­a­zine. My Mother's Spice Cup­board is her first book. She is blog­ging here today for the Jew­ish Book Coun­cil and is avail­able to speak to book clubs through JBC's Live Chat pro­gram.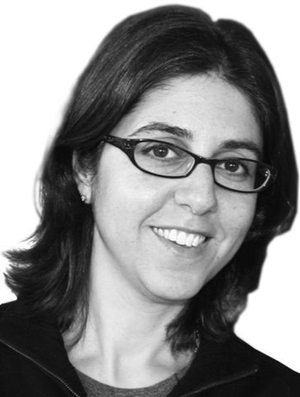 "Will there be left­over cha­p­atis for me to take to school tomor­row?" my daugh­ter asks. It's 5:00 PM and I'm prepar­ing din­ner, hur­ried­ly rolling dough into imper­fect cir­cles. ​"You can have two for your lunch­box," I reply. But that's not enough. She requests anoth­er cha­p­ati. Although I'm cer­tain she could eat a third Indi­an flat­bread, the extra one's not for her. It's to dis­trib­ute among her clos­est friends.
My moth­er often made deli­cious cha­p­atis for my broth­er and me when we were chil­dren. She intend­ed them to accom­pa­ny one of her bha­jis – per­haps spinach, or cau­li­flower and pota­to. But nei­ther my broth­er nor I had an appetite for spiced veg­eta­bles. Aus­tralian-born jun­glees, we pre­ferred to devour our warm, slight­ly chewy cha­p­atis doused in but­ter, cin­na­mon and sug­ar; our own Indi­an-pan­cake creation.
But Mum nev­er packed cha­p­atis for our school lunch­es. My lunch­box sta­ple was a peanut but­ter and hon­ey sand­wich on white bread, cut into two iden­ti­cal tri­an­gles. It was pauper's fare com­pared to the hot, hand-deliv­ered meals which my moth­er feast­ed on thir­ty years ear­li­er as a Bom­bay schoolgirl.
The movie The Lunch­box has been screen­ing in cin­e­mas around the world. It's the sto­ry of a mis­tak­en deliv­ery in Mumbai's remark­able lunch­box deliv­ery sys­tem. But these are no lunch­box­es that a West­ern­er might imagine.
Termed dab­ba in Hin­di (and also known as tiffins), they are cylin­dri­cal met­al can­is­ters com­pris­ing stack­able con­tain­ers which clip togeth­er with a han­dle. Each con­tain­er is filled with a dif­fer­ent food item to make a com­plete meal (for exam­ple rice, meat and veg­eta­bles). The dab­ba is trans­port­ed around Mum­bai by a net­work of approx­i­mate­ly 5,000 deliv­ery men known as dab­bawal­lahs. Every work­ing day these dab­bawal­lahs – most of whom are only semi-lit­er­ate – trans­port more than 130,000 ​'lunch­box­es' all over the city.
In 1950s and 60s Bom­bay (now Mum­bai), my grand­moth­er spent her morn­ings cook­ing elab­o­rate meals for her family's lunch. Her dead­line was the dabbawallah's arrival at the entrance of her apart­ment build­ing. Each day, he came to col­lect three dab­bas: one for my grand­fa­ther in his city office, the rest to be deliv­ered to my moth­er and her sib­lings at school.
My mother's dab­ba was already wait­ing when she arrived at her des­ig­nat­ed seat in the lunch­room of her all-girl Catholic school — even dur­ing the heavy rains of the mon­soon sea­son. One con­tain­er was always filled with rice, but my grandmother's cui­sine oth­er­wise var­ied. Some­times it was meat­balls with beet­root. Oth­er days her menu fea­tured chick­en and okra, or dhal and cha­p­ati.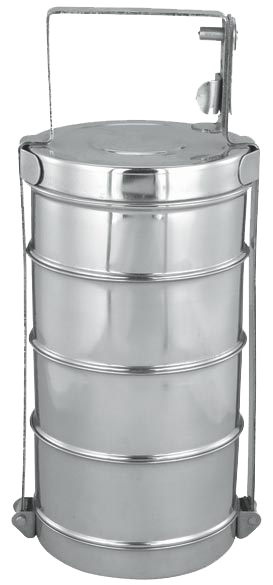 When she'd fin­ished eat­ing, my moth­er packed up her dab­ba and left it on the table to be col­lect­ed by the dab­bawal­lah and returned to my grand­moth­er for wash­ing and the next day's use.
Many of my mother's fel­low stu­dents also received dab­bawal­lah-trans­port­ed lunch­es. But Mum was one of only a hand­ful of Jew­ish girls in a school which num­bered over a thou­sand. Her fam­i­ly strict­ly observed Judaism's dietary laws, so it was imper­a­tive that her meal wasn't mixed up with anoth­er, non-kosher lunch. Yet my moth­er nev­er received the wrong dab­ba. Indeed, a Har­vard Uni­ver­si­ty analy­sis con­clud­ed that only one in a mil­lion dab­bas is ever deliv­ered to the wrong address.
My moth­er left this world behind when she emi­grat­ed from Bom­bay in 1966, even­tu­al­ly set­tling in Syd­ney in 1970. Busy build­ing a new life in Aus­tralia, my par­ents didn't dwell on the past. My moth­er nev­er explained the sig­nif­i­cance of the met­al can­is­ter with three con­tain­ers which sat in the cor­ner cup­board of our kitchen. She didn't tell me sto­ries of the dab­bawal­lahs and the lunch­es they'd deliv­ered to her. And yet, my par­ents' native India was the invis­i­ble lodger in our Bon­di home.
Despite their Eng­lish moth­er-tongue, my par­ents reg­u­lar­ly switched to Hin­dus­tani to con­vey secret adult mes­sages ("bacha lok ka samne mat bat karo" – ​"don't speak in front of the chil­dren"). We shopped for gro­ceries at the local super­mar­ket, but also made reg­u­lar expe­di­tions to ​'Eze Moses' – one of Sydney's ear­li­est spice shops. In the pun­gent-smelling aisles, we stocked up on sacks of bas­mati rice, bags of lentils, jars of brin­jal (egg­plant) pick­le, and the item I cov­et­ed most – tall bot­tles of hot pink, rose-flavoured syrup. Foods which were unseen and unheard of in the kitchens of oth­er fam­i­lies I knew.
I quick­ly learned the dances of blend­ing in and belong­ing. Kot­mir and piala chai were for home. ​'Corian­der' (cilantro) and ​'cup of tea' were for out. Fresh young coconuts – if my father could get track them down – were for home. Coca Cola and lemon­ade were for out. Like a chameleon, I com­mut­ed between my two worlds, nev­er men­tion­ing cha­p­atis, rose cor­dial or coconut water out­side the house.
I shouldn't have felt this ten­sion – almost all my friends were Jew­ish, just like us. But in many ways, they weren't like us at all. Most were unfa­mil­iar with the exis­tence of light-skinned Jews from India whose ances­tors were Ara­bic speak­ers from Iraq.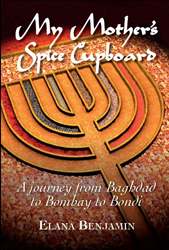 Yet my nine-year-old daugh­ter has a dif­fer­ent approach. For her, our dif­fer­ences are to be embraced, not con­cealed. Sherequests extra cha­p­atis to share with her friends in the play­ground, and eager­ly shows off her abil­i­ty to count in Hindi.
The cur­rent gen­er­a­tion of chil­dren are grow­ing up with vocab­u­lar­ies which include ​'mul­ti­cul­tur­al­ism' and ​'diver­si­ty'. Super­mar­kets flaunt aisles brim­ming with inter­na­tion­al food. And Indi­an movies are shown in main­stream cin­e­mas, prompt­ing me to tell my daugh­ter the sto­ry of Mumbai's remark­able dab­bawal­lahs and their role in our family's his­to­ry. Wide-eyed, she lis­tens intent­ly. And final­ly, I am not embar­rassed by my unique her­itage, but deeply proud.
Elana Ben­jamin holds an Arts/​Law degree (His­to­ry major) from the Uni­ver­si­ty of New South Wales. She lives in Syd­ney with her hus­band and two chil­dren. Read more about her at http://​www​.elan​aben​jamin​.com/.
Relat­ed Content:
Elana Ben­jamin was born in Syd­ney, Aus­tralia in
1974
. She holds an Arts/​Law degree (His­to­ry major) from the Uni­ver­si­ty of New South Wales, and is an alum­ni of the Nahum Gold­mann Fel­low­ship Pro­gram. Elana lives in the Syd­ney sub­urb of Bon­di with her hus­band and two chil­dren.
My Mother's Spice Cup­board
is her first book.