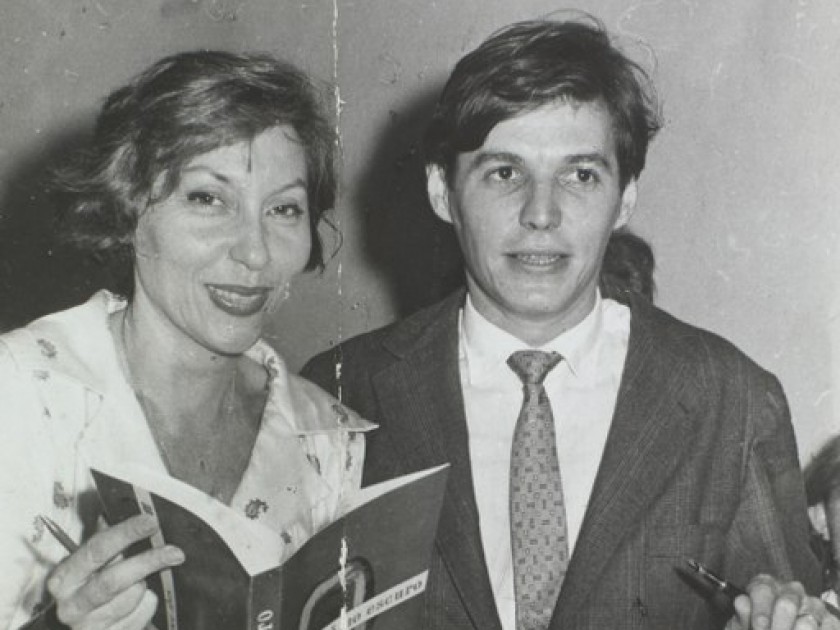 Ben­jamin Moser, author of Why This World: A Biog­ra­phy of Clarice Lispec­tor, is guest-blog­ging for MyJew­ish­Learn­ing and the Jew­ish Book Council.
At many points in my life, I have been glad to know Yid­dish. But as I dart­ed through the dark­ened lob­by of the Hotel Nation­al in Chişinău at one in the morn­ing, try­ing des­per­ate­ly to reach the ele­va­tor bank before I was spied by a man with a stained beard and ran­cid breath, I reflect­ed that this was not one of those points.
I had come to Chişinău, the cap­i­tal of Moldo­va, once more wide­ly known as Kishinev, to fol­low the path that took the fam­i­ly of the great writer and mys­tic Clarice Lispec­tor, then an infant called Chaya, from their Ukrain­ian home­land to Brazil.
Despite the bad roads and the chaot­ic bor­der cross­ing, it was a short trip from Chechel­nik, the tiny town where she was born, to Kishinev. Although, it would not have been a short trip in the ear­ly 1920's, when the Lispec­tor fam­i­ly was try­ing des­per­ate­ly to flee the pogroms, famine, and civ­il war that, in the wake of World War I and the Russ­ian Rev­o­lu­tion, were rav­aging their homeland.
The num­bers will nev­er be known, but hun­dreds of thou­sands of Jews were killed in those years, the worst episode of anti-Semit­ic vio­lence in cen­turies. The events that fol­lowed World War I were the Holocaust's open­ing act, though they are today almost com­plete­ly for­got­ten, even by Ukraini­ans and Jews, for whom even worse was short­ly to come.
The vic­tims includ­ed Clarice's beloved moth­er Mania, who was raped by a gang of Russ­ian sol­diers in 1919 and con­tract­ed an untreat­able vene­re­al dis­ease that would kill her when Clarice was nine. Yet the Lispec­tors were luck­i­er than many: Mania's hus­band and daugh­ters sur­vived, and she her­self lived long enough to see her fam­i­ly safe­ly estab­lished abroad.
Clarice Lispec­tor, the tiny infant her hero­ic par­ents car­ried through this waste­land of rape, necrophagy, and racial war­fare, grew up to become Brazil's great­est mod­ern writer, a leg­endary beau­ty once called ​"that rare woman who looked like Mar­lene Diet­rich and wrote like Vir­ginia Woolf."
Yet despite her pas­sion­ate attach­ment to Brazil, I sus­pect­ed, when I start­ed doing research into her unbe­liev­ably dra­mat­ic life, that her Jew­ish back­ground, and what hap­pened to her fam­i­ly dur­ing those ter­ri­ble years in Ukraine, was in many ways the key to that life.
One after­noon in Rio de Janeiro, Clarice's elder­ly cousin entrust­ed me with a pre­cious doc­u­ment: the Yid­dish mem­oir her father, Clarice's uncle, had writ­ten about his own escape and immi­gra­tion. I had to read it: one of the only known eye­wit­ness accounts of those events. And so I sat, rely­ing on my knowl­edge of Ger­man, my extreme­ly rus­tic Hebrew, and an old Yid­dish dic­tio­nary, going through that pre­cious doc­u­ment one word at a time. As I went along, I grew more con­fi­dent, and by the time I fin­ished it I could read Yid­dish more or less comfortably.
But while I loved read­ing it, I'd nev­er had a chance to speak it until the fate­ful day I reached Chişinău. The city, while pleas­ant, is not over­bur­dened with tourist attrac­tions, and so it wasn't long before I wan­dered onto Habad Liubovi­ci Street, where the city's only remain­ing syn­a­gogue oper­ates. Out front, as bored, under­em­ployed, and friend­ly as every­one else in Moldo­va, a few Jew­ish men were stand­ing. One asked me, in Russ­ian, if I spoke Yid­dish, and my vis­i­ble excite­ment was my first big mis­take. I was so delight­ed to be yab­ber­ing away in Yid­dish that I let myself be adopt­ed by the mer­ry band, even putting on tefill­in and pos­ing, hand on the Torah, for a par­tic­u­lar­ly hor­ri­ble picture.
I revealed that I was stay­ing at the Hotel Nation­al (sec­ond mis­take) and then, my fatal final mis­take, dis­closed that, fol­low­ing the route of the Lispec­tor fam­i­ly, I would be trav­el­ling to Bucharest the next morn­ing. An old­er man perked up, and vol­un­teered his nephew, a truck dri­ver, to escort me. This gen­tle­man clear­ly had a drink­ing prob­lem, and I imme­di­ate­ly real­ized that quick action would be required to escape his invi­ta­tion. I made up an excuse, head­ed back to the hotel, walked around, went to din­ner (Chişinău has sur­pris­ing­ly good restau­rants), and returned to the immense Sovi­et pile of the Hotel National.
As it hap­pens, the hotel had already pre­pared me for the expe­ri­ence of being spied upon. Each floor had a female atten­dant plant­ed in the hall­way to clean the rooms, change the sheets, and, more to the point, serve as a bribeable, betur­banned Rosa Klebb, keep­ing a glazed eye on the goings-on inside.
In Europe's poor­est coun­try, these jobs were not to be despised. Even in the Nation­al, once a show­place, the dread­ful eco­nom­ic sit­u­a­tion was nev­er far from one's mind: after a cer­tain hour, the lights were dimmed to save elec­tric­i­ty, and I returned to a Hotel Nation­al bathed in evening gloom.
To my alarm, my Yid­dish-speak­ing friend from that after­noon was sit­ting in the giant lob­by, lying in wait, between the door­way and the ele­va­tor. I was sure that the mon­ey I could pay his nephew would be impor­tant to him, and I did not want to feel like one of those Parisian or Vien­nese grandees of yes­ter­year, peer­ing down through his lorgnettes at the unwashed Ostju­den. On the oth­er hand, Ireal­ly did not want to sit for twelve hours in a Moldovan truck with a pos­si­bly alco­holic stranger, and so I decid­ed to make a run for it, whoosh­ing up the stairs to the first floor, board­ing the ele­va­tor, and all but col­laps­ing into the arms of my aston­ished hall monitor.
"I am not here," I said to her emphat­i­cal­ly, slip­ping her a few leis.
She nod­ded gravely.
The next morn­ing, with her help, I went out a side entrance, got in a cab, and reached the train station.
Ben­jamin Moser was born in Hous­ton. He is the author of Why This World: A Biog­ra­phy of Clarice Lispec­tor, a final­ist for the Nation­al Book Crit­ics' Cir­cle Award and a New York Times Notable Book. For his work bring­ing Clarice Lispec­tor to inter­na­tion­al promi­nence, he received Brazil's first State Prize for Cul­tur­al Diplo­ma­cy. He has pub­lished trans­la­tions from French, Span­ish, Por­tuguese, and Dutch. A for­mer books colum­nist for Harper's Mag­a­zine and The New York Times Book Review, he has also writ­ten for The New York­er, Conde Nast Trav­el­er, and The New York Review of Books.