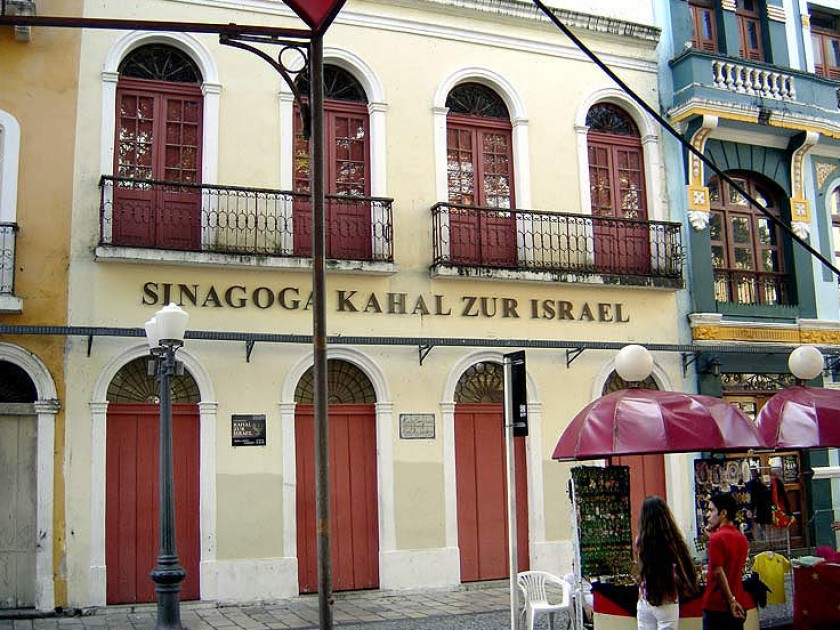 In his last blog, Ben­jamin Moser wrote about chas­ing Clarice Lispec­tor around the world.
In the old­est syn­a­gogue in the New World, Kahal zur Israel in Recife, I met a friend­ly grand­moth­er named Berta Schvartz.
Unlike so many oth­er tourists, I had not arrived in search of the Jew­ish com­mu­ni­ty of the sev­en­teenth cen­tu­ry, when north­east­ern Brazil had been ruled by the Dutch. Instead, I was there to see the sec­ond Jew­ish Recife, the world of the East­ern Euro­pean immi­grants who came to the beau­ti­ful island city at the begin­ning of the twen­ti­eth century.
Among them was a lit­tle girl born in 1920 in the Ukraine. Brazil's great­est mod­ern writer, Clarice Lispec­tor, spent her child­hood in the work­ing-class neigh­bor­hood of Boa Vista, just a few bridges away from the ancient synagogue.
This was where Berta had grown up, a gen­er­a­tion after Clarice. I asked her to take me around Boa Vista to help me imag­ine Clarice's girl­hood uni­verse for my biog­ra­phy, Why This World.
"Every house has mem­o­ries for me!" Berta exclaimed. ​"I knew every fam­i­ly here. And look, they're all gone now." The sac­ri­fices of the immi­grants had allowed their chil­dren to move on to reli­able plumb­ing, round-the-clock door­men, and ocean views.
But for Berta, as for Clarice, Boa Vista was world enough. She shows me the cen­ter of this com­mu­ni­ty, the Praa Maciel Pin­heiro, known in Yid­dish as theplet­zele, or lit­tle square. Here, at num­ber 367, Clarice Lispec­tor spent her childhood.
"The house was so old that the floor­boards bounced when we walked," Tania, Clarice's sis­ter, told me. ​"It had colo­nial win­dows, a bal­cony, colo­nial roof tiles, it real­ly was very old. … We lived on the sec­ond floor. We even­tu­al­ly moved because we were afraid that the house would fall over."
But there it is, still look­ing creaky. And from its win­dow Mania Lispec­tor, Clarice Lispector's par­a­lyzed moth­er, raped in a pogrom in the Ukraine, sat star­ing, wait­ing for her dis­ease to run its inevitable course. ​"She was like a stat­ue in the house," Clarice's cousin Ani­ta Rabin remembered.
Clarice was still a girl when the fam­i­ly moved to the Rua da Imper­a­triz, a street that leads from the plet­zele down to the riv­er. Berta shows me the house, and on the way she points out the loca­tion of the Casas Feld, an upscale cloth­ing shop presided over by Luiz Feld­mus and his wife, a glam­orous fig­ure known in Recife as Madame Clara; and Jacob Berenstein's Livraria Imper­a­triz, long the best book­shop in Recife and a gath­er­ing-place of the city's intelligentsia.
Clarice's old­er sis­ter Elisa wrote that ​"every after­noon, [their moth­er] sat on the bal­cony of the old house on the Rua da Imper­a­triz, dressed in stiff linen, her smooth black hair combed back, her use­less arms crossed on her chest … her head dropped to the side, her eyes star­ing off, like slight­ly dead­ened blue beads."
Despite the family's pover­ty and her mother's dis­ease, Clarice remem­bered a mag­i­cal child­hood. ​"I was so hap­py that I hid from myself the pain of see­ing my moth­er like that," Clarice said. ​"I felt so guilty, because I thought my birth had caused it."
Her moth­er died when she was nine. Soon after­ward, her father moved the fam­i­ly to Rio de Janeiro, where he hoped to find Jew­ish hus­bands for his daugh­ters and where Clarice, already renowned for her beau­ty, would begin one of the most extra­or­di­nary careers in mod­ern literature.
But she nev­er for­got her home­town. Months before her death in 1977, Clarice Lispec­tor made her final trip to Recife. She insist­ed on stay­ing at a hotel on the plet­zele, spend­ing hours gaz­ing out the win­dow at the lit­tle square where she grew up. Only the col­or of her child­hood house had changed.
"I remem­ber look­ing out from the bal­cony on the Praa Maciel Pin­heiro, in Recife, and being afraid of falling: I thought every­thing was so tall. … It was paint­ed pink. Does a col­or end? It van­ish­es into the air, my God."
Ben­jamin Moser was born in Hous­ton. He is the author of Why This World: A Biog­ra­phy of Clarice Lispec­tor, a final­ist for the Nation­al Book Crit­ics' Cir­cle Award and a New York Times Notable Book. For his work bring­ing Clarice Lispec­tor to inter­na­tion­al promi­nence, he received Brazil's first State Prize for Cul­tur­al Diplo­ma­cy. He has pub­lished trans­la­tions from French, Span­ish, Por­tuguese, and Dutch. A for­mer books colum­nist for Harper's Mag­a­zine and The New York Times Book Review, he has also writ­ten for The New York­er, Conde Nast Trav­el­er, and The New York Review of Books.