Rab­bi Niles Gold­stein is the author of The Chal­lenge of the Soul: A Guide for the Spir­i­tu­al War­rior
, an approach to spir­i­tu­al learn­ing as seen through his eyes as a black belt mar­tial artist. In his last blogs, he told us about his his­to­ry in the rab­binate and in mar­tial arts, and the strength of sta­mi­na. He is guest-blog­ging all week for MyJew­ish­Learn­ing and the Jew­ish Book Council.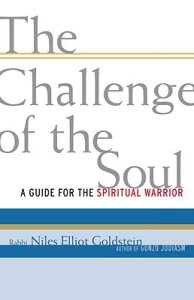 Over the past few months, I have been trav­el­ing around the coun­try and talk­ing about my newest book, The Chal­lenge of the Soul: A Guide for the Spir­i­tu­al War­rior
. In it, I inter­weave the expe­ri­ences I've had — and the lessons I've learned — in the course of both my 15 years in the rab­binate and dur­ing my 15 years of train­ing in the mar­tial arts (I have a black belt in karate). The over­lap is remark­able, and I explore it in great depth.
While my new book offers an eight-step path toward self-empow­er­ment and, ulti­mate­ly, self-tran­scen­dence, there are two core prin­ci­ples that arise over and over again, not only in this book, but also in my pre­vi­ous work, Gonzo Judaism
(which will appear in paper­back in March). Clear­ly, these two con­cepts are of great import to me and to my approach to spir­i­tu­al­i­ty and reli­gious life. They are courage and creativity.
What exact­ly is the chal­lenge of the soul? What does it mean to be a spir­i­tu­al war­rior? First and fore­most, it means that we must have the courage — or begin to devel­op it — to con­front the tri­als of being human, to face the adver­si­ty inher­ent in our mor­tal­i­ty. In this con­text, courage isn't an end in itself, but a means to one: to inner growth, matu­ri­ty, and even­tu­al­ly the abil­i­ty to help oth­ers on their own jour­neys. Some of us are born with this capa­bil­i­ty; oth­ers must learn to cul­ti­vate it. Over time, though, as we become more and more self-con­fi­dent, courage in the pres­ence of chal­lenge is not beyond anyone's reach.
Courage is what makes cre­ativ­i­ty pos­si­ble. If we can sum­mon in our guts the abil­i­ty to take risks (includ­ing the risk of fail­ure), then almost any­thing becomes pos­si­ble. Think about how this idea relates to the arts. Pablo Picas­so learned how to draw con­ven­tion­al human fig­ures long before his bold exper­i­ment with Cubism. Miles Davis trained in clas­si­cal music pri­or to his dar­ing jour­ney into new and rev­o­lu­tion­ary forms of jazz. It wasn't until both of these great artists had the fun­da­men­tals of their respec­tive gen­res down cold — and the self-con­fi­dence that accom­pa­nied the expe­ri­ence — that they ven­tured out into unchart­ed territory.
How does this apply to the spir­i­tu­al path? Some of history's most suc­cess­ful spir­i­tu­al war­riors have over­come their obsta­cles and adver­saries not by troops or swords but by courage and cre­ativ­i­ty. As far back as the Bible, David, long before he became a pow­er­ful king, faced the Philis­tine giant Goliath in a way that illus­trates this prin­ci­ple. In the book of First Samuel, while the Israelite army stands par­a­lyzed, too fear­ful to send forth one of its own sol­diers to take on the hulk­ing Philis­tine and his chal­lenge to them to fight, the young and diminu­tive David offers him­self as a chal­lenger and poten­tial cham­pi­on of his people.
Many of us know what hap­pens next. Goliath makes a bull rush toward David, expect­ing a con­ven­tion­al (and very easy) hand-to-hand engage­ment. Yet as the two men near each oth­er, David reach­es for a stone in his pouch, places it into his sling, and then hurls the pro­jec­tile for­ward with a dex­ter­i­ty that col­laps­es their dis­tance. The stone smash­es into the giant's skull and knocks him uncon­scious. As David stands above the mas­sive, pros­trat­ed Philis­tine, he picks up Goliath's own sword and decap­i­tates him with it. David, the future leader of the Israelite nation, emerges from this famous exchange unbowed and vic­to­ri­ous because he uses brav­ery and inno­va­tion to over­come adversity.
David is a mod­el for ways we might act when con­front­ed by seem­ing­ly insur­mount­able chal­lenges in our own, per­son­al lives. This image of David does not mir­ror the restrained and serene ver­sion that was sculpt­ed by Michelan­ge­lo many cen­turies lat­er and that stands, still and almost com­pla­cent, in Flo­rence. The true David, how­ev­er, is far bet­ter char­ac­ter­ized by audac­i­ty, by guts, and by a total refusal to sub­mit to con­ven­tion­al tac­tics. He is a metaphor for any­one seek­ing the path of the spir­i­tu­al war­rior – a path of courage, cre­ativ­i­ty, and determination.
Rab­bi Niles Goldstein's book The Chal­lenge of the Soul: A Guide for the Spir­i­tu­al War­rior
is out now. He has been blog­ging all week on MyJew­ish­Learn­ing and the Jew­ish Book Council.