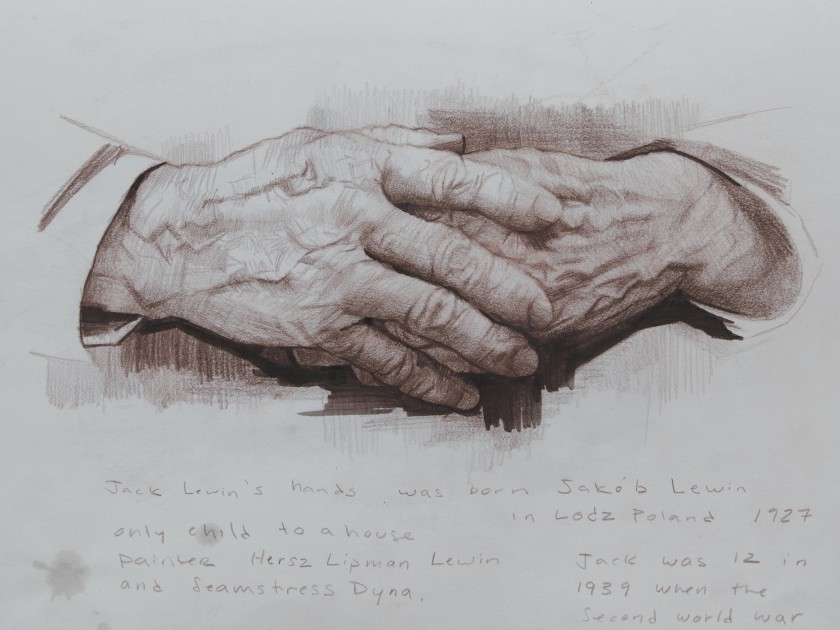 Artist David Kas­san dis­cuss­es his most recent por­trait series and exhi­bi­tion, Fac­ing Sur­vival. Known for his high­ly real­is­tic life-size paint­ings, Kas­san used this series as a way to artis­ti­cal­ly por­tray Holo­caust sur­vivors and their stories.
Saman­tha Baskind: What com­pelled you to cre­ate an entire series of por­traits depict­ing Holo­caust survivors?
David Kas­san: The series start­ed five years ago when a col­lec­tor of mine from Israel asked if I could paint his moth­er-in-law on com­mis­sion. I had some bad expe­ri­ences ear­ly on in my career when I was com­mis­sioned, and since then I try to avoid them like the plague. I told this col­lec­tor that I appre­ci­at­ed his inter­est in my work, but I wasn't tak­ing on com­mis­sioned work at the time. He then said that his moth­er-in-law is a sur­vivor of the Shoah. I was imme­di­ate­ly inter­est­ed in meet­ing and paint­ing her. Lat­er that week, he asked his moth­er-in-law about the paint­ing and showed her my work. Unfor­tu­nate­ly, she polite­ly declined to be painted.
SB: Why did her sta­tus as a sur­vivor change your mind about tak­ing the commission?
DK: At that time, I was into film­ing my process as well as inter­views with my sub­jects. I love the idea of hear­ing a sub­ject talk about his or her life and using it to give the paint­ing more con­text, and I felt that this process would be espe­cial­ly inter­est­ing with Holo­caust sur­vivors. I also found that I was con­nect­ing with my own fam­i­ly his­to­ry. My pater­nal grand­fa­ther escaped eth­nic cleans­ing in 1917 to come to Amer­i­ca from the bor­der of Roma­nia and Ukraine. My father didn't have a rela­tion­ship with him and I nev­er got to hear his tes­ti­mo­ny. I've only read it in a book that he wrote, which I just found out about a few years ago.
SB: The USC Fish­er Muse­um of Art is cur­rent­ly exhibit­ing thir­teen of your high­ly real­is­tic indi­vid­ual por­traits of Holo­caust sur­vivors, along with one large group paint­ing of eleven Auschwitz sur­vivors. Clear­ly, your inter­est was piqued by the com­mis­sion that fell through. How did you even­tu­al­ly paint a sur­vivor, let alone so many more?
DK: This series start­ed with the pur­pose of get­ting to know one sur­vivor and doc­u­ment­ing her first-hand account of the Holo­caust. Since then, its scope changed to gath­er­ing infor­ma­tion, film­ing inter­views, and cre­at­ing paint­ings as tes­ti­mo­ny of the many dif­fer­ent per­spec­tives of sur­vival dur­ing the Holo­caust and the sur­vivors' lives after­wards. The whole series start­ed by word-of-mouth. The USC Shoah Foun­da­tion took notice of the paint­ings and put me in touch with a num­ber of sur­vivors from all over the Unit­ed States, Cana­da, and Europe. I received grants to trav­el to parts of the U.S. and abroad to paint some of the portraits.
SB: How did sur­vivors react to your request to paint them?
DK: Some sur­vivors refused to be paint­ed either before or after see­ing the prepara­to­ry sketch­es for the paint­ing, while oth­ers loved to be paint­ed and found it to be ther­a­peu­tic. I've seen a full spec­trum of reac­tions to both being paint­ed and to the paint­ing after it was com­plete. I believe that we think of our­selves as being in our ear­ly thir­ties or at a time when we were younger, and that self-image sticks with us. Because I'm paint­ing them now and in a very raw and truth­ful way, it's hard to con­front that vision.
SB: How long were the sit­tings? Did you talk to your sit­ters about oth­er sub­jects aside from their Holo­caust experience?
DK: The inter­views that were filmed last­ed any­where from an hour to a few hours. I would pho­to­graph them after the inter­views in their homes. The inter­view went in what­ev­er direc­tion the sur­vivors want­ed to take it – it was very open-ended.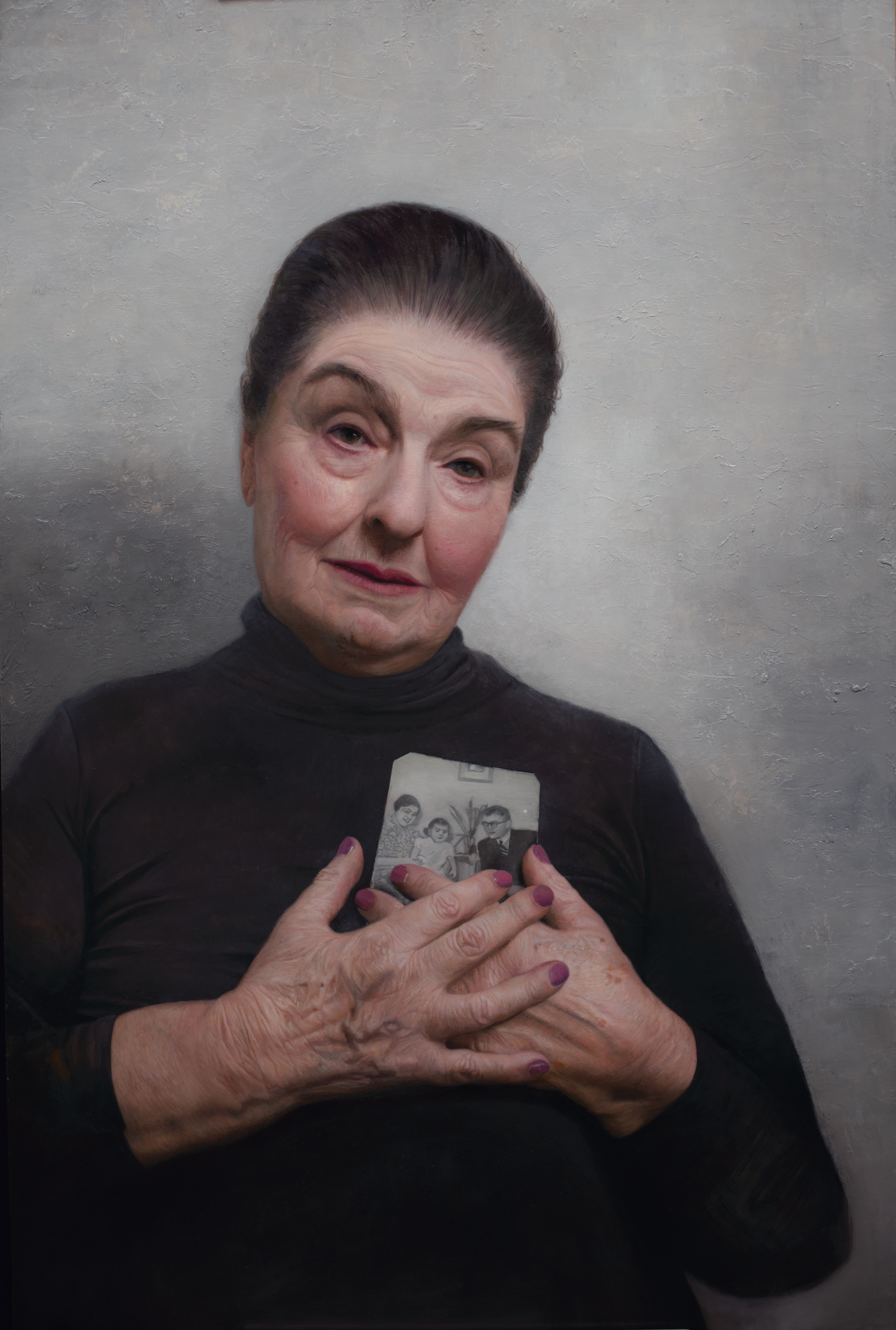 SB: Did you want the por­traits to con­vey not just the sur­vivors' Holo­caust expe­ri­ence but also their life after the Holocaust?
DK: Yes, I want­ed to define them by their entire lives. I loved hear­ing about the large thriv­ing fam­i­lies that most have built. These life-sized paint­ings strive to doc­u­ment each individual's unique his­to­ry, a sense of their expe­ri­ences dur­ing the Holo­caust, as well as their full lives, in an attempt to cap­ture their spir­it, pain, and dig­ni­ty. It was impor­tant to me to focus more on the parts of their lives that they had con­trol over after the Holocaust.
SB: How do these por­traits func­tion beyond cap­tur­ing an individual's like­ness? In oth­er words, what about the por­traits por­tray the sitter's Holo­caust experience?
DK: I think that we, as human beings, have our skin as a bar­ri­er to our out­er expe­ri­ences and wear our lives on our faces, hands, and in our pos­ture. What do the por­traits por­tray of the sitter's Holo­caust expe­ri­ence? I'm not entire­ly sure. It may be how they hold them­selves or in the way they choose to rep­re­sent them­selves, or it might be in what they choose to wear for the paint­ing. Some sur­vivors who sat for me held pho­tos of loved ones who were mur­dered, as a way of speak­ing for those who can't. In my por­trait of Elsa Ross, she holds a pho­to of her­self and her par­ents. It's the only pho­to of them that she has, which was tak­en when she was only five years old. She was smug­gled out of the War­saw Ghet­to in a workman's truck and nev­er saw her par­ents again. These paint­ings can't encom­pass an entire life sto­ry but they can spark an inter­est, and hope­ful­ly the added con­text of film­ing can help to ampli­fy these sto­ries of sur­vival. I believe that these paint­ings stand as sacred doc­u­ments that serve as proof of these sur­vivors' existences.
SB: Were you a por­trait painter before this series?
DK: I've always been into paint­ing peo­ple since I first start­ed mak­ing art. I grew up out­side of Philadel­phia and was always vis­it­ing the Philadel­phia Muse­um of Art and learn­ing a lot about the artists that paint­ed and lived in the Philadel­phia area. But, I don't think of myself as a por­trait painter. Although, the way I paint and the scale I use might lead folks to think I am because all my sub­jects are life-size.
SB: What is oil on acrylic mir­ror pan­el, the sur­face on which you paint, and why do you use it instead of a more tra­di­tion­al oil on can­vas technique?
DK: I haven't used can­vas in for­ev­er. Can­vas is too flex­i­ble a sur­face – it's not archival enough for me. Oil paint, as it dries, needs to be on a stur­dy and sta­ble sur­face so that it doesn't crack over time. The pan­els I use look like a reg­u­lar mir­ror but are not made up of a real mir­ror, which would be very frag­ile. I found that this sur­face has more depth and lumi­nos­i­ty, and I also love it con­cep­tu­al­ly in a num­ber of ways. I love that the paint­ing is a mir­ror and it slight­ly reflects the view­er; I think of the one-eighth-inch clear space in the paint­ing between the sur­face and the mir­ror as a space for the survivor's tes­ti­mo­ny to live.
SB: Please describe your metic­u­lous tech­nique. Do you work com­plete­ly from life, like artists of the past such as Rem­brandt, or do you also take pho­tographs to which you refer? Do you paint straight on the can­vas? Do you ever work from pho­tographs pro­ject­ed onto the panel?
DK: My process is super med­i­ta­tive. I start with a char­coal draw­ing, block­ing out the large forms, and then mov­ing into small­er forms. I've been film­ing my process of these draw­ings and time laps­ing them, and voic­ing over the tes­ti­mo­ny of the sur­vivor that I'm draw­ing. These works are all done from pho­tos I use as ref­er­ence, not pro­ject­ed on the can­vas, because I want to be as unob­tru­sive in my sit­ters' lives as pos­si­ble. By work­ing from the pho­tos, they don't need to go through the some­times gru­el­ing process of sit­ting for the hun­dreds of hours that I need to make a paint­ing. With my oth­er paint­ings, I try to work from the actu­al live mod­el as much as pos­si­ble. But most of the time, it's a com­bi­na­tion of both live sit­tings and photographs.
SB: Did you always paint from nature? How did your art devel­op into the kind of real­ism you are using now?
DK: I think that I paint towards my tem­pera­ment and try to push past my com­fort zone. I used to only paint from life but found it lim­it­ing. So I try to take the best aspects of what a pho­to can give me as well as what I've learned from paint­ing from life. I use a pho­to as ref­er­ence, ver­sus paint­ing the pho­to ver­ba­tim with­out think­ing. As I learn to be a bet­ter pho­tog­ra­ph­er and a bet­ter painter, and learn more about the tech­nol­o­gy that I can use to get a bet­ter ref­er­ence to work from, the more authen­ti­cal­ly I can paint my subjects.
SB: Is Fac­ing Sur­vival com­plete or do you hope to aug­ment it with more paintings?
DK: So far, I have only paint­ed and drawn a lit­tle over half of the sur­vivors I have met. I also get lots of emails from sur­vivor fam­i­lies through social media. How­ev­er, I have been work­ing on dona­tions to get to cer­tain places to meet folks, but in most cas­es I can't see every­one that I would like to. There are sur­vivors in Aus­tralia, Brazil, Shang­hai, and South Africa that I would love to meet with, but they are out­side of my means at this time. I'm also hop­ing to some­day pull togeth­er all the video footage that I have been col­lect­ing from my trips into a doc­u­men­tary film.
Saman­tha Baskind is Dis­tin­guished Pro­fes­sor of Art His­to­ry at Cleve­land State Uni­ver­si­ty. She is the author or edi­tor of six books on Jew­ish Amer­i­can art and cul­ture, which address sub­jects rang­ing from fine art to film to comics and graph­ic nov­els. She served as edi­tor for U.S. art for the 22-vol­ume revised edi­tion of the Ency­clopae­dia Judaica and is cur­rent­ly series edi­tor of Dimy­onot: Jews and the Cul­tur­al Imag­i­na­tion, pub­lished by Penn State Uni­ver­si­ty Press.