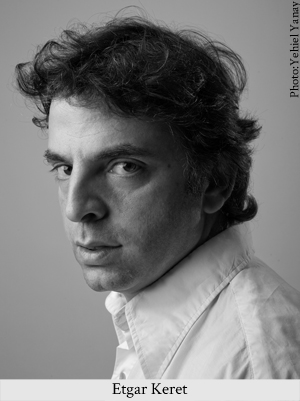 The anthol­o­gy Tel Aviv Noir is the newest in a series of noir crime books pub­lished by Akashic set in cities all over the world: Del­hi, Venice, Mex­i­co City, Helsin­ki and Wall Street are among the des­ti­na­tions writ­ers explore through sto­ries of the illic­it. Tel Aviv Noir is the first Israeli vol­ume; a Jerusalem Noir is in the works too. If you are inter­est­ed in great writ­ing by the younger genera­tion of Israeli writ­ers (Gadi Taub, 49, and Shi­mon Adaf, 42, are among the old­est writ­ers in the book, down to Gon Ben Ari, who is not yet 30), this vol­ume will reward you. Jew­ish Book World had the chance to catch up with co-edi­tors Etgar Keret and Assaf Gavron by phone recent­ly. Here are pieces of our con­versation with each of them about the vol­ume and Tel Aviv.
Beth Kissileff: How did you decide which writ­ers to include in the an­thology? What were your criteria?
Assaf Gavron: We want­ed to give Israeli writ­ers who are not yet trans­lated into Eng­lish an oppor­tu­ni­ty to pub­lish in the U.S., peo­ple like Gadi Taub, Matan Her­moni, Shi­mon Adaf, whose work has appeared in the UK but not in the U.S.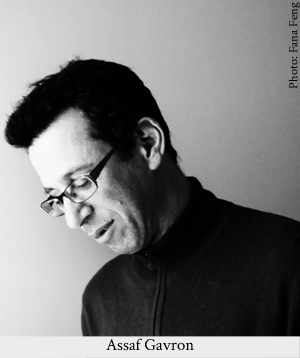 The main theme is noir, and we expand­ed on that theme. The sto­ries are not all clas­sic noir. Akashic — the pub­lish­er — said that most collec­tions in the series are a hand­ful of clas­sic detec­tive sto­ries, and a dark ele­ment of the city. That was the direction.
We worked out with­in each sec­tion a nice bal­ance, a progress, from first to last. We start­ed with lighter stuff and put the bod­ies at the end.
BK: What does it mean to be grouped with Teheran Noir and oth­er cities?
AG: It is nice. I think Tel Aviv deserves its sta­tus as an inter­est­ing city, with cul­ture and lit­er­a­ture and with noir as well as every­where in the world. I like to be grouped with oth­er cities in the world, and not in the usu­al con­text that Israel is given.
BK: A ques­tion about your sto­ry, ​"Cen­ter." If the peo­ple in the com­pa­ny need proof that the guy is dead, why do they hide the body?
AG: They are not pro­fes­sion­al detec­tives or mur­der­ers. By the time they fig­ure out what to do, they get caught.
I like the loca­tion of Dizen­goff Cen­ter, since it is full of dif­fer­ent parts that are dis­tinct. There is a com­mer­cial part with an office build­ing, there are shops, a car park, and bath and water and clubs, a whole world in one or two build­ings. I like the idea of an ama­teur detec­tive, who does things out of his own curiosity.
BK: Etgar, how did you get involved in doing Tel Aviv Noir?
Etgar Keret: I met John­ny Tem­ple from Akashic, and he sug­gest­ed to me that I edit Jerusalem Noir. I said, ​'I don't live in Jerusalem, I don't know it, call me if you do Tel Aviv Noir.'
From the begin­ning, this was not a genre book. It is meant to reach writ­ers who were not trans­lat­ed into Eng­lish. It was very reward­ing for us as editors.
BK: What has the reac­tion been?
EK: The anthol­o­gy just came out in Israel, and what I liked about it is that every­one has dif­fer­ent favorites; as some­body who had pub­lished short sto­ry col­lec­tions that is a good thing. There is some­thing about an anthol­o­gy when it works. There is an amaz­ing syn­er­gy, cre­at­ing a greater whole.
To be hon­est, when we worked on this, we looked at it as a col­lec­tion of sto­ries by young Israeli writ­ers to be pub­lished in the States, and we thought about the Amer­i­can read­er. That was the prime goal and as a bonus it was pub­lished in Israel. The best case is if peo­ple read­ing it will cat­a­pult these writ­ers and get them pub­lished in the States.
BK: How can we get more Israeli writ­ers, and a vari­ety of them, to be known bet­ter in English?
EK: Well, what I think is that it is not a unique­ly Israeli prob­lem. There are many great writ­ers, and get­ting trans­lat­ed is dif­fi­cult. I can talk to for­eign pub­lish­ers, and see how they just met five oth­er writ­ers from five oth­er coun­tries who rec­om­mend oth­er writers.
Lit­er­ary fic­tion is not extreme­ly com­mer­cial anywhere.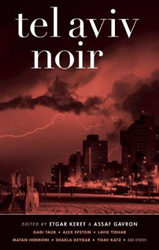 BK: Tell me about your sense of Tel Aviv?
EK: I've trav­eled and seen oth­er cities, and Tel Aviv con­tains all the qual­i­ties and advan­tages of a big city with those of a small town.
In Tel Aviv, if you go to the old bus cen­ter sta­tion ear­ly on Sun­day morn­ing, you see many well-dressed African fam­i­lies going to church. You feel like you are in a dif­fer­ent place, peo­ple speak a dif­fer­ent lan­guage, and there's a dif­fer­ent social struc­ture, like in Deak­la Kaydar's story.
If you don't look for this, or find your­self in one of these places by acci­dent, this life exists in this place you feel you know like the back of your hand. For instance, Allen­by Street; my son and I know it well, and go there tons of times. I know stores and shop own­ers, but after 11 PM, it is a total­ly dif­fer­ent city, dif­fer­ent dri­ves, dif­fer­ent moti­va­tions, almost like a par­al­lel place that exists under your nose.
Beth Kissileff is the edi­tor of Read­ing Gen­e­sis (Con­tin­u­um Books, 2014) an anthol­o­gy of aca­d­e­m­ic writ­ing about Gen­e­sis. Her nov­el Question­ing Return is under review for pub­li­ca­tion and she is writ­ing a sec­ond nov­el and vol­ume of short sto­ries. She has taught at the Uni­ver­si­ty of Pitts­burgh, Car­leton Col­lege, the Uni­ver­si­ty of Min­neso­ta, Smith Col­lege and Mount Holyoke College.
Relat­ed Content:
Beth Kissileff is in the process of fundrais­ing and writ­ing grants to devel­op a pro­gram to assist rab­bis of all denom­i­na­tions with writ­ing and pub­lish­ing books. Kissileff is a rab­binic spouse and author of the nov­el Ques­tion­ing Return as well as edi­tor of the anthol­o­gy Read­ing Gen­e­sis: Begin­ings.