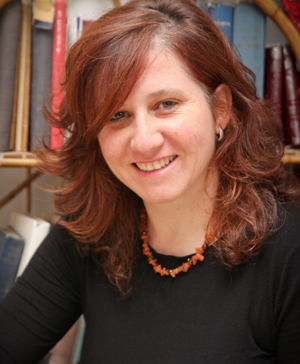 One Fri­day after­noon, Yael Unter­man donned her funki­est pair of stock­ings ("tights" to Amer­i­can Eng­lish speak­ers) and began her walk to syn­a­gogue in her Kata­mon sec­tion of Jerusalem. She thought ​"what is the worst that could hap­pen?" about being seen on the street in such gar­ish leg­wear — but she did not reck­on on the pro­duc­ers of the hit Israeli TV show Srugim decid­ing to film Jerusalemites on their Fri­day after­noon walk to shul that day. She can still be seen in the background.
Just as inter­est­ing and delight­ful things hap­pen to this writer, so too with the char­ac­ters in her new short sto­ry col­lec­tion, The Hid­den of Things: Twelve Sto­ries of Love and Long­ing. These linked sto­ries are about char­ac­ters who are the ​"Anglo" (Eng­lish-speak­ing) ana­logue of the Srugim, liv­ing in Kata­mon, dav­en­ing at the social­ly pop­u­lar syn­a­gogues Yakar and Ohel Nechama, and dis­cov­er­ing the per­ils and plea­sures of the sin­gle life in Jerusalem. What dis­tin­guish­es Unter­man's book from a Brid­get Jones type of chick lit is the focus of her char­ac­ters — like the char­ac­ters in Srugim—on Jew­ish life and texts. Unter­man is no stranger to the world of Torah study — her pre­vi­ous book was a biog­ra­phy of female Torah schol­ar Nechama Lei­bowitz, which was a Final­ist for the 2009 Nation­al Jew­ish Book Award. In addi­tion to her lit­er­ary pur­suits, Unter­man teach­es and lec­tures and leads Bib­lio­dra­ma work­shops for peo­ple of all backgrounds.
Beth Kissileff spoke to Yael Unter­man by Skype.
Beth Kissileff: What is your background?
Yael Unter­man: To some degree I grew up between at least two worlds. My dad is an open-mind­ed Ortho­dox rab­bi, and I was in Bnei Aki­va, a reli­gious Zion­ist youth group. On the oth­er hand, I attend­ed a Litvish Hare­di school with class­mates hail­ing from fam­i­lies of sev­en­teen chil­dren, most of whom went on to Gateshead, an ultra-Ortho­dox girls' sem­i­nary in Eng­land, though I per­son­al­ly stayed on to take A lev­els and O lev­els, the uni­ver­si­ty prepara­to­ry tests.
No one explained to me how to live with all these con­tra­dic­tions; it took many years of strug­gle to resolve them. One result, how­ev­er, is that I can appre­ci­ate peo­ple com­ing from dif­fer­ent worlds, and under­stand peo­ple rang­ing from sec­u­lar to ultra-Ortho­dox, and I draw on that in my writ­ing. It is help­ful to have resources to draw on, to be more accu­rate — to know peo­ple, not just invent them.
BK: I am curi­ous about the con­nec­tion between fic­tion and non-fic­tion, since your first book was a biog­ra­phy and your sec­ond a short sto­ry collection.
YU: I am aware that they are extreme­ly dif­fer­ent gen­res. I'm mov­ing from left brain to right brain ter­ri­to­ry. I wrote my first work of fic­tion when I was ten, and loved nov­els grow­ing up. But then from 18 – 28, I was exclu­sive­ly in the world of Torah learn­ing, the world of ideas. Sud­den­ly, around 28, a yearn­ing to return to fic­tion hit me very strongly.
Today, fic­tion is my pre­ferred read­ing mate­r­i­al and writ­ing it is a joy and a plea­sure. Work­ing on the Nechama Lei­bowitz biog­ra­phy was an incred­i­ble expe­ri­ence, and I learned much and was inspired, but there was a lim­it to how cre­ative I could be.
It is fair to say I love fic­tion; read­ing a good book can tru­ly bright­en my week. Books make a tremen­dous difference.
BK: I'm inter­est­ed in the fact that you are liv­ing in Israel and writ­ing in Eng­lish. Are there oth­ers doing this, a com­mu­ni­ty of writ­ers who write in Eng­lish in Israel?
YU: Yes, there is a writ­ing pro­gram at Bar Ilan Uni­ver­si­ty in Eng­lish which I attend­ed a decade ago and which has con­tin­ued to devel­op ever since. All of this sprang up from the vision of Shaindy Rud­off, a strong and vision­ary woman, who sad­ly passed away in my sec­ond year in the pro­gram, in 2006. It is amaz­ing what one per­son can do. My Nehama Lei­bowitz biog­ra­phy illus­trates that — the pow­er­ful effect one deter­mined indi­vid­ual can have.
BK: What was your vision for this book? What did you hope to accom­plish for readers?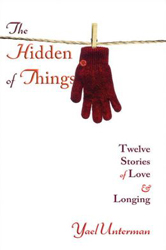 YU: My vision for my book is to open this world of ​"sin­gles not by choice" to a wider audi­ence, to show them that this is what peo­ple are going through. I'm not set­ting myself up as an expert on sin­gles, I have not writ­ten a doc­tor­ate on it. Rather, my pur­pose was to reflect the expe­ri­ence for peo­ple who aren't sin­gle, who may have thought they under­stood, so that they will close the book say­ing ​"oh right, oh I see now," and have gained a bit more empa­thy, more under­stand­ing of this painful phe­nom­e­non. I'm aim­ing toward empa­thy, not con­de­scen­sion or pity. It's a nuanced message.
I'll add that the book is not only about sin­gles, but also about reli­gious jour­ney­ers, with a for­mer rock star who becomes super reli­gious, and a young con­fused Hasid who drops reli­gion in Man­hat­tan. Bot­tom line, the book is about seek­ers — seek­ers of love, of God, of clar­i­ty. They are all very human.
Beth Kissileff is the edi­tor of Read­ing Gen­e­sis (Con­tin­u­um Books, 2014) an anthol­o­gy of aca­d­e­m­ic writ­ing about Gen­e­sis. Her nov­el Ques­tion­ing Return is under review for pub­li­ca­tion and she is writ­ing a sec­ond nov­el and vol­ume of short sto­ries. She has taught at the Uni­ver­si­ty of Pitts­burgh, Car­leton Col­lege, the Uni­ver­si­ty of Min­neso­ta, Smith Col­lege and Mount Holyoke College.​
Relat­ed Content:
Beth Kissileff is in the process of fundrais­ing and writ­ing grants to devel­op a pro­gram to assist rab­bis of all denom­i­na­tions with writ­ing and pub­lish­ing books. Kissileff is a rab­binic spouse and author of the nov­el Ques­tion­ing Return as well as edi­tor of the anthol­o­gy Read­ing Gen­e­sis: Begin­ings.