It has been fifty years since Fid­dler on the Roof opened on Broad­way on Tues­day, Sep­tem­ber 22, 1964 at New York City's Impe­r­i­al The­ater. To mark its gold­en anniver­sary, two his­to­ries of the musi­cal have recent­ly been pub­lished. One is Alisa Solomon's inci­sive, com­pre­hen­sive, and schol­ar­ly Won­der of Won­ders: A Cul­tur­al His­to­ry of ​"Fid­dler on the Roof" (2013); the oth­er is Bar­bara Isenberg's more pop­u­lar and light­ly researched Tra­di­tion! The High­ly Improb­a­ble, Ulti­mate­ly Tri­umphant Broad­way-to-Hol­ly­wood Sto­ry of ​"Fid­dler on the Roof" (2014). (Also valu­able for stu­dents of the Fid­dler phe­nom­e­non is Jere­my Dauber's engross­ing 2013 biog­ra­phy The Worlds of Sholem Ale­ichem: The Remark­able Life and After­life of the Man Who Cre­at­ed Tevye.) In the past half cen­tu­ry Fid­dler has attained a myth­ic sta­tus among Amer­i­can Jews. There are few adult Amer­i­can Jews who are unfa­mil­iar with stage or cin­e­mat­ic por­tray­al of the tribu­la­tions of Tevye, Gol­da, and their three eldest daugh­ters Tzei­t­el, Hodel, and Chava.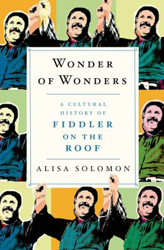 No one asso­ci­at­ed with Fid­dler antic­i­pat­ed that the show would be a smash, and they would have been hap­py had it last­ed a year. Pre­vi­ous (and lat­er) Broad­way shows with Jew­ish themes had been at best mod­est­ly suc­cess­ful, and few thought Fid­dler would attract many gen­tile the­ater-goers. One poten­tial pro­duc­er turned it down because he believed its appeal would be lim­it­ed to Hadas­sah the­ater par­ties. He couldn't have been more wrong. Fid­dler was one of the great suc­cess­es in Broad­way his­to­ry, and its orig­i­nal back­ers made a for­tune. Its eight-year run of 3,242 per­for­mances sur­passed that of My Fair Lady, Okla­homa, and South Pacif­ic, and until Grease came along in 1979 it held the record for the longest-run­ning Broad­way musi­cal or non-musi­cal show. There have been five Broad­way revivals of the show, and every year at least five hun­dred pro­duc­tions of Fid­dler are staged in the Unit­ed States. In the 1960s and 1970s the musi­cal was per­formed in Span­ish, Ger­man, Hun­gar­i­an, Czech, Turk­ish, Greek Swedish, Ukrain­ian, Russ­ian, Hebrew, Yid­dish, and oth­er lan­guages. The Japan­ese ver­sion became the longest-run­ning Amer­i­can musi­cal in Japan, and the British ver­sion played in the West End for four and a half years. The New York Times the­ater crit­ic Clive Barnes gushed in 1967 that Fid­dler, after only three years, had become ​"a liv­ing, breath­ing clas­sic. To crit­i­cize it would be like crit­i­ciz­ing moth­er­hood, and, like moth­er­hood, it's here to stay." Pauline Kael, the noto­ri­ous­ly crit­i­cal movie-review­er, said the 1971 film of Fid­dler, that year's most finan­cial­ly suc­cess­ful movie, was ​"the most pow­er­ful movie musi­cal ever made."
Yet there were many peo­ple who, despite Barnes and Kael, dis­par­aged Fid­dler. Part of this stemmed from an elit­ist dis­dain for Broadway's appeal to mid­dle-brow tastes, and it cer­tain­ly is true that Jer­ry Bock (music) and Shel­don Har­nick (lyrics) were not in league with Ver­di or Puc­ci­ni. But crit­i­cism of the show, par­tic­u­lar­ly by Jews, was moti­vat­ed by more than cul­tur­al snob­bish­ness. First of all there was the mat­ter of his­tor­i­cal accu­ra­cy. Jerome Rob­bins, the direc­tor of Fid­dler, took great pains to por­tray Jew­ish life in Rus­sia as truth­ful­ly as pos­si­ble, trans­port­ing the cast to Ortho­dox wed­dings in New York City and pro­vid­ing them books on the his­to­ry and soci­ol­o­gy of East­ern Euro­pean Jews. In the com­pe­ti­tion between his­tor­i­cal verisimil­i­tude and the demands of the­ater, how­ev­er, the lat­ter emerged vic­to­ri­ous. Thus the match­mak­er in Fid­dler was a woman, but match­mak­ers of Fid­dler​'s era were men. No tai­lor would come to a Fri­day night Sab­bath meal with a tape mea­sure around his neck, nor would any rab­bi dance with a woman. Nei­ther the sets nor the char­ac­ters ring true.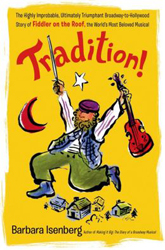 In his 1964 Com­men­tary essay ​"Tevye on Broad­way," the Yid­dish lit­er­ary schol­ar Irv­ing Howe described Fid­dler as ​"gross," ​"dis­heart­en­ing," ​"a taste­less jum­ble of styles," and ​"the cutest shtetl we've nev­er had." For Yid­dish purists, Fid­dler was a sac­ri­lege, a reflec­tion, to quote Howe, of the igno­rance of Amer­i­can Jews of East Euro­pean Jew­ish life and of ​"the spir­i­tu­al ane­mia of Broad­way and of the mid­dle-class Jew­ish world which by now seems firm­ly linked to Broad­way." Howe was not alone. The nov­el­ist Philip Roth called Fid­dler ​"shtetl kitsch," and the writer Cyn­thia Ozick said it was ​"shund" (roman­tic vul­gar­iza­tion). Iron­i­cal­ly, in 2002 YIVO pre­sent­ed Bock and Har­nick with its Spe­cial Cul­tur­al Arts Award.
Then there is Fid­dler​'s dis­tor­tion of the eight Sholem Ale­ichem short sto­ries upon which the musi­cal was sup­pos­ed­ly based. An exam­ple is the con­trast between how Sholem Ale­ichem and Fid­dler han­dled Chava's con­ver­sion to Russ­ian Ortho­doxy and her inter­mar­riage. Sholem Ale­ichem made clear that trans­gress­ing these ulti­mate Jew­ish taboos was unac­cept­able to Tevye's world and that he would nev­er for­give Cha­va. She is dead to him, and he and Gol­da sit shi­va for her. When Tzei­t­el begs Tevye to show some pity toward Cha­va, he replies, ​"Don't speak to me of pity. Where is her pity for me? She is not my daugh­ter. My daugh­ter died long ago." Despite his love for Cha­va, tra­di­tion­al­ism tri­umphs over universalism.
The mes­sage of the musi­cal and movie, how­ev­er, is dif­fer­ent. Here Cha­va and her hus­band, Fyed­ka, come to see her fam­i­ly off after it has been expelled from the vil­lage. Tevye ini­tial­ly wants noth­ing to do with the cou­ple, and Fyed­ka responds, ​"Some are dri­ven away by edicts, and oth­ers by silence." In oth­er words, there is no fun­da­men­tal dif­fer­ence between the anti-Semi­tism of the Czar and Tevye's oppo­si­tion to inter­mar­riage. Tevye is moved by Fyedka's words, and he acqui­esces in the life the cou­ple has cho­sen. ​"God be with you," he says soft­ly to them. Here Fid­dler reflects the lib­er­al sen­si­bil­i­ties of Jerome Rob­bins and Joseph Stein, who wrote the musical's book. Har­ry Stein, Joseph Stein's son, said that his father did not object to his own mar­riage to a gen­tile, but he did regret that his son did not mar­ry a black women since that would more clear­ly demon­strate the family's lib­er­al and inte­gra­tionist bone fides.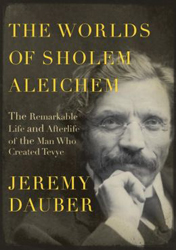 Jew­ish sur­vival­ists stren­u­ous­ly object­ed to Fid­dler​'s take on the Cha­va sto­ry. Ruth Wisse, the Har­vard Yid­dish lit­er­ary schol­ar, not­ed that ​"it must have felt per­fect­ly inno­cent to change a Jew­ish clas­sic into a lib­er­al clas­sic.… But if a Jew­ish work can only enter Amer­i­can cul­ture by for­feit­ing its moral author­i­ty and its com­mit­ment to group sur­vival, one has to won­der about the bar­gain that destroys the Jews with no applause." Fid­dler reflect­ed the fun­da­men­tal con­flict with­in the lib­er­al­ism of the 1960s between the cel­e­bra­tion of eth­nic and cul­tur­al plu­ral­ism on the one hand and the applaud­ing of indi­vid­ual auton­o­my and the rejec­tion of eth­nic and reli­gious divi­sions on the oth­er. In esteem­ing Fid­dler, Amer­i­can Jews were gen­er­al­ly obliv­i­ous to the fact that they were being asked to simul­ta­ne­ous­ly respect the val­ues of Tevye while accept­ing the imper­a­tives of the Amer­i­can melt­ing pot. They have remained con­flict­ed, and this ten­sion has remained at the cen­ter of the debate over the nature of Amer­i­can Jew­ish identity.
The Amer­i­can­ized ver­sion of Tevye and his daugh­ters has a typ­i­cal­ly Amer­i­can hap­py end­ing. Tevye leaves his vil­lage for the gold­en land and beck­ons the fid­dler to join him, while Chaya and Fyed­ka are off to Cra­cow where they sup­pos­ed­ly will live hap­pi­ly after. Why a cou­ple from the Ukraine would select a Pol­ish city is left unstat­ed. ​"What the show ulti­mate­ly cel­e­brates was this melt­ing pot called Amer­i­ca," its pro­duc­er, Hal Prince, recount­ed. ​"At the end of the show, that's where they were going.… And that's the strength of this coun­try — its iden­ti­fi­ca­tion with so many cul­tures and reli­gions. It's an amaz­ing exper­i­ment that worked."
Sholem Ale­ichem, in con­trast to the Amer­i­cans respon­si­ble for Fid­dler, was not enam­ored of Amer­i­ca. In his sto­ry ​"Tevye Goes to Pales­tine," his daugh­ter Bielke mar­ries Pad­hatzur, a wealthy man embar­rassed by his low­er-class father-in-law. Pad­hatzur wants to get Tevye out of the war and says he will pay if Tevye relo­cates to the Unit­ed States. ​"The colos­sal nerve of this con­trac­tor," Tevye says. ​"Telling me to give up an hon­est, respectable liveli­hood and go off to Amer­i­ca." Pad­hatzur then sug­gests Pales­tine as an alter­na­tive des­ti­na­tion, and Tevye prefers immi­grat­ing to prim­i­tive Pales­tine is bet­ter than remain­ing in his vil­lage and being sub­ject­ed to the insults of his son-in-law." But Pad­hatzur goes bank­rupt, is unable to fund Tevye's relo­ca­tion, and flees along with Beilke to Amer­i­ca one step ahead of his cred­i­tors. ​"Amer­i­ca is ​"where all the unhap­py souls go, and that's where they went." Pad­hatzur was not the only one of Sholem Aleichem's char­ac­ters forced to move to Amer­i­ca. Anoth­er is the son-in-law of Ephraim the Match­mak­er, a crook and wife-beat­er. It would appear that for Sholem Ale­ichem is a refuge of scoundrels, and this might reflect his own trou­bled life in the Unit­ed States.
In ​"Get Thee Out," the last of the Tevye sto­ries, Tevye is left won­der­ing where he will end up after being forced out of his vil­lage. He resem­bles a cork on an ocean wave, and the pos­si­bil­i­ties where he might land include Odessa, War­saw, and even Amer­i­ca. In any case, the choice is not his, and he is a pas­sive onlook­er. In Fid­dler, how­ev­er, Tevye in an act of affir­ma­tion sets off to Amer­i­ca with Golde (in the short sto­ry ​"Get Thee Out" Gol­da is deceased) and three of his daughters.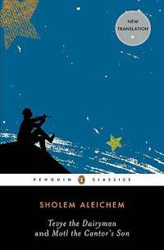 But what about Pales­tine? Tevye had looked for­ward to set­tling in Pales­tine cour­tesy of Padhatzur's mon­ey. ​"I've been drawn for a long time toward the Holy Land," he says. ​"I would like to stand by the Wail­ing Wall, to see the tombs of the Patri­archs, Moth­er Rachel's grave, and I would like to look with my own eyes at the riv­er Jor­dan, at Mt. Sinai and the Red Sea, at the great cities Pithom and Raam­ses." Pales­tine is not a pos­si­ble des­ti­na­tion for Tevye in Fid­dler, for Tevye, but it is for Yente, the town's busy­body. She declares she is going to take her ​"old bones" to Pales­tine and con­tin­ue her career in match­mak­ing. ​"Chil­dren come from mar­riages, no? So I'm going to the Holy Land to help our peo­ple increase and mul­ti­ply. It's my mission."
In the 2004 Broad­way revival of Fid­dler, Yente is no longer a sol­dier in the demo­graph­ic war between Jews and Arabs but a fem­i­nist uncon­cerned with the future of the Jew­ish state. Joseph Stein, who also wrote the book for the revival, now has her pro­claim, ​"I just want to go where our fore­moth­ers (sic!) lived and where they're all buried. That's where I want to be buried — if there's room." Israel is over­crowd­ed, where old Jews come to be buried, and where the prob­lems between Jews and Arabs have mirac­u­lous­ly dis­solved. If Pales­tine for Sholem Aleichem's Tevye is the Promised Land, for Fid­dler​'s Tevye Amer­i­ca is the land of promise. Here again Fid­dler reflects the polit­i­cal sen­si­bil­i­ties of its makers.
Edward Shapiro is pro­fes­sor of his­to­ry emer­i­tus at Seton Hall Uni­ver­si­ty and the author of A Time for Heal­ing: Amer­i­can Jew­ry Since World War II (1992), We Are Many: Reflec­tions on Amer­i­can Jew­ish His­to­ry and Iden­ti­ty (2005), and Crown Heights: Blacks, Jews, and the 1991 Brook­lyn Riot (2006).
Relat­ed Content:
Edward Shapiro is pro­fes­sor of his­to­ry emer­i­tus at Seton Hall Uni­ver­si­ty and the author of A Time for Heal­ing: Amer­i­can Jew­ry Since World War
II
(
1992
), We Are Many: Reflec­tions on Amer­i­can Jew­ish His­to­ry and Iden­ti­ty (
2005
), and Crown Heights: Blacks, Jews, and the
1991
Brook­lyn Riot (
2006
).